Recently, HeartWare International (NASDAQ:HTWR) has received approval from the US Food and Drug Administration (FDA) for an IDE (Investigational Device Exemption) supplement. Subsequent to this approval, HeartWare will be able to enroll another 54 patients in its ADVANCE bridge-to-transplant (BTT) clinical trial under a Continued Access Protocol (CAP).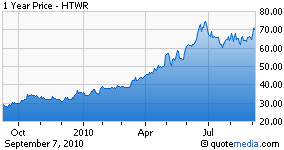 Earlier, in April 2010, the FDA had permitted HeartWare to enroll 54 patients under the BTT trial and the final patient was implanted in August 2010. The ADVANCE trial is targeted at evaluating the HeartWare ventricular assist system as a bridge to heart transplantation for patients with final-stage heart failure. While results of the trial are expected in November 2010, the company plans to submit a pre-market approval (PMA) application to the FDA for the HeartWare system for the bridge-to-transplant indication in December 2010.
HeartWare has also received FDA approval for full enrollment in another trial associated with the HeartWare ventricular assist system, the destination therapy clinical trial (ENDURANCE). In June 2010, the company had received conditional IDE approval to begin enrollment in the study. ENDURANCE is a non-inferiority study to evaluate the use of the HeartWare ventricular assist system as a destination therapy in advanced heart failure patients.
The HeartWare ventricular assist system includes a blood pump, patient accessories and surgical tools to provide circulatory support for patients with advanced heart failure. The HVAD pump, which is at the core of the system, is a device capable of pumping up to 10 liters of blood per minute.
Although the system is yet to get approval in the US, it received CE Mark approval in January 2009. The device was commercially launched in Europe in March 2009.
During the second quarter of 2010, HeartWare reported revenues of $9.8 million compared to $3 million in the year-ago period. Expansion in the markets outside the US was primarily responsible for the increase. We believe successful commercialization of the device in the US should enable the company to generate strong revenue growth going ahead.