Despite huge investments over the past several years in new solar technology, Applied Materials (NASDAQ:AMAT) dropped to fourth place in the solar equipment market, dropping 59.3% in 2013, following a 78.6% year-on-year drop in 2012.
Table 1
Market Shares of Top Photovoltaic Equipment Suppliers

Applied has shown a series of miscues in the solar equipment business over the past two years following the acquisition of Varian Semiconductor and its management team.
Initially back in 2008, Applied had a good idea by entering the solar market with an amorphous/microcrystalline silicon turnkey business called SunFab, which centered on deposition equipment modified for the LCD market. At the time, there was a severe shortage of bulk silicon, so the only way to enter the market was with thin film solar cells. Unfortunately, Applied never got above 10% efficiency when competing technology was above 15%.
Applied purchased HCT Shaping Systems SA of Switzerland in 2007 for $475 million, a tool for slicing wafers, and Baccini, a manufacturer of screen printers, for $330 million also in 2007.
Applied purchased VSEA for $4.7 billion because of its Solion Blue technology, designed to produce high-efficiency P-type mono-crystalline solar cells utilizing the proprietary patterned implant technology of Varian's Solion ion implant platform. The technology is being used by Suniva in Norcross, GA. Suniva however, is a small company with a module capacity of only 170MW in the U.S.
According to Solarbuzz, "Prior to its acquisition, Varian had been strongly promoting the Solion ion implanter tool to the solar PV industry, having been introduced late in Varian's fiscal year 2010. Significant R&D and marketing efforts had been committed, and Varian stated that solar PV related revenues for the Solion ion implanter would exceed $100 million during calendar year 2012. Following its acquisition of Varian, AMAT did not fold the Solion activities into its EES segment, and there have been no forecasts offered related to solar-specific revenues for ion implanters by AMAT during 2012 or 2013."
Solion is a disruptive process, meaning that a solar manufacturer will need to change its production line from a diffusion process for doping to an implant process. The $100 million forecast never materialized.
Applied Materials also miscued by passing on an opportunity to invest in privately held SolarPA (New Tripoli, PA), which has developed a proprietary nanocrystal coating that increases the efficiency of solar cells by more than 1% at a cost of goods to $0.20 per panel, or less than 0.1 cent per watt. The coating is applied on a completed cell with no disruption to the cell manufacturing process and can be applied using a screen printer. In other words, Applied Materials could have sold more screen printers to customers who would use this technology. It could have even been used in conjunction with its Solion ion implant technology.
In July 2012, Centrotherm Photovoltaics AG announced that it submitted an application to file for self-administrative insolvency. The company recovered in 2013 and moved to the top of the market with revenues of $585 million.
GT Advanced Technologies (GTAT) stayed in second place with revenues of $251 million, primarily from its polysilicon production technology.
Meyer Burger dropped from the first position in rankings in 2012 to third place in 2013 as revenues decreased 68.7%. Meyer Burger offers a complete line of product equipment and services along the photovoltaic value chain that includes the manufacturing processes for wafers, solar cells, solar modules and solar systems.
The above table excludes revenue gained by Apollo Solar, which delivered turnkey amorphous silicon equipment to its corporate parent Hanergy.
According to a note to shareholders of Meyer Burger, "Capacity utilization at the large (tier 1) manufacturers improved again significantly during the course of 2013, which also led to some fairly substantial orders for new production equipment from Meyer Burger in the second half of 2013. With the growth of installed PV capacity and increasing capacity utilization at tier 1 manufacturers, we assume that there will be more investments in technology upgrades and production expansion to come in 2014/2015."
In 2013, around 37 GW of new photovoltaic (PV) capacity was installed at private and commercial end users worldwide, reflecting another high year-on-year growth rate of 37%. Global installed capacity has therefore risen to about 136.7 GW. This growth trend is set to continue over the long-term.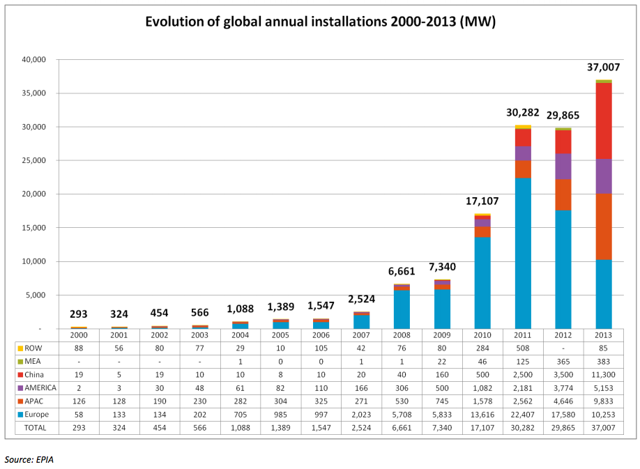 The list of countries that added the most installed PV capacity in 2013 is headed by China (+11 GigaWatt - GW), Japan (+6.9 GW) and the US (+4.8 GW), making 2013 the first year in which the majority of new installed PV capacity globally (72%) was added outside Europe.
It is clear that the PV market has become truly global in the last two years. The major economies in the world's "sun belt" in particular will play a key role in future growth. Those regions where large projects are planned for the development of a local solar production are located along the North/South American axis, the Mediterranean, Northern Africa and the Middle East, China, India and a number of countries in Southeast Asia. India, for example, is planning to build 20 GW of PV capacity by 2022 (around 4 GW by 2015) and Saudi Arabia is targeting a capacity of 16 GW by 2030 (around 5 GW by 2016).
Survival tactics of solar cell manufacturers will be a bright spot for equipment manufacturers. China Sunergy CEO Stephen Cai has presented four key strategic business developments, which need to occur, if companies are to weather the solar storm: higher efficiencies, downstream investment, global operation, and diversified channels.
The top 10 solar module companies by shipments in 2013 are Yingli (NYSE:YGE), Trina Solar (NYSE:TSL), Canadian Solar (NASDAQ:CSIQ), Sharp (OTCPK:SHCAY), Jinko Solar (NYSE:JKS), First Solar (NASDAQ:FSLR), ReneSola (NYSE:SOL), Kyocera (NYSE:KYO), JA Solar (JASO) and Hanwha SolarOne (HSOL).
Table 2 below shows solar module shipments by the top 10 companies in 2013 and 2012.
Table 2
Top 10 Solar Module Shipments by Manufacturer in 2013 and 2012 (shipments in MegaWatts)

Disclosure: I have no positions in any stocks mentioned, and no plans to initiate any positions within the next 72 hours. I wrote this article myself, and it expresses my own opinions. I am not receiving compensation for it (other than from Seeking Alpha). I have no business relationship with any company whose stock is mentioned in this article.
Editor's Note: This article discusses one or more securities that do not trade on a major U.S. exchange. Please be aware of the risks associated with these stocks.