Last week the worries about Black September abated as equity markets rallied, and the currency traders likewise took on a little more risk. A few negative weekend events caused the markets to tumble as the psychology changed. In Japan, the central bankers, politicians, and the exporters continued their discussion about the damage caused by the strong yen but all they did was talk, and the yen then soared against other currencies. Rumors late last week that the Europeans and the US would not join with the Japanese in intervention to weaken the yen may have been true so the Japanese did nothing. With Japan's forex reserves increasing last month to $1,070.15B, near the record of $1073.71B in Nov 2009, perhaps they do not wish to sell a few trillion yen and add to their portfolio of currencies.
Weakness in Japanese equities set the tone for equities, and combined with a WSJ article questioning the integrity of the European bank stress tests, announced last July, this provided the bears with more ammo. This story was confirmed by a story from Germany that euro banks need an additional €125 of new capital this year. This seems like chump change considering that the US Treasury was able to sell $33B 3 year notes at .79% today, but it still gave the bears some courage.
This data, combined with pictures of the yesterday's strikes in France and England are not reassuring to last week's euro bulls. The differences in culture and work ethics does make the single currency vulnerable. Never mind that Germany has raised the retirement age to 67, the French Unions were disrupting Paris yesterday, protesting with a strike, because they want to increase the retirement age to 62 from 60. A happy family sharing one currency this is not, but we wonder if the quick retreat from the 1.29 to the 1.27 handle is not a little overdone.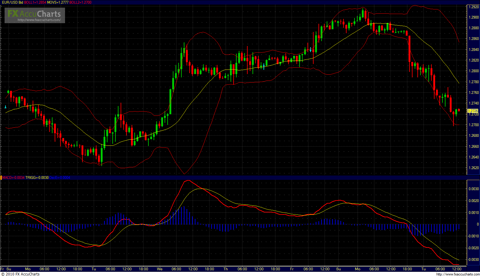 The 1H chart depicts Tuesday's sell off. We are inclined to try to scalp the market from the long side, buying the EUR/USD in the 1.27 area, risking a trade down to 1.2650, and see how the news breaks later in the week.
Disclosure: No positions