This brief write up on World Wrestling Entertainment, Inc. (NYSE:WWE) has three parts:
A) An acknowledgement that I was badly wrong on the NBCU deal
B) A look at WWE's different revenue levers through the lens of FY2011 - FY2013 financials
C) And most importantly, whether WWE is a buy at its May 27, 2014 closing price of $11.35.
Part A:
Investing is a very humbling art form. Despite spending many hours reading, researching, and synthesizing World Wrestling Entertainment investment presentations, earnings transcripts, and WWE articles from the popular press, I'm eating a lot of crow right now. This meal of crow consists of two courses. First course: I had 10% of my personal account invested in WWE shares with a cost basis of roughly $20 per share leading into the NBCU announcement date; and the second course: more importantly from a reputation standpoint, I'm looking awfully foolish as I was on the top of my soap box telling the world WWE was a great bet at $20.
I don't want to dwell on this too much as it's unimportant at this point. However, in a nutshell, besides the 350 Gross Rating Points, a more diverse and younger core audience than NASCAR, a consistent and loyal fan base, the icing on the cake that enhanced my conviction was that the McMahon's owned north of 42 million shares. I figured, if Vince McMahon was smart enough to build out this brand he had to know on Wall Street that you under promise and over deliver. Surely, Vince wouldn't conduct multiple interviews and boldly proclaim WWE could at least double its NBCU deal unless he was 99% certain. I was quite wrong! In fact, on the May 19th conference call, in the analyst Q&A portion, Vince even admitted the WWE Network launch weakened WWE's negotiating power despite the most favorable pricing environment for owners of popular content that is viewed in a live fashion. Also, I tip my cap to Emmanuel Lemelson for correctly identifying WWE's poor track record of delivering financial results.
Part B:
Allocating 10% of anyone's personal account in one security is considered aggressive. So when your outsized bet trades over 40 million shares on an available float of 33 million, and declines over 40% in one trading session, it's not a fun day. After the 40% plus decline I was confronted with the decision to either fold my hand or determine if this sharp selloff represents a gross over-reaction and opportunistic chance to acquire mispriced shares. In order to make this determination, I went back and poured through WWE's FY2011 - FY2013 10-Ks.
Enclosed please find multiple graphs that I created directly from data presented in WWE's 10-Ks.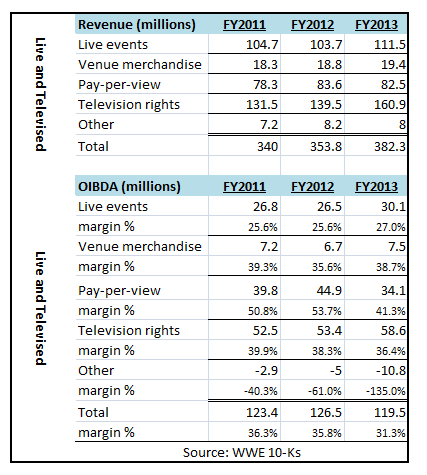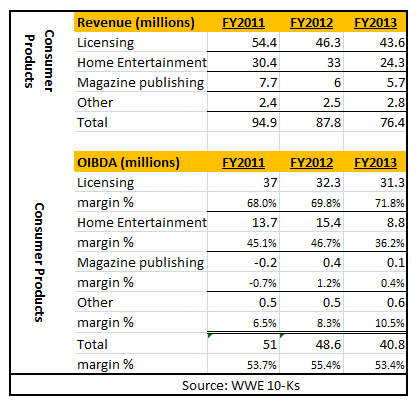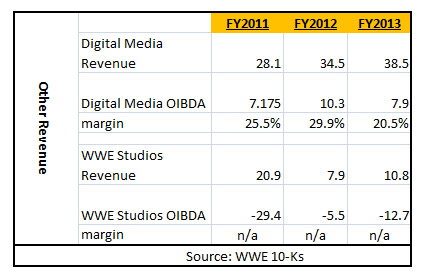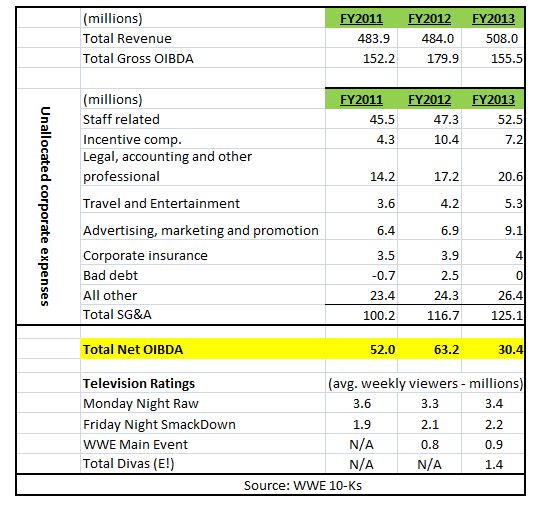 My key observation is that WWE's core business is quite strong. Its live events business, television rights viewership, and consumer franchises are excellent. Clearly, the home entertainment business and magazine segments are in secular decline, but WWE's digital media segment is offsetting, albeit at a lower margin. The WWE Studios need to be shuttered as it's a consistent drag on Operating Income Before Depreciation And Amortization (OIBDA), notably hurting OIBDA by $12 million in FY2013. Also, SG&A costs have been bloated and grown by $25 million from FY2011 to FY2013.
Part C
I re-read WWE's May 15th press release, its May 19th conference call transcript, and its J.P. Morgan investment presentation transcript from May 21st. Synthesizing this information, there are some positives and negatives.
Let's start with the negatives:
The largest overhang affecting WWE valuation is the uncertainty surrounding how many subscribers WWE can attract at a steady state, how quickly this will occur, how this business scales, and ultimately what this means for WWE's risk profile as the range of outcomes can meaningfully vary. Candidly, it's pretty clear that management hasn't fully vetted and stress tested this idea. The WWE Network could in fact be a home run after WWE pushes through this pocket of turbulence, but even the CFO seemed slightly confused on the May 19th conference call. I would have liked to see clearer fixed and variable costs and a better explanation of how this business scales. George Barrios did say that there are $60 - $70 million in fixed costs, plus the $40 million in costs associated producing the twelve events, including Wrestle Mania. Moreover, management stuck with its policy of only providing subscriber numbers on a quarterly basis.
Vince McMahon and the C-Suite lost a lot of credibility by very poorly guiding Wall Street to anticipate a lucrative U.S. television rights deal for "Raw" and "SmackDown" with NBCU.
Given the recent disappointments, management needs to tighten its cost discipline and focus on execution. George Barrios mentioned management might invest $30 million in FY2014 & FY2015. This would be exclusively targeted internationally and earmarked for talent, infrastructure, and the establishment of offices in Europe and Asia. This is the wrong strategy as focusing on greatly improving OIBDA is far more important.
Announced on the May 19th call, WWE has invested $75 million in Capex from Q4 2011 - FY2013 as well as absorbed $40 million in staffing to gear up for this launch and support the digital media business. This only makes the WWE Network bet more expensive, although this capital is already spent.
Positives
Although the four television renewal deals weren't as favorable as hoped, in FY2015, OIBDA will increase from $58 million to $120 million. As the television rights contracts have built in escalations, the $90 million increase from the $108 million is a blended average measured over the course of the contracts. So in FY2015, according to George Barrios, the television rights revenue should increase by $75 million, offset by $10 million in higher production costs, with $65 million falling directly to the bottom line. This materially changes the core profitability of WWE.
In order for the WWE Network to be OIBDA neutral, management assumes they need 1.3 - 1.4 million global steady state subscribers. This number was higher than previous guidance, but essentially assumes that the entire pay-per-view business will be 100% wiped out by the WWE network. This is much more conservative, but probably accurate as it's always better to guide conservatively. Given the consistent weekly three million plus viewership for Raw and more affordable $9.99 subscription price point per month, the global capture rate isn't unreasonable. For WWE fans, the monthly subscription gives them access to all twelve pay-per-view events as well as to the archive vaults with 130K hours of content.
WWE owns 100% of its content and OTT hardware devices are still gaining awareness and continue to come down in prices. Including 667K WWE Network subscribers and 400K pay-per-view purchases at $65, WrestleMania 30 was the most popular event and speaks to the underlying popularity and core strength of the brand.
This is more imaginative, but there is the possibility that an activist investor could acquire a material ownership stake and push through cost discipline and ROI focused thinking.
Pro-forma FY2015 model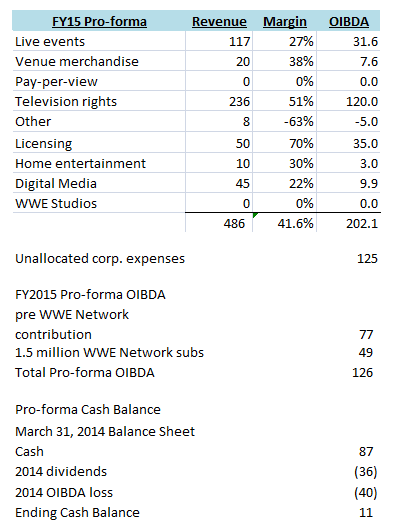 Given the uncertainty surrounding the WWE Network, I built a simple pro-forma FY2015 earnings model to highlight how the television rights deals has greatly improved WWE's core OIBDA. Assuming management can successfully attract 1.5 million subscribers in FY2015 then OIBDA would be close to the $77 million (pre WWE Network) plus $49 million (explicitly mentioned by George Barrios on the May 19th call under a scenario of 1.5 million subs), thus arriving at the low end of the range. There is of course upside potential but I prefer to be more conservative at this juncture.
Conclusion: Despite the NBCU television right debacle and uncertainty surrounding the WWE Network, I think the market is not fully valuing the WWE's upside optionality nor is it recognizing that its FY2015 OIBDA potential. As I illustrate above, $126 million in OIBDA is well within the realm of possibility. Applying a multiple of 10X OIBDA, fair value for WWE shares is $16.73 ($1.26 billion / 75.3 million shares outstanding). As such, I have been aggressively adding to my stake in WWE, in the low $11s, as I think the market has overreacted on the downside.
Disclosure: I am long WWE. I wrote this article myself, and it expresses my own opinions. I am not receiving compensation for it (other than from Seeking Alpha). I have no business relationship with any company whose stock is mentioned in this article.