The well known investor and asset manager James P. O'Shaughnessy suggests in his impressive book "What Works on Wall Street", a winning ranking system, which he calls "Value Composite Two". The ranking method takes into account the following factors in equal proportions:
1. Price-to-book
2. Price-to-earnings
3. Price-to-sales
4. EBITDA/EV
5. Price-to-cash flow
6. Shareholder yield
According to Mr. O'Shaughnessy, Shareholder yield unites a stock's dividend yield with its buyback yield to show what percentage of total cash the company is paying out to shareholders, either in the form of a cash dividend or as expended cash to repurchase its shares in the open market. The buyback yield is the percentage of one year reduction of the company's shares outstanding.
I used Portfolio123's powerful ranking system, which allows the user to create complex formulas according to many different criteria, to build the "O'Shaughnessy Value Composite Two" ranking system.
In order to find out how such a ranking formula would have performed during the last 15 years, I ran a back-test, which is available by the Portfolio123's screener. For the back-test, I took all the 7,014 stocks in the Portfolio123's database.
The back-test results are shown in the chart below. For the back-test, I divided the 7,014 companies into twenty groups according to their ranking. The chart clearly shows that the average annual return has a very significant positive correlation with the ranking system. The highest ranked group with the ranking score of 95-100, which is shown by the light blue column in the chart, has given by far the best return, an average annual return of about 21%, while the average annual return of the S&P 500 index during the same period was about 2.7% (the red column at the left part of the chart). Also, the second and the third group (scored: 85-90 and 90-95) have given superior returns. This brings me to the conclusion that the ranking system is very useful.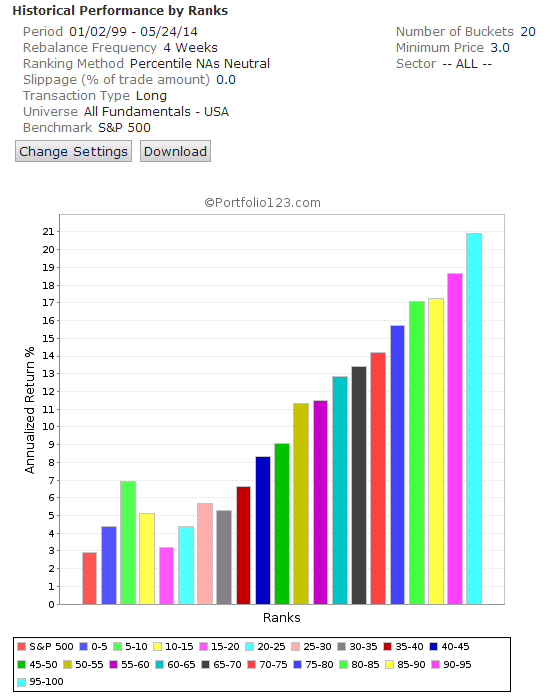 After running the "O'Shaughnessy Value Composite Two" ranking system on all S&P 500 stocks that pay a dividend with higher than 1% yield, on May 28, I discovered the twenty best stocks, which are shown in the table below. In this article, I will focus on the third stock of the list Xerox Corporation (NYSE:XRX) since I have been following the stock, in order to find an opportunity to start an investment in this stock.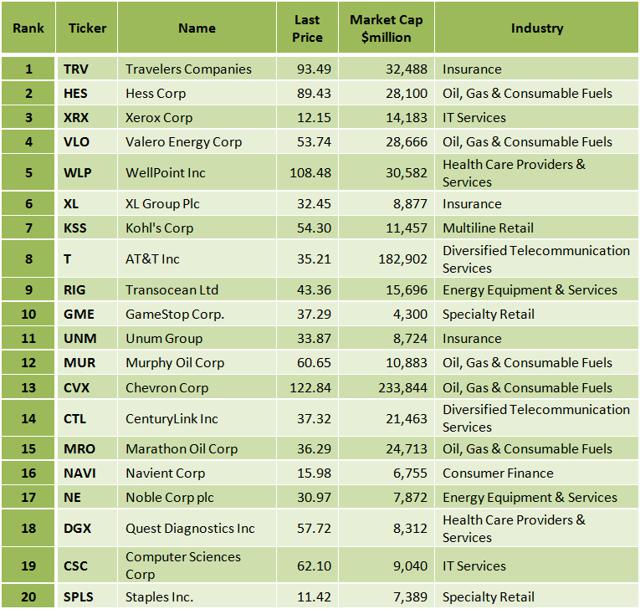 Source: Portfolio123
Xerox Corporation
The Company
Xerox is the world's leading enterprise for business process and document management solutions. The company was founded in 1906 and is headquartered in Norwalk, Connecticut.
Valuation Metrics
The table below presents the valuation metrics of XRX, the data were taken from Yahoo Finance and finviz.com.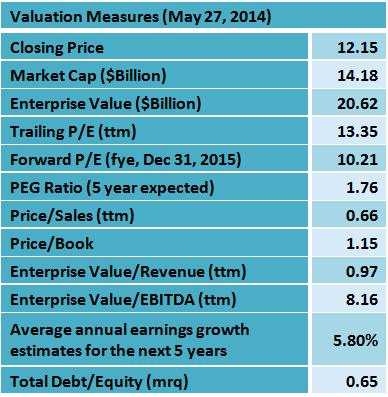 Xerox's valuation metrics are very good; the forward P/E is very low at 10.21, and the Enterprise Value/EBITDA ratio is also very low at 8.16. Moreover, the stock is trading near book value; the price to book value is low at 1.15, and the price to sales is very low at 0.66.
Latest Quarter Results
On April 22, Xerox reported its first-quarter 2014 financial results, which beat EPS expectations by $0.03 (12.50%) and missed Street's consensus on revenues.
First-Quarter Highlights
GAAP EPS from continuing operations of 23 cents
Adjusted EPS of 27 cents
Revenue of $5.1 billion, 57 percent from Services
Operating profit of $442 million, up 13 percent year over year
Cash flow from operations of $286 million
Share repurchase of $275 million
In the report, Ursula Burns, Xerox chairman and chief executive officer said:
Our first-quarter performance reflects the value of our diversified business. Good profitability in Document Technology along with strength in document outsourcing and in commercial outsourcing services contributed positively to our results. But these gains were offset by higher-than-anticipated investments in our government healthcare business as we implement new Medicaid and health insurance exchange platforms. We're focused on driving Services growth and margin improvement by executing on our Five-Plank Strategy and expect the benefits to build through 2014.
Also in the report, the company offered an outlook for the second quarter and for the full year:
As a result of increased implementation costs in government healthcare, the company is lowering its guidance for both full-year Services segment margin and 2014 earnings. Second-quarter 2014 GAAP earnings per share is expected to be 21 to 23 cents per share. Second-quarter adjusted EPS is expected to be 25 to 27 cents. The company expects full-year 2014 GAAP earnings per share of 90 to 96 cents and full-year adjusted EPS of $1.07 to $1.13.
Dividend and Share Repurchase
Xerox has been paying dividends since 1977, but had stopped its payments between 2002-2006.The forward annual dividend yield is at 2.06% and the payout ratio is only 24.5%. The annual rate of dividend growth over the past three years was high at 10.6%.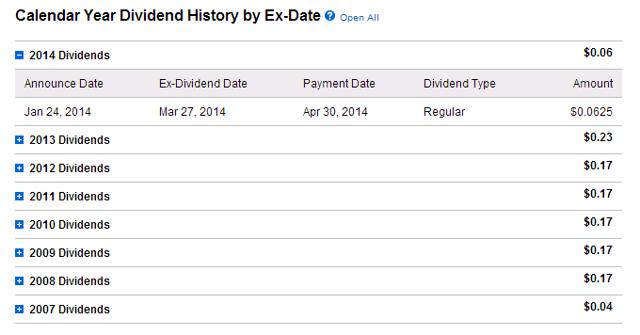 Source: Charles Schwab
Xerox generated $286 million in cash flow from operations during the first quarter, and repurchased $275 million in its stock. In addition, the company said that its strong cash position enabled a fast start to its share repurchase program, and it is increasing its full-year share repurchase expectations from at least $500 million to at least $700 million.
Competitors
A comparison of key fundamental data between Xerox and its main competitors is shown in the table below.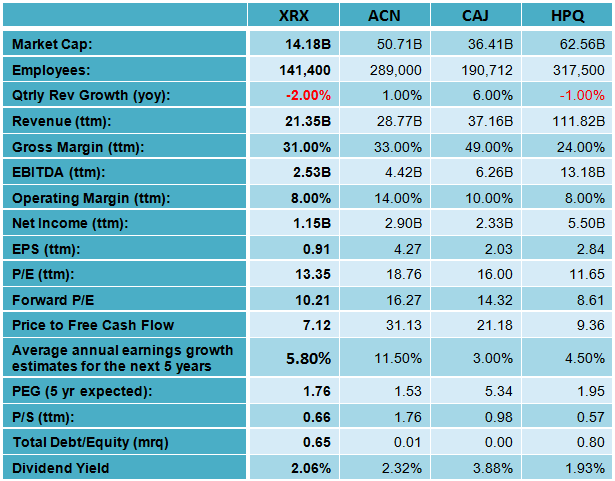 Xerox has the lowest price-to-free-cash-flow ratio among the stocks in the group. However, Accenture plc (NYSE:ACN) has the lowest PEG ratio.
Technical Analysis
The charts below give some technical analysis information.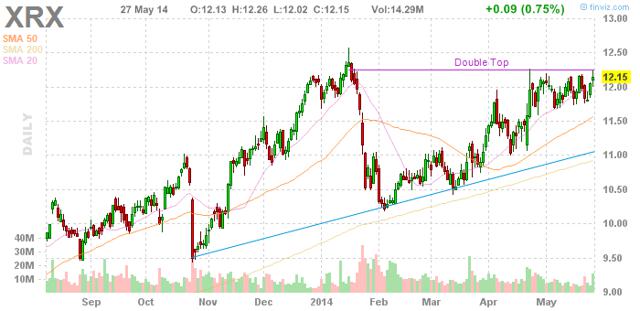 Chart: finviz.com
The XRX stock price is 1.52% above its 20-day simple moving average, 5.21% above its 50-day simple moving average and 11.27% above its 200-day simple moving average. That indicates a short-term, a mid-term and a long-term uptrend.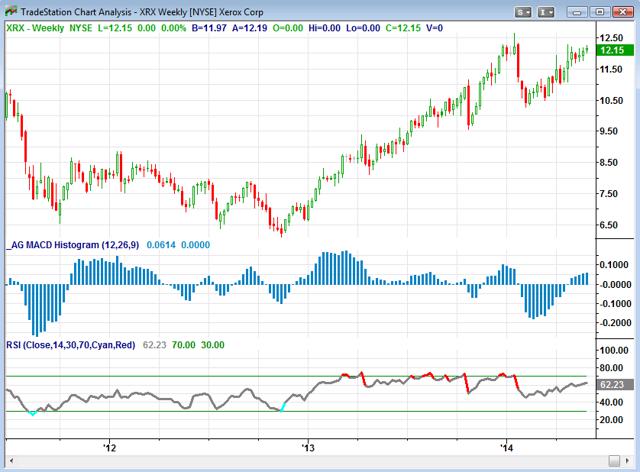 Chart: TradeStation Group, Inc.
The weekly MACD histogram, a particularly valuable indicator by technicians, is at 0.0614 and ascending, which is a bullish signal (a rising MACD histogram that is crossing the zero line from below is considered an extremely bullish signal). The RSI oscillator is at 62.23 which does not indicate oversold or overbought conditions.
Analyst Opinion
Analysts opinion is divided, among the eleven analysts covering the stock, four rate it as a strong buy, two rate it as a buy, three rate it as a hold, and two analysts rate it as an underperform.
TipRanks is a website that ranks experts (analysts and bloggers) according to their performance. According to TipRanks, among the analysts covering XRX stock there are only six analysts who have the four or five star rating, four of them recommend the stock. On April 14, Piper Jaffray's analyst George Tong repeated an overweight rating, saying the stock is a compelling "old stock" play. I consider Mr. Tong's analysis very valuable, since he has 4-Star rating from TipRanks for the accuracy of his previous calls.
Major Developments
After that XRX's stock reached 52 weeks high of $12.44 on January 16, 2014, it dropped 17.2% to $10.30 on February 05, but since then XRX's stock value has recovered 18% to $12.15 on May 27. Moreover, in 2013, XRX's stock has recorded an impressive gain of 78.4% while the S&P 500 index has risen 29.6%, and the Nasdaq Composite Index has risen 38.3% at the same period.
On May 06, Xerox announced a definitive agreement to acquire ISG Holdings, Inc. for $225 million, creating a comprehensive workers' compensation suite of offerings for clients in the property and casualty insurance industry. In the announcement the company explained:
The acquisition of ISG expands Xerox's services to property and casualty insurance carriers, third-party administrators, managed care services providers, governments and self-administered employers who require comprehensive reviews of medical bills and implementation of care management plans stemming from workers' compensation claims. This acquisition complements Xerox's current support of the top 20 U.S. property, casualty and commercial health insurance companies, touching nearly two-thirds of the nation's insured population.
Conclusion
Xerox has compelling valuation metrics; its EV/EBITDA ratio is very low at 8.16. Xerox is generating a lot of cash; its ttm price to free cash flow of 7.12 is the lowest of all S&P 500 tech stocks. The company continued to deliver large sums of cash back to shareholders, during the first quarter the company generated $286 million in operating cash flow, paid cash dividends and repurchased its own shares for $275 million. Furthermore, Xerox increased its full-year share repurchase expectations from at least $500 million to at least $700 million. All these factors bring me to the conclusion that XRX stock is a smart long-term investment. Furthermore, the rich growing dividend represents a gratifying income.
Disclosure: I have no positions in any stocks mentioned, but may initiate a long position in XRX over the next 72 hours. I wrote this article myself, and it expresses my own opinions. I am not receiving compensation for it (other than from Seeking Alpha). I have no business relationship with any company whose stock is mentioned in this article.