In March 2005, shares in NCR Corp (NYSE:NCR) tumbled over 17% the day it was announced Mark Hurd, its CEO, would leave the company to join Hewlett-Packard (NYSE:HPQ). At NCR, Hurd had cut costs while increasing revenues, and as a result, free cash flow grew substantially. As the shares in NCR were falling on the date of announcement, stock in Hewlett-Packard rose over 10%.
Were shareholders overreacting to the management changes at NCR and Hewlett, or were they correct? In the three years subsequent to joining Hewlett Packard, as observed in Figure 1, free cash flow grew, while back at NCR, free cash flow fell.
FIGURE 1
Free Cash Flow of NCR and Hewlett Packard 2001-2009
The ability of Mr. Hurd to take actions which resulted in increased free cash flow at Hewlett Packard has enriched HP investors. As seen in the relative performance of the stocks in Figure 2 below, Hewlett Packard has substantially outperformed that of NCR.
FIGURE 2
Cumulative Returns of NCR and HPQ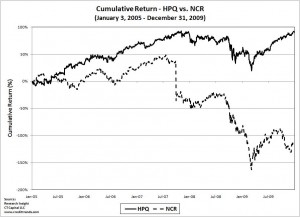 Disclosure: No positions