Citigroup (NYSE:C) offers a lot of value to investors who can look two or three years down the road. Citigroup remains one of the most undervalued banking franchises in the U.S. financial sector, and of the same quality as Bank of America (NYSE:BAC) and American International Group (NYSE:AIG).
Looking at the big picture, I believe most financial institutions should be able to reduce their book value discounts significantly over the next two or three years. Given the state of the financial services industry, I think investors will be able to benefit handsomely from an investment in Citigroup and its closest peers as the U.S. economy claws its way back to normality. Though I think financial services institutions have disappointed over the last five years in terms of performance, patience is key here. Cyclical banking earnings in the years ahead should provide crucial tailwinds for Citigroup's stock. As such, I identified five reasons why an investment in Citigroup makes a hell of a lot of sense at a price of $47 per share:
Operating performance. Citigroup presented great first quarter results and beat both revenue and earnings estimates. In fact, Citigroup's earnings beat (adjusted diluted EPS $1.30, consensus estimate $1.14) sent the bank's shares higher by 4% on results release day. With better quality earnings and higher U.S. growth, Citigroup should be able to continue to report sales and earnings momentum.
Valuation. Citigroup presently trades at an approximately 30% discount from book which compares against a book value discount of 27% for Bank of America, its closest competitor. Wells Fargo already trades at a solid premium to book value: 67%. Citigroup and Bank of America both have a substantial margin of safety reducing downside risk for investors while retaining all the upside from multiple expansion.
Multiple expansion. One of the key drivers of value, in my opinion, will be the expansion of valuation multiples -- both in terms of book value and earnings. With faster EPS growth, Citigroup should be able to demand a much higher forward earnings multiple than the depressed 8.6x we currently witness in the marketplace. In fact, I think Citigroup's valuation is almost comical and I believe that Citigroup deserves an earnings multiple somewhere in the neighborhood of 12-13x, if the economy favors bank investments I can see an earnings multiple of 15x.
Improving asset quality. Investors usually concentrate on Citi Corp which includes all of Citigroup's desirable assets. Citi Holdings, on the other hand, is comprised of legacy assets that have weighed the company down for quite a few years. In any case, Citi Holdings' performance ratios have improved successively over the last years (see right-hand side of the chart below) reducing the burden on Citigroup and on Citigroup's stock price.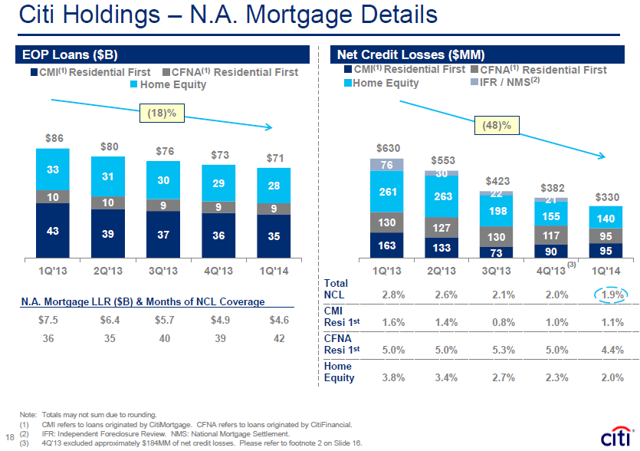 (Source: Citigroup First Quarter 2014 Earnings Review Presentation, April 14, 2014)
Though credit losses have been declining 48% over the last year, Citi Holdings is still perceived as a burden, which isn't helping the stock price. Citigroup's value proposition will look so much better when its net credit losses normalize, which I think will take another year or two.
Lagging performance. I like to buy 'laggards', companies that underperform their peers and, therefore, have much more rebound potential. As I have said above, I see absolutely no justification for Citigroup's low valuation based on its fundamentals. Citigroup's earnings profile has materially improved since the financial sector was thrown under the bus in 2008 and 2009 and the stock price should ultimately reflect the progress in Citigroup's operating performance.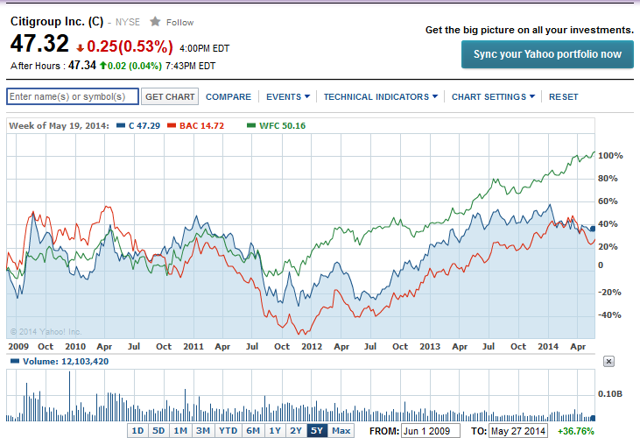 (Source: Yahoo Finance)
Final assessment
Citigroup has a couple of things going for itself, a strong banking business outlook, a low book and earnings valuation and improving asset quality trends. Also, I cannot help but be bullish on the financial sector in general, and I venture to guess that financial firms such as Citigroup and Bank of America will be among investors' favorites in times not too distant. At present market prices, investors get a solid deal with an investment in Citigroup: Limited downside risk due to a seriously low valuation and substantial upside potential as the market corrects is mis-pricing. Strong Buy.
Disclosure: I am long C, BAC. I wrote this article myself, and it expresses my own opinions. I am not receiving compensation for it (other than from Seeking Alpha). I have no business relationship with any company whose stock is mentioned in this article.