At first glance, McDonald's (NYSE:MCD) would appear to be the perfect recession-proof (or even recession-friendly) business. It is the world's largest restaurant chain with 35,429 locations worldwide at the end of 2013. The stock has trailed the S&P 500 over the past five years, but has still risen 75% (see chart below).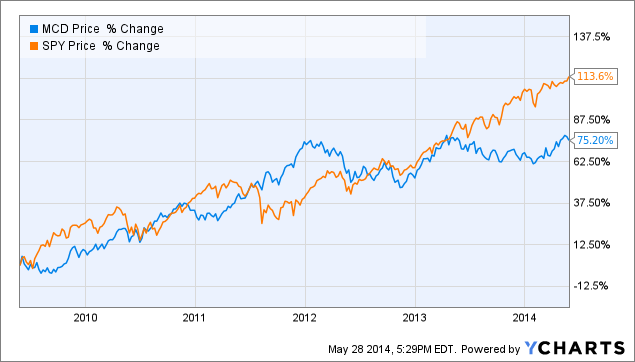 However, a quick glance at the chart below illustrates the stock's defensive nature. In 2008, surely the "annus horribilis" for the stock market where the S&P (NYSEARCA:SPY) fell 37.7%, McDonald's stock largely held its value, declining only 7%. It appears to be a classic counter-cyclical stock, which will beat the market as more people downsize their spending in a recession.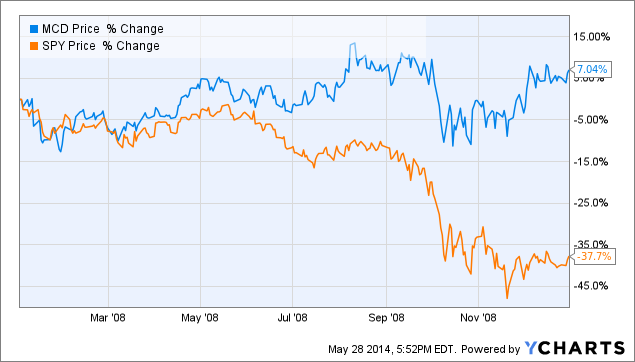 Unfortunately for conservative investors, the bull market of the past five years has also led to a run-up in prices for the more defensive names. As I show below, MCD appears to be one such stock where valuation growth has outpaced the growth in the company's intrinsic value. I believe there is 20% downside to today's prices even under optimistic assumptions, which means that MCD is no longer the perfect stock to own ahead of the next downturn.
Business Overview
McDonald's operated 35,429 restaurants at the end of 2013. Of these, 6738 of 19% were owned and the rest were operated through franchisees. Over the last 4 years, company-owned stores have grown at an annualized rate of 1.8% from 6262 to 6738. Franchised stores have grown slightly faster at a rate of 2.3%, from 26,216 to 28,691 stores. Concerningly for McDonald's, after a healthy few years of strong comps, store growth ground to a halt in 2013. Comps were up only 0.2% YoY, driven by growth in average check while visitor count was down. This can be attributed to increased competition from more upscale casual fast food chains such as Chipotle Mexican Grill (NYSE:CMG) and Panera Bread (NASDAQ:PNRA). The company has guided to similar dynamics for 2014 as well. The challenge for McDonald's will be to reverse the trend in visitor decline over the next year.
Store growth and comp assumptions
As with any retail business, store and comp (sales/store) growth are the key drivers of growth. In my model, I am assuming fairly aggressive net store growth numbers of 3% for both owned and franchised stores. These result in total store growth in excess of 1,000 every year for the next seven years. Using these assumptions, MCD will have 8,287 owned stores and 35,286 franchised stores by the end of 2020. This is considerably higher than their growth over the last four years, but is achievable if they execute well and are able to sign on additional franchisees.
For comp growth, I assume 1% for 2014 and 3% thereafter. This assumes that MCD will be able to reverse the decline in visitors and return to growth. The chart below shows my assumptions around store growth and comps: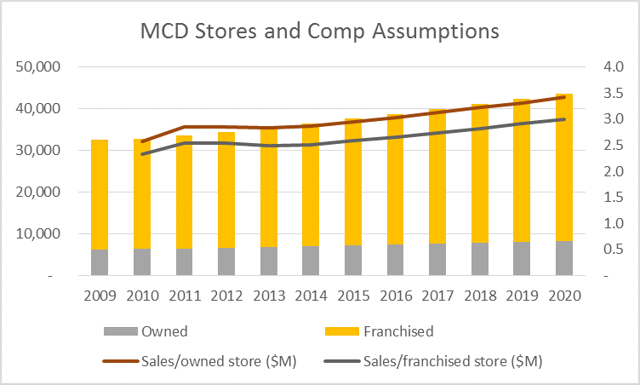 Margins and Operating expenses
To analyze McDonald's margins, we need to separate company-owned restaurants from franchised restaurants, which have a very different margin structure. The company receives rent and franchise fees from its franchisees, which leads to a very high operating margin of 83% for its franchised restaurants. A McDonald's franchise is one of the leading (and lucrative) in the industry, and I expect the company to continue to earn high margins on its franchised restaurants.
On store-owned restaurants, operating margins have been shrinking over the past years due to increases in food, labor and occupancy costs. Margins declined from a high of 19.6% in 2010 to 17.5% in 2013. I have assumed flat margins at these levels going forward, but I believe there is substantial risk especially on labor costs. Employers such as McDonald's and Wal-Mart (NYSE:WMT) are coming under increasing pressure to increase wages for their front-line staff. This will likely result in further compression on operating margins.
Valuation
Using the above assumptions, a discount rate of 10% and a terminal value growth rate of 3%, I get to a fair market value (FMV) of $84 per share for MCD, which is a discount of 17% to the current share price. This suggests that McDonald's shares are overvalued even under pretty optimistic assumptions. I believe my assumptions around store growth and operating margins, particularly on owned stores, are fairly aggressive so I see little upside on that front. To justify its share price, MCD would need to grow its comps by 6% annually, which appears really unlikely. On the other hand, if labor costs increase by 1 percentage point, that would reduce the FMV by $3 to $81. The complete valuation model is attached below.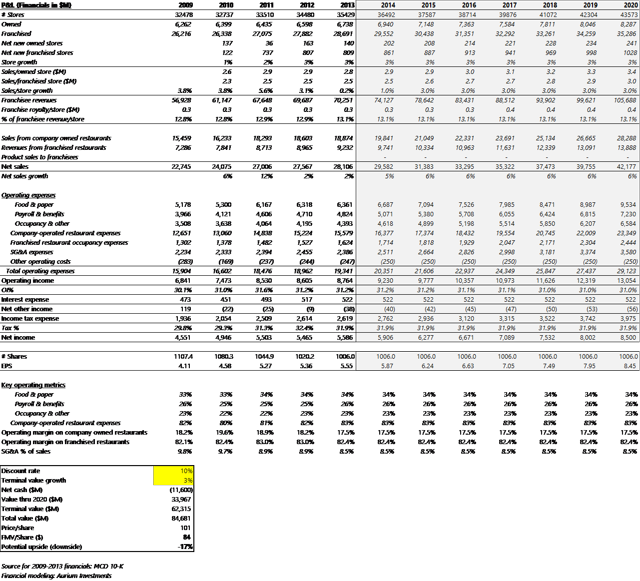 Summary
McDonald's has been the perfect defensive stock during the great recession of 2008. Since then however, it has been upstaged by nimbler competitors. Its share price has outrun the growth in fundamentals, to the point where it is materially overvalued under fairly aggressive growth assumptions. Investors looking for the next safe haven stock would do well to look elsewhere - the golden arches won't cut it this time.
Disclosure: I am short MCD $75 puts. I wrote this article myself, and it expresses my own opinions. I am not receiving compensation for it (other than from Seeking Alpha). I have no business relationship with any company whose stock is mentioned in this article.