Everyone knows this bull market is now in its sixth year. The S&P 500 has almost tripled with very little resistance from its March 2009 low of 666. Volatility is extremely low, treasuries have fallen under 2.5%, IPOs are everywhere, gold is falling. Anyone nervous?
How does this 5-year chart of the S&P 500 look?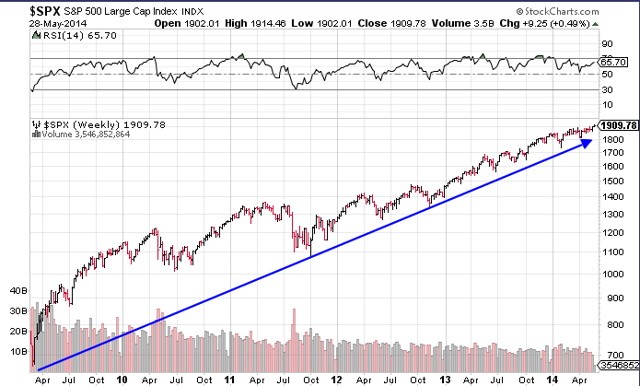 These are the times to look for an investment that has weathered many market cycles, has a product that is resistant to downturns, pays a nice and predictable dividend, and we know will still be around for a while, regardless of future events.
Enter Kimberly-Clark (NYSE:KMB). Huggies, Kleenex, Kotex, Scott. These are the indispensable items that a nervous investor can rely on to sleep at night when turbulent times arise. Or barter with if things get really bad.
Kimberly-Clark, with world headquarters in Dallas, Texas, has been around for over 130 years. What have they done in that time?
In 1931, in the midst of the Great Depression, Kimberly-Clark expanded its paper towel business (Scott) and became the country's top selling paper towel.
In 1942, in the middle of World War II, they shifted production from consumer to anti-aircraft gun mounts.
In 1997, when internet stocks were becoming everyone's must have investment, Kimberly-Clark rolled out Huggies Little Swimmers disposable swim diapers.
But, Kimberly-Clark is more than diapers and paper towels. They are a large global presence, with operations all over the world. Their international sales showed over 10% organic growth. They operate Kimberly-Clark Healthcare and Kimberly-Clark Professional, with greater than 17% operating margins in each. They have been buying back stock and have over $1B in cash.
This is the kind of company nervous investors should turn to.
Let's look at the numbers:
Dividends:
Dividend yield: 3.04%
Years of consecutive dividend increases: 41
Five-year dividend growth rate average: 6.96%
Dividend coverage: 1.7
Dividend payout % last quarter: 57.4%
Valuation:
P/E (trailing twelve months): 19.8
P/E (next year estimate): 16.7
Price/sales ratio: 1.99 (market median is 1.82)
Growth:
EPS growth historical (5-year avg): 6.0%
EPS growth (this year versus last): 21.52%
Forward EPS estimate (3-5 years): 6.90%
Operations and Management:
Operating margin: 15.8%
Profit margin: 10.2%
Return on investment (5-yr avg.):16.4%
Return on investment (Trailing Twelve): 18.4%
Return on assets: 11.2%
Stock Characteristics:
Beta: .71
Std. Deviation (10 yr avg): 14% (in the lowest 20% of the market)
Below is how KMB compared to the S&P 500 over the past 15 years: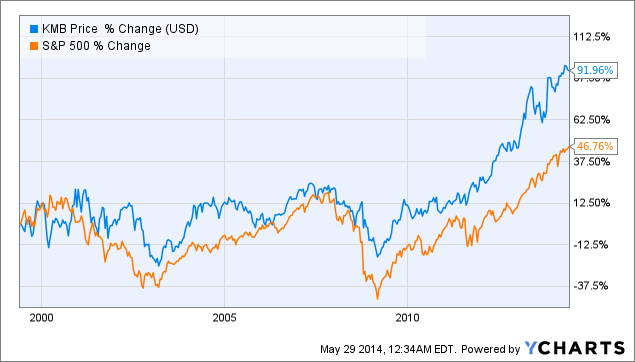 Not bad at all, as it weathered the market corrections of 2000 and 2008 just fine. For those nervous about a market top or imminent correction, KMB is a stock to hunker down with.
This company that sells paper towels and diapers, that has been around for 130 years, has a 3.04% dividend yield, and has increased it for 40+ years in a row looks as solid as ever. Valuations are reasonable, margins are good, operational numbers are strong, and there is plenty of room to continue the dividend increases.
The market may correct soon, it may not. But either way, KMB is a worthy addition to any portfolio.
Disclosure: I have no positions in any stocks mentioned, but may initiate a long position in KMB over the next 72 hours. I wrote this article myself, and it expresses my own opinions. I am not receiving compensation for it (other than from Seeking Alpha). I have no business relationship with any company whose stock is mentioned in this article.