The Friday before Labor Day is generally quiet in the trading pits, as investors squeeze in one last long summer weekend ahead of a holiday-shortened week. But last Friday was anything but quiet at the Chicago Board of Trade, where 556,034 corn futures contracts traded hands. That marked the busiest day of activity in corn markets since the CBOT began trading corn in 1877; Friday's volume was nearly 8% higher than the previous record set in 2008. So far in 2010, average trading volume for corn futures has been about 250,000 contracts per day, or well less than half of Friday's figure.
The record trading day comes near the end of a wild summer for corn markets. A severe drought in Russia has crippled one of the world's largest exporters of wheat, sending shock waves through global commodity markets. In certain corners of the world, analysts are becoming more concerned about the implications of population growth in emerging markets, predicting that global food crises may become inevitable in the not-so-distant future. And in the U.S., expectations for the fall harvest have been revised downwards by many investors who have been keeping a close eye on the early yields from Ohio, Arkansas, Indiana, and southern Illinois.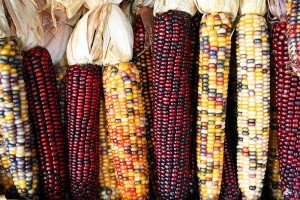 In mid August the U.S. Department of Agriculture released its official estimate for the 2010 corn crop: 13.37 billion bushels, which would be almost 2% higher than the 2009 crop and represent an all-time corn harvest record. But in recent weeks speculation has built that a revised estimate will be considerably lower, thanks in part to alternating periods of heavy rain and floods in certain corn-producing regions. Those developments added further fuel to a rally in corn prices; since the end of June corn futures have rallied nearly 35%, touching 15-month highs despite a relatively gloomy outlook for the global economy.
CORN: Volatile Days Ahead?
One of the most unique additions to the exchange-traded fund space so far in 2010 has been the Teucrium Corn Fund (NYSEARCA:CORN), a product that invests in CBOT corn futures contracts. CORN, launched earlier this summer, spreads its holdings across three different maturities, limiting the potential negative impact of contango that can plague many futures-based commodity products. Not surprisingly, CORN was extremely active last Friday as well; volume topped 40,000 shares, or more than twice the average daily trading volume for the previous two-plus months.
In all likelihood, CORN should exhibit a fair amount of volatility in coming weeks. The USDA's next Corn Production report is due out on September 10, and any revisions to forecast for the 2010 crop could have a dramatic level on prices. But beyond that report, the record trading volume and impressive price rally likely indicates that speculators have waded into corn markets, a potentially important development that could make market movements even less predictable in coming sessions.
As investors have rushed to the exits of equity markets, it wouldn't be surprising if some large institutions were trying their hand in commodity markets. Often times, the arrival of speculators into the futures market for a particular commodity can translate into big run-up in prices. But of course there is a flip-side to that coin; when speculators leave the market, prices can crater in a hurry.
If the fall harvest does indeed come in well short of preliminary estimates, the Corn ETF could still have some room to run. But buyer beware: recent price movement could also indicate a bubble that is just about ready to pop.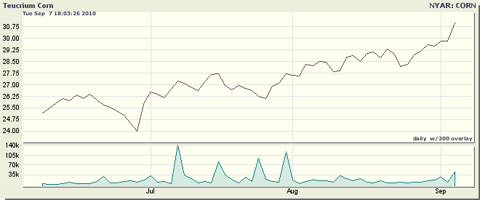 Disclosure: No positions at time of writing.
Disclaimer: ETF Database is not an investment advisor, and any content published by ETF Database does not constitute individual investment advice. The opinions offered herein are not personalized recommendations to buy, sell or hold securities. From time to time, issuers of exchange-traded products mentioned herein may place paid advertisements with ETF Database. All content on ETF Database is produced independently of any advertising relationships.