"I'm the most qualified person to do this - or, the only one they found."

- BlackBerry CEO, John Chen
John Chen is definitely one of my favorite CEOs on Wall Street. His candid confidence and cool demeanor won me over the first couple of times I watched him speak. Further, the way he operates - fueled by common sense and not emotionally vulnerable - is the perfect demeanor for someone that needed to come into a company as big as BlackBerry (NASDAQ:BBRY) is and make the style of cuts and restructuring that Mr. Chen needed to implement.
Revenue has been a massive challenge for BlackBerry since it peaked back in 2011.
)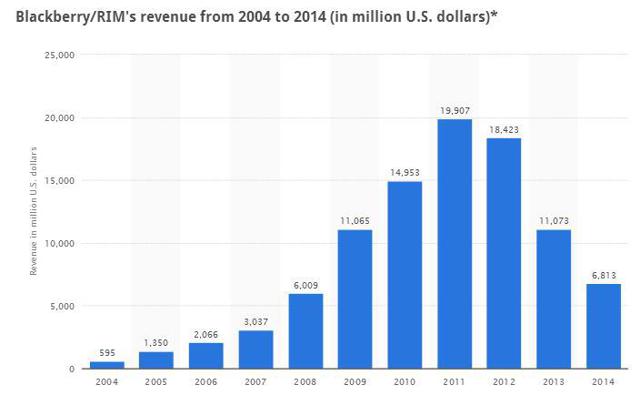 (Source: Statista)
The market, after BlackBerry's last earnings call, doesn't seem to be buying into what Chen is doing. After a brief run-up over $10 to end-2013, the stock has regressed to the low $7 level, where it's been for the past couple of weeks.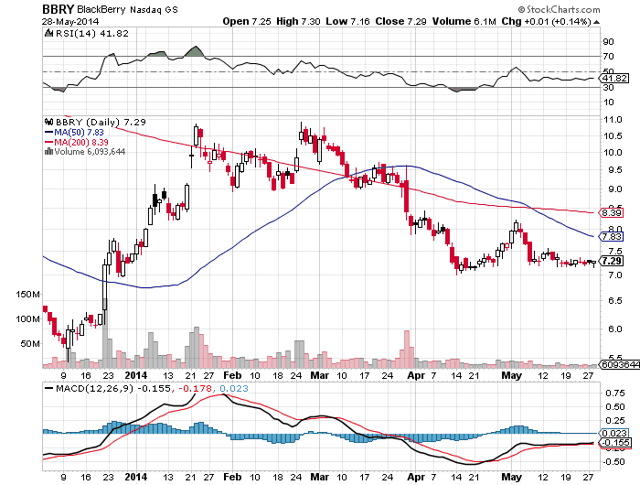 Speaking candidly during a CNBC interview yesterday, Chen seemed to have no lack of confidence that he was going to be able to turn the company around. He commented on the Z3, claiming that the response was "quite good", despite reports that the launch hadn't gone as well as people as hoped.
When probed about handsets, Chen reminded people that handsets are simply one piece of the BlackBerry arsenal. There's no doubt that BlackBerry's market share in phones continues to fall off, but Chen is focused on the company's phones in emerging markets and in fields where security is valued, such as government and healthcare. I still do see a fair amount of people walking around with BlackBerries - usually, it's their "second phone"; their work phone.
As I've stated in previous articles, the interesting thing is that the choice of BlackBerry as a handset for jobs isn't really being made by the rank-and-file employees - it's being made by whoever sits at the top of the IT department for all of these companies.
If the tech-savvy people working in IT realize the benefits of the phone's security, the underlying workers are going to have to use the phone, no matter what they think of it. If BlackBerry can produce a nice-looking, but functionally secure phone, there could be a chance to introduce the phone to people via this medium, as well.
For now, BlackBerry market share continues to wane.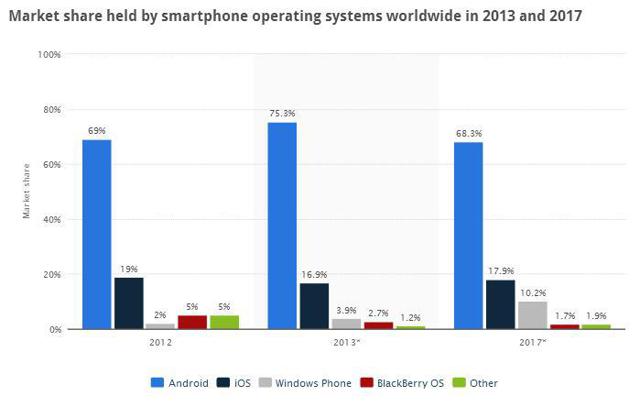 (Source: Statista)
He also noted that the company had plans to expand handsets to other emerging market countries and that he "think(s) they'll do well".
But it's unlikely that BlackBerry once again becomes the titan in mobile phones that it once was.
When talking about moving people to BlackBerry server, he said the transition was "working" and that he'd be able to disclose more in the coming earnings report. Chen claimed he was "encouraged" with how things are going, but that there is still "more that has to be done".
Chen commented that no more job cuts were coming, and that the company was in the "tail-end" of finishing off its restructuring. He intends BlackBerry to be a "strong, independent company", with good milestones ahead of it - he specifically noted profitability and becoming cash flow-neutral.
Also noted in his interview was whether or not BlackBerry phones would support Android; Chen was mum on the issue. Chen did comment that 98% of Android apps can run on BlackBerry - an official partnership, however, could breathe serious life into BlackBerry's dying handset business.
As reported by re/code:
The most logical option would be for BlackBerry to more fully support Android. Already, Android apps can be tweaked to run on BlackBerry 10 handhelds. Chen said in a recent interview, 98 percent of Android apps can run on BlackBerry.

As to whether BlackBerry might be keen to do that, Chen didn't rule it out. And a check from Google might make that even more attractive.
That's a story I hadn't considered, and one that I'm going to watch closely.
If you recall, Eric Lai backhandedly reaffirmed the company's guidance for cash flow-neutral/positive by February 2015. A couple weeks ago, Seeking Alpha reported:
In a post defending his company against critics, BlackBerry (+0.5%) blogger Eric Lai reiterates the company aims to be cash-flow positive by the end of FY15 (ends Feb. '15).
John Chen has already made such a prediction, and has also said BlackBerry aims to be profitable in FY16. Nonetheless, shares caught a bid on today's remarks, and are closing higher in spite of an equity sell-off.
The comments come on a week that has seen BlackBerry launch its $200 Z3 smartphone in Indonesia, and agree to allow BB10 devices to be managed by 3rd-party MDM software platforms.
So, we're getting a little confidence-inspiring attitude out of BlackBerry, despite the way the stock has been trading. As we all know, though, the stock's movement isn't necessarily always indicative of how a business is currently operating.
No mention was made with regards to how the company's plan of monetizing BBM was going. It was reported earlier this year that the company was going to try and use digital "stickers" to try and generate some revenue from BlackBerry Messenger. The "stickers" aren't very popular in the U.S., but the Asian countries love them.
Additionally, we weren't offered too much of an update on QNX - I'll be waiting to hear more about the company's ongoing progress with QNX in the next earnings report. QNX isn't anywhere near impressive market share with tablets, but it's hanging in there.
)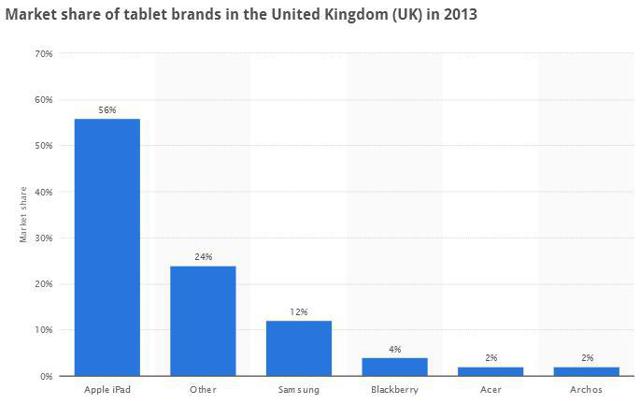 (Source: Statista)
QNX on tablets is predicted, and Chen did seem anxious to want to deliver the next quarter's results so that he could offer up some more detail to the public.
Further, Chen gave his company an 80% chance of survival, which trumps his previous guess of a 50/50 shot - a guess he postulated earlier in the year.
We can then start to make some real rough assumptions.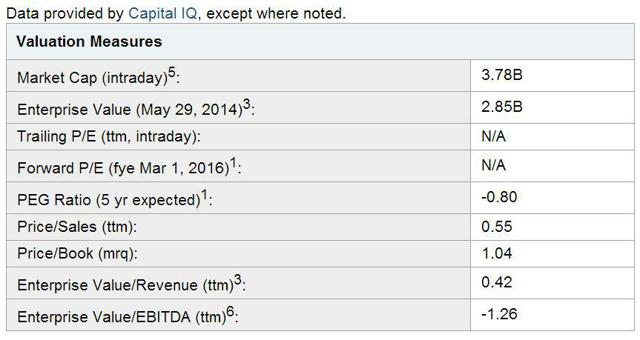 BlackBerry is a strong fundamental stock - it trades nearly at its book value, and it has $4.87 in cash per share, currently.
Due to the valuation that BlackBerry trades at, I would predict that if the company gets to a cash flow-neutral point, the market is going to value it north of $10/share almost overnight. Should the company begin to once again turn a steady profit - regardless of how little - this is easily a $15 stock.
Yes, there's risk here. If BlackBerry continues to burn away its cash and misses its deadlines for becoming cash flow-neutral, you'd want to reevaluate any long position you have in the company. But, I have confidence in Chen and his team.
Chen gives the turnaround chances of 80%. So, with BlackBerry, I contend that getting in today gives you an 80% chance of doubling your money.
Best of luck to all investors.
Disclosure: I have no positions in any stocks mentioned, but may initiate a long position in BBRY over the next 72 hours. I wrote this article myself, and it expresses my own opinions. I am not receiving compensation for it (other than from Seeking Alpha). I have no business relationship with any company whose stock is mentioned in this article.