American Realty Capital Properties (ARCP) is one of my favorite income investments in the commercial real estate investment trust sector. The single-tenant, triple-net lease REIT has conducted a series of transformational acquisitions over the last couple of years, and has become one of the highest-yielding REITs in the commercial REIT space. While some investors might prefer Realty Income (NYSE:O) over ARCP due to a longer shareholder remuneration record, I think ARCP remains an outstanding bet on the U.S. commercial real estate sector. In addition, I like American Realty Capital Properties for one reason in particular: The recent sell-off -- after the company announced that it intends to sell its multi-tenant shopping center portfolio and that it is going to raise new equity -- has made the shares a lot cheaper. As a result of those announcements, shares corrected sharply and are now trading close to the lows of December 2013. A buying opportunity? Absolutely.
For one thing, as discussed in a previous article, American Realty Capital Properties' past acquisitions were not only accretive, but also lifted the commercial REIT to new heights in terms of market capitalization and property count. As Brad Thomas accurately pointed out in his article "Schorsch Hooks A Big Lobster", American Realty Capital Properties' acquisition strategy caused its property count to go through the roof over the last three years.
The recently announced $1.5 billion Red Lobster transaction is another milestone achievement for ARCP, and will push the number of properties in its portfolio over the 4,300 mark (not accounting for the potential sale of ARCenters, see chart below).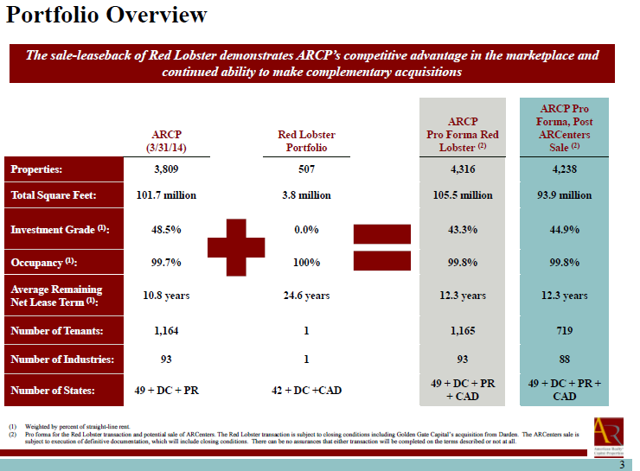 (Source: American Realty Capital Properties Portfolio Information Presentation, May 21, 2014)
Equity offering solid strategic move
The recent sell-off has a lot to do with American Realty Capital Properties' equity offering announced on May 21, 2014. The REIT will now issue 138 million shares at $12.00 per share, which translates into $1.59 billion of net proceeds. According to company information, the proceeds will be used to refinance a credit facility and for general corporate purposes.
Looking back on my investing career, equity offerings were, more often than not, solid strategic moves by companies that either wanted to finance growth projects/acquisitions or needed funds to restructure their businesses. The exercise of the underwriters' overallotment option -- in the case of American Realty Capital Properties' equity offering, underwriters sold an additional 18 million shares, which are included in the above mentioned total of 138 million -- is a strong indicator of institutional buyer interest. While there may be short-term pressure on shares due to the equity offering, ARCP's long-term prospects are as bright as ever.
American Realty Capital Properties continues to grow in terms of property portfolio and total market capitalization. Strong management execution skills have made American Realty Capital Properties a leader in the triple-net lease REIT sector. And the REIT remains cheap.
Peer comparison and valuation
American Realty Capital Properties recently reaffirmed its full-year AFFO guidance of $1.13-1.19 per share. Assuming a mid-point AFFO of $1.16 per share, American Realty Capital Properties currently trades at less than eleven times P/AFFO, and that is not considering accretive effects resulting from its Red Lobster deal or any other transactions in 2014.
For Realty Income, on the other hand, I estimate that the REIT can achieve at least the same AFFO per share it reported for the first-quarter 2014, $0.64 per share. In other words, without acquisition growth, Realty Income currently trades at a P/AFFO ratio of approximately seventeen. ARCP, comparatively speaking, is the better deal here from a valuation point of view.
Compared to a variety of other portfolio metrics, American Realty Capital Properties certainly fares well in direct comparisons with its main competitors: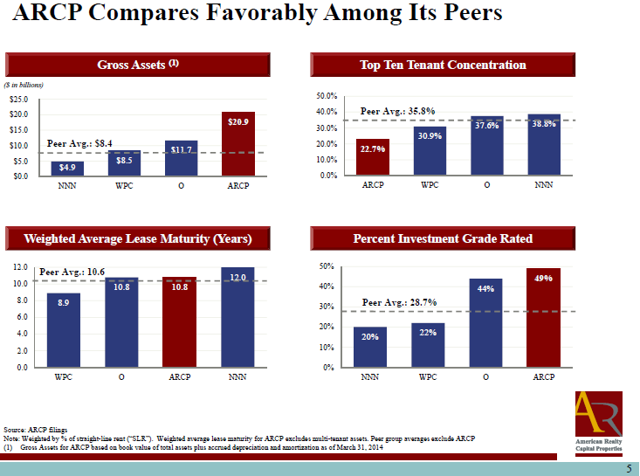 (Source: American Realty Capital Properties Operating Results For First Quarter 2014 Presentation, May 8, 2014)
Chart situation
ARCP's shares have corrected quite a bit over the last twelve months: They are down 25% and approximately 26% since their 52-week high of $16.75. As mentioned above, the recent weakness in ARCP's share price is at least partially attributable to the announced equity offering and because the REIT announced its intention to sell its multi-tenant shopping center portfolio to Blackstone in a deal worth nearly $2.0 billion.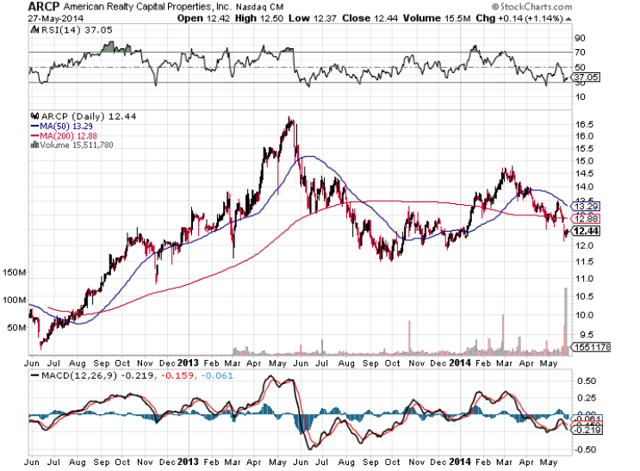 (Source: StockCharts.com)
Final assessment
The decline in ARCP's share price is a strong buying opportunity for investors who like ARCP's acquisition-driven growth strategy. American Realty Capital Properties has a lot going for itself here: Explosive portfolio growth, a competent management team committed to building shareholder value, a rising distribution stream and a comparatively low valuation. And, of course, let's not forget the outstanding 8% yield that the REIT now offers investors (pullbacks are nice!). Strong BUY.
Disclosure: I am long ARCP, O. I wrote this article myself, and it expresses my own opinions. I am not receiving compensation for it (other than from Seeking Alpha). I have no business relationship with any company whose stock is mentioned in this article.