Every market crash has been characterized by three conditions: overvalued, overbought, and rising yields. The chart below displays the periods that have met the above criteria since 1920: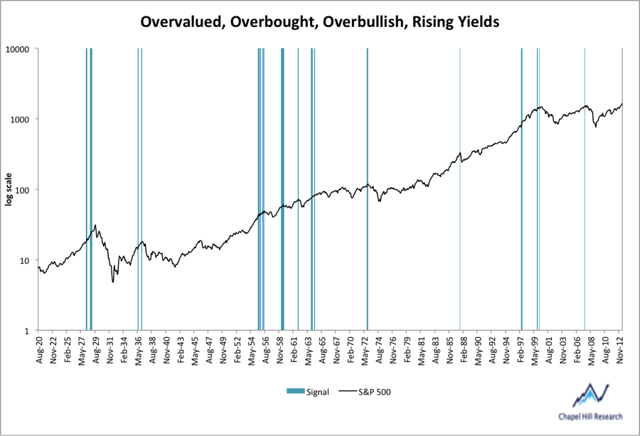 It is clear that the signal has recognized every subsequent market crash, giving only three early signals in 1963, 1964, and 1997.
So what are these conditions?
Overvalued: Schiller CAPE greater than 18.
Overbought/Overbullish: S&P within .1% of its upper Bollinger Band.
Rising Yields: Rising Fed Funds Rate, rising 10-year yield, rising Baa corporate bond yields.
I have written that returns going forward should be significantly below average given current valuations and it would be wise to plan accordingly. The overvalued and overbought signals have appeared throughout the six-year bull market we've had, but the Fed continues to remain accommodative and has held short-term rates at 0%. If the short-term rising yields signal became interchangeable between a rising Fed Funds Rate, rising 3-month Treasury, or both, the graph becomes: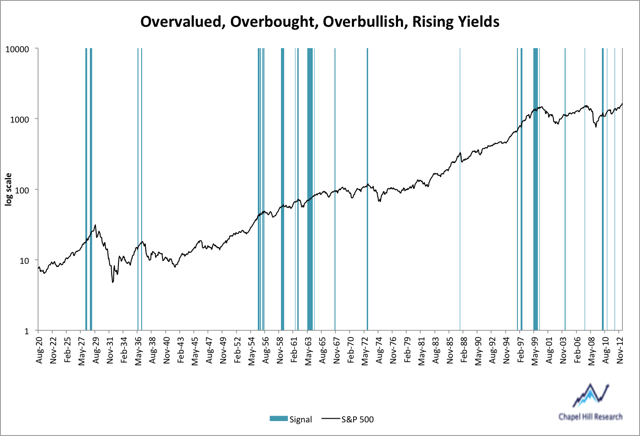 We now have three new signals after 2007, which were all extremely informative for short-term, deep market corrections.
April 2010: S&P 500 plunged 16% after the Flash Crash.
December 2010: several months early in calling the 2011 plunge of over 18%
March 2012: S&P fell 10% over the next three months.
Adding another short-term yield signal has revealed some important information that could have protected against short-term market corrections. However, severe market downturns occur when short-term rates have risen due to Federal Reserve policy. Short-term corrections are a natural and healthy occurrence and it is wise to understand the difference between short-term yields rising as a result of market dynamics and rising yields in the face of contractionary monetary policy. Also, when these three signals emerge, there is a high probability that a correction or a crash is in sight. Portfolio managers must determine whether or not taking market risk in the presence of this signal meets the portfolio's desired risk/return profile.
In addition, another fascinating discovery has been on yield trend uniformity. This takes into account the dividend yield, the 10-year and 3-month Treasury yields. In order to determine different scenarios we have crafted two indicators: one regarding the dividend yield relative to its average over the past twenty years and yield trend uniformity using the aforementioned three variables.
The dividend yield measure is favorable if the current yield on the S&P 500 is greater than the average over the past twenty years.
The criteria for yield trend uniformity are as follows:
Yield on the 10-year is less than 6-months prior
Yield on the 3-month is less than 6-months prior
Dividend yield on the S&P 500 is less than 6-months prior
If two of three standards are met then the condition for trend uniformity is favorable.
Returns are risk-adjusted and taken from the following month from which the conditions were determined.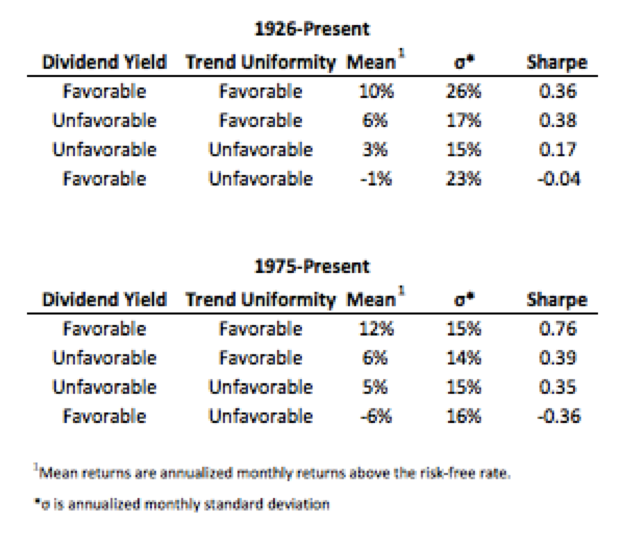 Noticeably, when the dividend yield is greater than its twenty-year average and there is downward yield trend uniformity the risk/return profile is the most promising. On the opposite end of the spectrum, a dividend yield that is greater than its twenty-year average accompanied by unfavorable, rising trend uniformity provides the poorest risk/return.
As an aside, another interesting indicator that has accurately exposed the severity of an equity bubble is the Coppock Curve.
The Coppock Curve is a measure of the rate of change in the S&P 500 over the past 14 and 11 periods adjusted by a 10-month smoothing.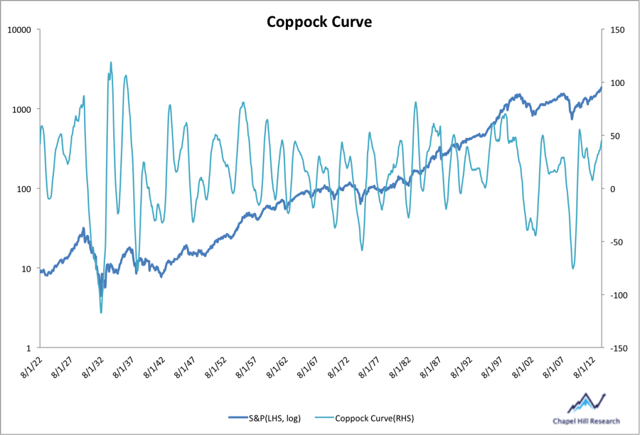 At first glance it can seem quite noisy, however a double top in the Coppock Curve preceded every market crash without the indicator dropping below zero in the interim. We don't have anything to worry about at this point since it continues to move higher; however, if history is any indication, we are in a bubble and once the Coppock Curve turns lower the market should plunge as well.
Finally, markets tumble when there is a recession. It is important to know when recession risks are approaching and when we are, in fact, in a recession.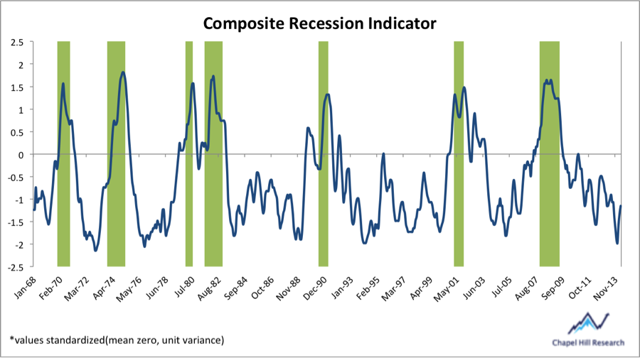 This is a composite, standardized, mean of zero and unit variance, of eighteen macroeconomic indicators that have led or coincided with recessions. Typically, the risk/return profile of recessionary periods is extremely low and it would be wise to adjust or hedge portfolios when risks exceed the standardized zero. Since the financial crisis, we have largely avoided slumping back into recession, despite pundits who have cited otherwise and a number of publications declaring recession in 2012.
Statistically, returns are driven by three risk factors: alpha (α), beta (β), and epsilon (ε). Epsilon is random noise. This is diversifiable risk. Diversifiable risk is risk that goes uncompensated and can be mitigated by diversification. Beta is the risk of movements in the overall market. The expected return from beta is dependent on the expected return of the overall market, which fluctuates over the business cycle and under various market conditions. Finally, alpha is the risk that is specific to the particular equities held. Alpha is contingent upon valuation, management, products, growth etc.
This article is concerned with beta, or market, risk. When the aforementioned conditions appear, it is important to determine whether or not taking beta risk is appropriate. We have shown that overbought, overvalued, rising yield, and recessionary conditions have, on average, not been compensated with satisfactory expected returns per unit of risk. You can continue to believe that equity returns are normally distributed, however, under various market conditions, the distributions change dramatically.
Disclosure: I have no positions in any stocks mentioned, and no plans to initiate any positions within the next 72 hours. I wrote this article myself, and it expresses my own opinions. I am not receiving compensation for it. I have no business relationship with any company whose stock is mentioned in this article.