Update: This just in: "Anglo Irish Will Be Split Into Two Banks With Portion Wound Down or Sold." Talk about timely articles. The reason the bank was split is actually explained in a few lines down in this post – an attempt to prevent a run on the bank while in run-off mode. Now, do we get to see what's under the hood? Cause if we do, expect more splits from a UK bank near you!
We can only warn about Ireland so many times (it's been done nearly monthly since January), with the latest iteration coming just a week ago in the form of "I Suggest Those That Dislike Hearing "I Told You So" Divest from Western and Southern European Debt, It'll Get Worse Before It Get's Better!" Ireland has captured headlines TWICE since then. It appear that the mainstream media is catching on, but are they missing the forest because of all of that bark in the way?
First, this story from Bloomberg: Ireland Default Swaps Surge to Record on Bank Funding Concerns:
Sept. 8 (Bloomberg) — The cost of insuring against losses on Irish sovereign debt surged to a record on concern the government will struggle to support the nation's banks.

Investors are losing confidence in the ability of governments to absorb mounting costs from bank bailouts. Ireland's cabinet is today discussing the future of nationalized Anglo Irish Bank Corp., which last week said it needs about 25 billion euros ($32 billion) in state funding.

"The problems of Irish banks are seen as the problems of Ireland," said Zoso Davies, a credit strategist at Barclays Capital in London. "The market is focused on debt coming due at Irish banks and the impact this could have on the Irish government."

Credit-default swaps on Ireland surged 21 basis points to a 402.5, surpassing a previous closing high of 396 in February 2009, according to data provider CMA.

Bank of Ireland Plc and Allied Irish Banks Plc, the country's two biggest lenders, have 16.7 billion euros of debt maturing this year, according to data compiled by Bloomberg. Banks in Europe's most indebted nations need to refinance $122 billion of bonds this year.

Credit-default swaps on Anglo Irish soared 58.5 basis points to 774.5, the highest level since March 2009. Contracts on Allied Irish jumped 29.5 basis points to 521.5 and Bank of Ireland increased 21 basis points to 409, CMA prices show.

Bank Split

The Irish government has told the European Commission it's considering a number of options for Anglo Irish including winding it down, retaining it in its current form and splitting it into "good" and "bad" parts. Ireland's Finance Minister Brian Lenihan said yesterday the government will extend parts of its banking guarantee to help lenders tap international money markets.

The spread between Irish 10-year bonds and the equivalent German bunds, Europe's benchmark, has widened about 60 basis points since Standard & Poor's downgraded the nation's debt last month. It was a record 379 basis points today, according to Bloomberg generic data.

Concerns about the Irish banking system helped drive indexes of credit-default swaps on European government and bank debt higher.
On April 29th, I was quite blatant in stating "Beware of the Potential Irish Ponzi Scheme!." You see, unlike many of the pundits in Europe who state that Ireland has moved beyond the worst of its problems and is an example of how austerity should work, I believe that Ireland is in very, very big trouble and I outlined the reasoning behind such in my very first posts on the Pan-European Sovereign Debt Crisis.
The problem with winding down banks is that you really can't do it without causing a run on the bank and potentially a run on banks in similar conditions (and there are a few of them). You see, banks are structures built on the ephemeral concept of confidence, and not actual bricks, stones, widgets or any other physical products that can be touched or stored. Once word gets around that you are winding down a bank, what little confidence that was left dissipates as investors and depositors withdraw their capital, thereby further weakening the already weakened bank, giving justification for more entities to withdraw their capital and support. With a weakened capital structure, counterparties start calling in collateral agreements and the death spiral begins as everybody panics and doesn't want to be the last one standing in line.
As a matter of fact, I went further into the topic in mid-April with Many Institutions Believe Ireland To Be A Model of Austerity Implementation But the Facts Beg to Differ! where I showed that Ireland is heavily leveraged into the problems of the PIIGS group faced. A picture (and/or graph is worth a thousand words! From the afore-linked post…
For the most part, Ireland has considerable embedded risk through both foreign claims on troubled countries (ex. PIIGS) and significant bank NPAs as a percent of its GDP.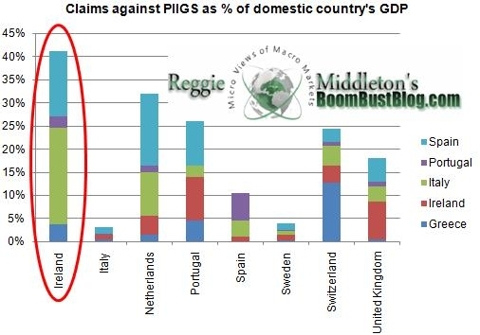 (Click to enlarge)
Even more pertinent, yet missed by many is the little chart that I have used to demonstrate why I am so bearish on Ireland and other sovereigns. There banking system's non-performing assets are so massive that they actually constitute a material portion of the sovereign domicile's GDP. If you remember, I queried whether the mainstream media was missing the forest due to tree bark blindness. Look whose banking system is worse off when considering NPAs in relation to the size of the economy...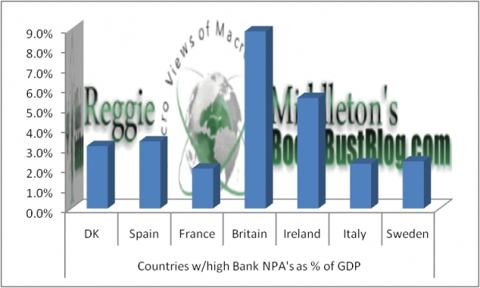 Now, looking at both the charts above, the UK is second only to Portugal in terms of claims against Ireland as a % of GDP and is first in terms of NPAs as a percent of GDP. Shouldn't more focus be directed against the UK? It's not as if they weren't the first ones to bail out and nationalized those behemoth mortgage banks. Methinks this story is far, far from over.
Disclosure: Short European banks