In the large cap midstream MLP sector, Kinder Morgan Energy Partners (NYSE:KMP) is among the most undervalued. The most likely cause of this discount appears to be incentive distribution rights, or IDRs payments to its general partner ("GP") Kinder Morgan Inc. (NYSE:KMI). Simply put, the market now values MLPs without IDRs higher compared to traditional MLPs as a result of higher expected growth levels.
While some analysts, most notably Credit Suisse, have suggested that KMP buyout its GP or the IDR burden, any such transaction would be dilutive for KMP unitholders and may result in a lower distribution level going forward. However, the tradeoff would be that Kinder Morgan as a whole would be a much stronger company and should be given a higher multiple by the market.
The focus of this article is to see how feasible it is for KMP to buy out KMI or its GP interest and to see if the current distribution would remain intact.
How can Kinder Morgan buyout the IDRs?
KMP has two options if it wants to buy KMI's IDRs
A) Buying out only the GP interest
B) Buying out KMI altogether
Each of these options has there own issues and complications.
For option A, KMP and KMI would need to agree on an adequate multiple for the GP and resulting IDR stake. As of Q1 2014, IDR payments were coming in at $467 million per quarter. In addition, the long-term growth rate has been in the 10 to 12% range.
Remember, KMP's IDR payments to KMI constitute 82% of the cash available for dividends. In other words, without this asset, KMI would be a shell of its former self and a much less valuable company overall.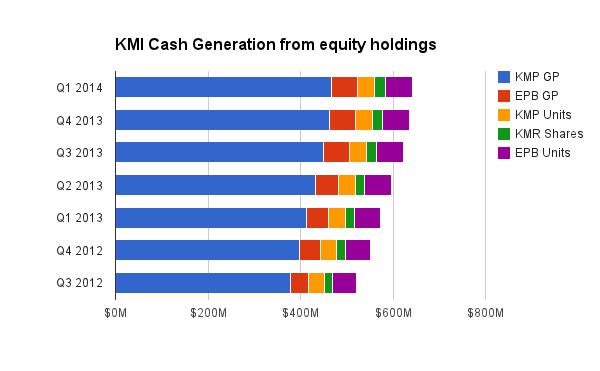 Source: SEC filings
As for option B, KMI has numerous assets (mostly related to El Paso Pipeline Partners (NYSE:EPB)) which do not fit in with KMP. Furthermore, there is the major issue with the KMI warrants, of which 317 million are outstanding. These would need to be retired in order for a buyout to occur.
How much would Kinder Morgan need to pay?
Of the two options, option A seems like the easiest to implement. However, now we have the issue as to what multiple should be applied.
During the past twelve months, KMP IDRs to KMI have totaled $1.724 billion. With a growth rate of 10% per year, investors in KMI could demand a steep multiple.
For my analysis I will be using multiples of 10x, 15x, 20x, and 25x. Or in other words, I would be valuing KMI's GP stake from anywhere between $17.2 billion to $43.1 billion.
How much equity would KMP need to issue?
Now that we have a price range, we would need to see how much equity KMP would need to issue to fund the transaction. To greatly simplify the math, I will be assuming that this is a 100% equity transaction and no debt is to be issued. However, do note that if a deal were to actually occur KMP would most certainly fund a portion with debt and with Kinder Morgan Management (NYSE:KMR) shares.
KMP's current unit price: $76.10
KMP's current unit count: 448 million (321 million at KMP and 127 million i units at KMR)
Sales price and Equity needed for each multiple:
10x: $17.23 billion and 226.5 million units issued to KMI
15x: $25.85 billion and 340.0 million units issued to KMI
20x: $34.46 billion and 453.0 million units issued to KMI
25x: $43.07 billion and 566.2 million units issued to KMI
As shown, current KMP unitholders would be greatly diluted in any transaction. Indeed, at the 20x to 25x multiple KMI would own the majority of KMP units outstanding.
What about the current distribution?
TTM IDRs to KMI: $1.724 billion
TTM DCF: $2.387 billion
Total TTM DCF plus IDRs: $4.11 billion
With the transaction done, KMP would now have full use of the $1.72 billion per year in annual IDRs it was paying to KMI. In addition, KMP would obviously still have access to its own distributable cash flow of around $2.39 billion. This totals to roughly $4.11 billion per year available for distributions.
KMP's current quarterly distribution if for $1.38 per unit, or $5.52 per unit per year. As shown below, KMP would not be able to cover its distribution starting at the 15x multiple.
| | | | |
| --- | --- | --- | --- |
|   | Units outstanding | Distributions per year | Coverage ratio |
| 10x | 674.5 million | $3.72 billion | 1.10x |
| 15x | 788 million | $4.35 billion | 0.95x |
| 20x | 901 million | $4.97 billion | 0.82x |
| 25x | 1014 million | $5.60 billion | 0.73x |
What multiple could KMP trade for?
Current TTM DCF per unit: $5.33
Current DCF multiple: 13.70x
Even if KMP has lower overall DCF per unit, it should start commanding a higher multiple from the market due to no longer having IDRs. To give a few examples, below are the multiples for several MLPs which no longer have IDRs:
MarkWest Energy Partners (NYSE:MWE): 18x
Enterprise Products Partners (NYSE:EPD): 26x
Magellan Midstream Partners (NYSE:MMP): 33x
Assuming KMP's DCF multiple reaches theses multiples, below are the prices each unit of KMP could trade for as a result:
| | | | | |
| --- | --- | --- | --- | --- |
|   | DCF per unit | MWE (18x) | EPD (26x) | MMP (33x) |
| 10x | $6.09 | $110 | $158 | $201 |
| 15x | $5.22 | $94 | $136 | $173 |
| 20x | $4.56 | $82 | $119 | $150 |
| 25x | $4.05 | $73 | $105 | $134 |
Conclusion
This exercise hopefully illustrates and explains why KMP should try to buy KMI and or the GP interest. Almost instantly, the overall Kinder Morgan group would become a much more valuable enterprise. In addition, KMP would be able to fully capture the incremental cash flow increases from it capital projects.
Disclaimer: The opinions in this article are for informational purposes only and should not be construed as a recommendation to buy or sell the stocks mentioned. Please do your own due diligence before making any investment decision.
Disclosure: I am long KMI. I wrote this article myself, and it expresses my own opinions. I am not receiving compensation for it (other than from Seeking Alpha). I have no business relationship with any company whose stock is mentioned in this article.