Starbucks (NASDAQ:SBUX) recently announced its plans to open 1,000 Teavana locations worldwide, starting with its New York location later this year. Starbucks, the world's leading coffee house chain based on worldwide revenue, acquired Teavana last year for $620 million, and plans to penetrate the $90 billion global tea market through Teavana. Tea is the second most consumed beverage in the world, after water. Starbucks is hoping to capitalize on this mass global market through Teavana. One of its first ventures is its Oprah Winfrey Chai Tea which was released last month. However I believe that Starbucks' expansion into the tea industry with Teavana is a bad idea because it is not aligned with the US market and tea culture.
Americans' strong preference for Ready-To-Drink teas
Starbucks CEO Howard Schultz stated that the global tea market is valued at $90 billion. While this may be true, the market that Starbucks and Teavana hopes to establish and penetrate in the US does not reflect many of the current buying preferences of most Americans. As of 2013, the tea market in the US is confined mostly to ready-to-drink (RTD) teas and supermarket-bought teas, particularly iced tea: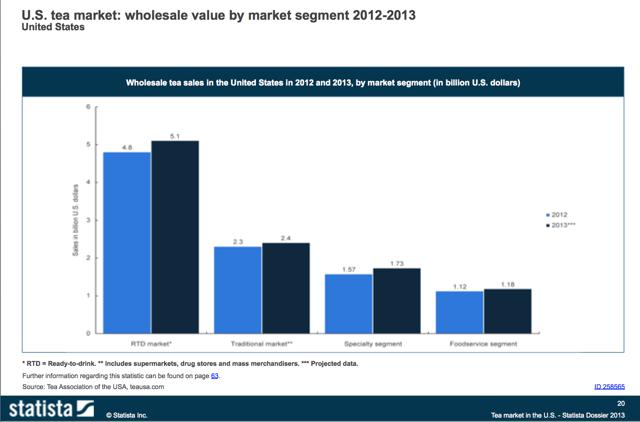 The top five RTD teas are Arizona, Lipton, Lipton Brisk, Lipton Pureleaf, and Snapple. In total, the RTD tea market saw an estimated $5.1 billion in sales, while the specialty tea market, which includes Starbucks and Teavana, only made a fraction of the sales at an estimated $1.73 billion in 2013. This is a tiny fraction of the $90 billion market that Schultz wants Starbucks and Teavana to thrive in.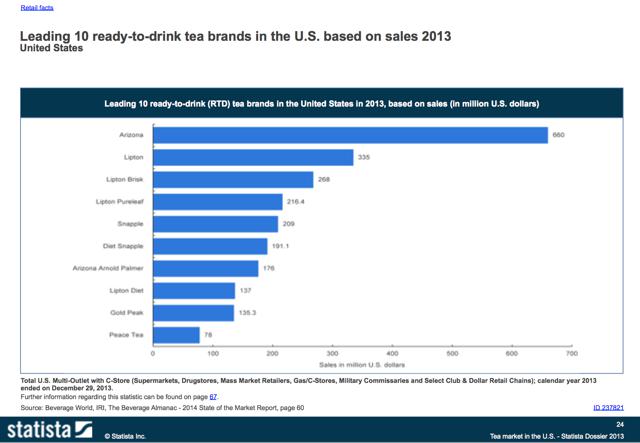 What about bagged/loose leaf tea, which Teavana specializes in?
When looking at the sales of bagged/loose leaf tea brands, the Starbucks Tazo tea brand doesn't have much market share either. Again, the top bagged/loose leaf tea brand in 2013 was Lipton with $266.88 million in sales and 22.1% market share, while the Starbucks Tazo tea brand came in at 7th place overall, with $37.92 million in sales and 3.1% market share. Starbucks is facing a massive uphill battle to take over market share from the overwhelmingly dominant Lipton tea brand in the US.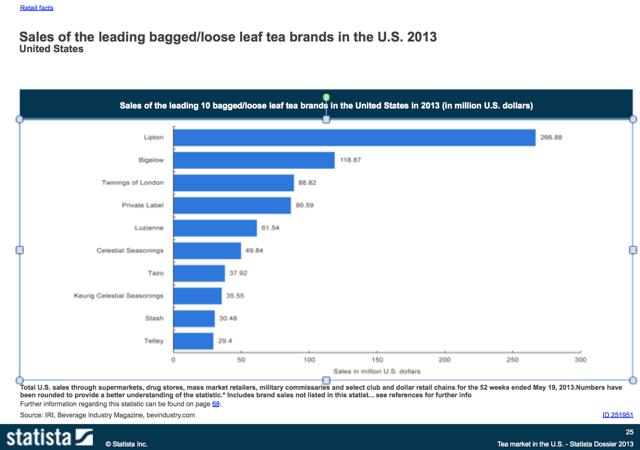 Americans' tea consumption
The current tea drinking habits of Americans don't indicate that they will go for Starbucks/Teavana teas. Americans have a strong preference for iced tea and drink it at least twice a week in general.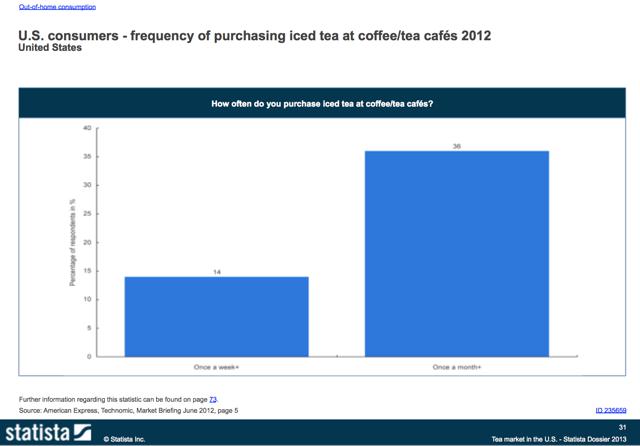 While this may be Starbucks and Teavana's target market, only 36% of Americans actually purchase iced tea at a coffee shop or tea cafe. In fact, most of their purchases are actually from supermarkets and Walmart.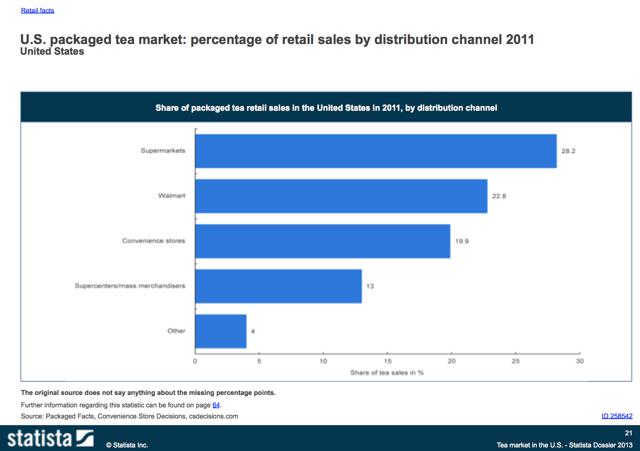 Teavana's target market
Schultz said that he anticipates that millennials, who have had exposure to the various tea cultures of other countries that they've traveled in, will be its market and the ones to drive most of its sales. But in reality, only 24% of those who drink coffee and/or tea several times a day are ages 24-35. By comparison, 53% of daily coffee and/or tea consumers are ages 55 and above. Rather than targeting the millennial generation, Starbucks and Teavana should cater towards this older age group. But would they be willing to pay more for the Teavana experience?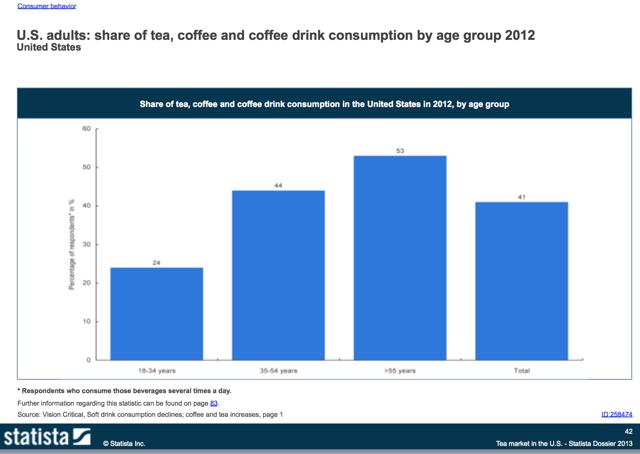 Unless Starbucks and Teavana are able to successfully create a massive cultural shift in American tea consumption -- similar to what Olivia Pope did for Crate and Barrel -- I cannot envision Starbucks and Teavana being very successful at taking over the specialty tea market.
Final Thoughts
I love drinking tea. I am a millennial who has drunk tea from exotic cultures abroad, and I am in fact the target market that Schultz describes for Teavana's future plans. But I am still very skeptical that hot tea will transform American tea-drinking practices the same way that Starbucks was able to do for coffee. I don't think it'll be easy for Starbucks to convince most Americans to pay a high premium for specialty teas when they're already getting what they want for little money. It'll definitely take a massive and expensive marketing campaign to get Americans to change their tea-drinking ways and until they convince me otherwise, I am just going to continue buying my bagged tea from the supermarket and brew it in my kitchen. If I wanted specialty tea, I'd rather go to an old fashioned tea salon rather than a chain tea shop like Teavana.
Disclosure: I have no positions in any stocks mentioned, and no plans to initiate any positions within the next 72 hours. I wrote this article myself, and it expresses my own opinions. I am not receiving compensation for it (other than from Seeking Alpha). I have no business relationship with any company whose stock is mentioned in this article.