The 25-day quiet period on underwriter research, initiated with the May 15 IPO of Jumei International Holding Ltd. (NYSE:JMEI), will conclude on June 10, allowing the firm's IPO underwriters to publish research materials on the Chinese online beauty product retailer.
The underwriters' detailed reports will likely lead to a temporary increase in the price of JMEI shares.
JMEI's Early Market Performance
JMEI's IPO beat its expected range of $19.50-$21.50 per share with a strong pricing at $22 per share on the 15th, and made a healthy 10% first-day return. JMEI closed at $29.09 per share on May 28.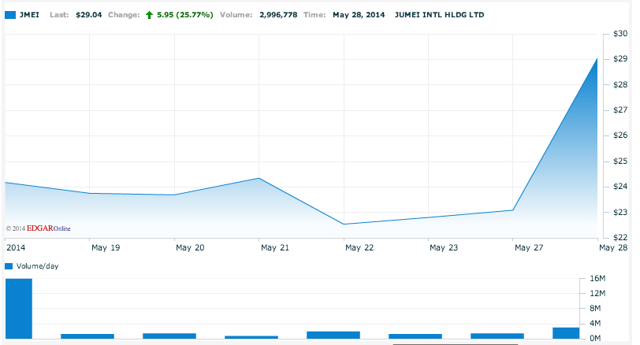 (Nasdaq.com)
JMEI Boasts Strong Underwriters
JMEI's IPO underwriters, including Credit Suisse Securities (USA) LLC; J.P. Morgan Securities LLC; Goldman Sachs (ASIA) LLC.; Oppenheimer and Co., Inc.; China Renaissance Securities (Hong Kong) Limited; and Piper Jaffray & Co., will attempt to recapture the stock's first-day success through the release of positive research reports on JMEI beginning on the 9th.
Both our past two years of research and the results of recent academic studies have provided empirical evidence of a correlation between the visibility and quantity of IPO underwriters and a temporary increase in the price of shares at the conclusion of the quiet period. This price increase typically begins days in advance of the quiet period expiration as investors buy up shares to take advantage of what they assume will be positive reports from the underwriters. These purchases create the perception of rising demand and place upward pressure on share prices before the expiration has occurred.
JMEI Business - A 22.1% Market Share of Chinese Online Beauty Products
JMEI is China's leading online beauty products retailer by gross merchandise volume; the firm boasted a 22.1% market share of Chinese online beauty product sales in 2013.
The firm offers its products through multiple sales models in order to attract and maintain customer interest. JMEI is probably best known for its curated sales, which offer selected complementary products for a limited period. The firm also offers steeply discounted flash sales of the type popularized in the US by sites like zulily.com (NASDAQ:ZU) and the now defunct totsy.com. Unlike these sites, however, the firm also offers a traditional "online shopping mall" of products available for the long term.
JMEI believes that customers attracted to the site through flash and curated sales will return for its standard offerings. This combination of sales models seems to have functioned effectively thus far: JMEI's customer base has grown exponentially over the past three years, with active customers totaling 1.3 million in 2011, 4.8 million in 2012, and 10.5 million in 2013.
For more information, see our preview of JMEI's IPO.
Fragmented Market For Chinese Beauty Products
JMEI operates in a highly fragmented beauty product retail market in China, and faces competition from both other online retailers and e-commerce platforms and traditional beauty products retailers. Major competitors include the likes of Sephora, Watsons, Lefeng, Amazon (NASDAQ:AMZN), Alibaba Group, and JD.com Inc. (NASDAQ:JD).
Many of JMEI's competitors benefit from an international presence that JMEI has yet to achieve. Sephora, owned by LVMH Moet Hennessy Louis Vuitton, has physical stores in 27 countries, and reaches many more through its online offerings. The Hong Kong-based A.S. Watson Group likewise has a stunning 11,000 outlets worldwide. These firms' significant physical presences both attract customers who prefer to shop in person - an understandable preference for beauty product consumers - and arm their online components with strong name recognition and a reputation that may prove reassuring to customers.
Management With Combined Technology/Business Experience
Founder, Chairman and CEO Leo Ou Chen has served in his current positions since JMEI's inception. Mr. Chen received an MBA from Stanford University, and holds a bachelor's degree in computer science from Nanyang Technological University in Singapore.
Co-founder Yusen Dai, who has served as a director and worked as vice president of products since the firm's inception, studied management science and engineering at Stanford University, and holds a bachelor's degree in industrial engineering from Tsinghua University in Beijing.
Bright Future For JMEI And Its Investors
Though JMEI faces significant competition in the Chinese beauty retail market and may be somewhat hampered by its lack of physical presence, we believe that this firm has a bright future and that the quiet period expiration represents an opportunity for investors to get in early.
JMEI is coming into its own at an auspicious moment of increased Chinese interest in online shopping and rising popularity in beauty products. Chinese online beauty retailers have in general fared well compared to other technology stocks YTD.
The firm's combined sales models have proven effective, and should also help secure JMEI's future against the declining fortunes that many American flash sales sites have suffered (Zulily being the exception).
JMEI has also wisely invested in a strong mobile platform, which has paid swift dividends: nearly half of the firm's first-quarter 2014 gross merchandise volume was generated through the mobile platform.
Rapidly increasing revenue and income figures and improving market share confirm JMEI's significant potential.
We invite readers wishing to join the discussion on IPO quiet period expirations to click the +Follow button above the title of this article.
Disclosure: I am long JMEI. I wrote this article myself, and it expresses my own opinions. I am not receiving compensation for it (other than from Seeking Alpha). I have no business relationship with any company whose stock is mentioned in this article.