The M&A frenzy in commodity related stocks is not taking place in the E&P plays like we suspected but rather a much more boring segment of the commodity space; food stocks. There is a rush to combine in the sector as companies look to build up scale in order to help in negotiating placement of their products as well as the price they receive. This is a trend we suspect will continue and based off of all the recent action it appears that the sweet spot of the market is $4-8 billion market capitalization area. We are not speculators in the sector but if we were that is the area of the market we would focus on.
Chart of the Day:
The chart of RBOB gasoline shows us moving towards the yearly highs as the summer driving season kicks off. With gasoline exports being so profitable for the refiners right now and with plants running at nearly full capacity we could see gasoline rise smartly over the next few months.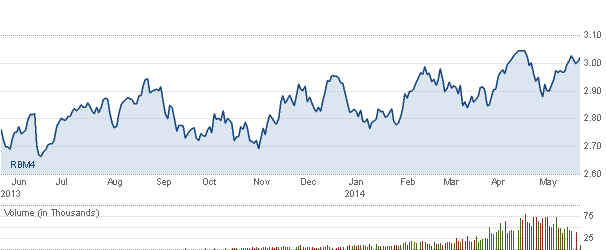 Source: CNBC
Commodity prices are as follows (at time of submission):
Gold: $1,255.80/ounce, down by $3.50/ounce
Silver: $19.02/ounce, down by $0.039/ounce
Oil: $103.51/barrel, up by $0.79/barrel
RBOB Gas: $3.02/gallon, up by $0.0141/gallon
Natural Gas: $4.598/MMbtu, down by $0.017/MMbtu
Copper: $3.144/pound, down by $0.0295/pound
Platinum: $1,460.70/ounce, down by $2.00/ounce
Hillshire Gets Another Bid
Tyson Foods (NYSE:TSN) has now entered the fray by launching an unsolicited $6.8 billion offer for Hillshire Brands (NYSE:HSH). The deal works out to $50/share and would require that Hillshire back out of the Pinnacle Foods (NYSE:PF) acquisition they entered into this past week. Tyson's deal is quite similar to the Pilgrim's Pride (NYSE:PPC) offer except that it is worth $5/share more.
Why All Of the Interest?
Depending on which sources one cares to trust, reports indicate that these are not knee jerk reactions but the result of Hillshire putting itself into play. There is a movement in the food industry to bulk up and achieve mass scale, the scale like a ConAgra Foods (NYSE:CAG) has, in order to negotiate better terms with the large supermarkets. This is why many of the names in the industry have been looking for tie-ups.
When the first offer for Hillshire came in, from Pilgrim's Pride, the rumors were that the company had purposely put itself into play with their bid for Pinnacle Foods knowing that their previous talks with Pilgrim's Pride had a very good chance of bringing them to the table. The move by Tyson is a surprise however and it certainly appears that a bidding war may take place, which is why Hillshire shares are trading above the latest offer price.
Still Room To Run?
With two suitors it certainly appears that Pinnacle Foods is going to be left at the altar, although they will have over $160 million to show for it. That is one name we would be wary of in all of this but the same can be said of Hillshire Brands. We do think that the company will be acquired, and not an acquirer, but think that further upside is limited due to the size of the bidders. Essentially everyone is the same size except for Tyson and with them currently being the high bidder we doubt that Pilgrim's Pride would want to push their bid much higher. They could, but we doubt that they would want to or will. If we were owners of Hillshire shares, which we are not, we would be taking profits as the shares currently trade for a premium over the latest offer.
Disclosure: I have no positions in any stocks mentioned, and no plans to initiate any positions within the next 72 hours. I wrote this article myself, and it expresses my own opinions. I am not receiving compensation for it (other than from Seeking Alpha). I have no business relationship with any company whose stock is mentioned in this article.