Leading rare earth producer Molycorp, Inc. (MCP) announced disappointing earnings again for 1Q 2014. Net revenues of $118.5 million were down 18% from 1Q 2013. The company produced 4,389 (mt) of rare earth minerals, up 10% from 1Q 2013. However, its weighted average selling price (asp) declined 26% from $36.60 in 1Q 2013 to $27.01 in 1Q 2014. Molycorp went on to report a loss attributable to shareholders of $88.1 million for the quarter.
Rare Earth Prices in the Doldrums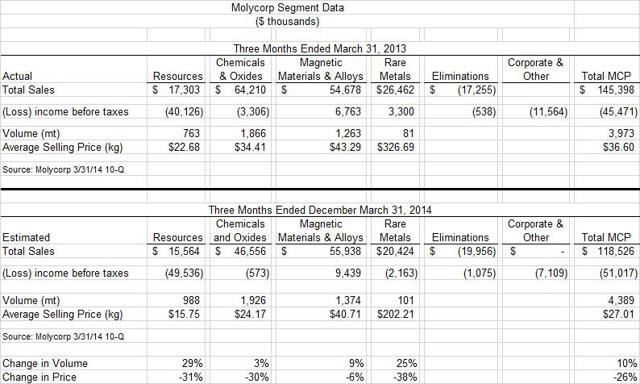 In the November 2012 article, Molycorp And "The Pain Ahead", I was derided for predicting that falling rare earth prices would ravage the business prospects of rare earth producers, including Molycorp. Eighteen months and two dilutive events later, Molycorp's average selling price is still in the doldrums.
Resources Segment - Volume increased 29% versus 1Q 2013, but the asp declined 31%.
Chemicals and Oxides - Volume increased 3% but asp declined 30%.
Magnetic Materials & Alloys - Volume increase 9%, yet asp declined 6%.
Rare Metals - Production increased 25%, but was offset by a 38% decline in asp.
Mountain Pass Delay
Molycorp has spent a few hundred million dollars to modernize its Mountain Pass facility, including its much talked about chlor-alkali plant; by recycling wastewater from Molycorp's separation processes, the company is expected to become the low-cost producer of rare earths. However, that best-in-class production cost is predicated on production volume of 19,000mt to 20,000mt, which Molycorp has not come close to reaching. The chlor-alkali plant was not turned over to operations until February 2014, which delayed the realization of lower production costs. Meanwhile, it has raised debt and equity capital to fund capital expenditures for an uncertain outcome.
Management on the Hot Seat
I have always been enamored with Molycorp's managerial talent. Management has consistently given investors tough, honest news and let the chips fall where they may. However, I have also noticed a pattern of the CEO resigning right below things hit rock bottom.
Current CEO, Geoff Bedford, has the challenge of leading Molycorp through a period of declining rare earth prices and increasing need for capital. He also has to restore credibility with investors amid management turnover and dismal results after its Mountain Pass expansion.
Next Dilutive Event?
With run-rate cash outflows of about $78 million and $236 million of cash on hand, Molycorp will run out of cash within a year. The question remains, "When will the company raise more capital and how dilutive will it be?" Management's visibility on this issue and its ability to cut costs amid declining rare earth prices will be paramount over the coming months.
Conclusion
Over the past 18 months, Molycorp investors have endured declining rare earth prices, management turnover, dilutive events and the potential for another capital raise. There is no end to the pain in sight. Given the aforementioned issues faced by the company, I don't think its $706 million market capitalization is warranted. Therefore, I rate the company a sell.
Disclosure: I am short MCP. I wrote this article myself, and it expresses my own opinions. I am not receiving compensation for it (other than from Seeking Alpha). I have no business relationship with any company whose stock is mentioned in this article. I own June puts on the company