Suncor Energy (NYSE:SU) has been scoring in the Victory Formation system's Top 10 buy ideas for many weeks. Robust North American crude oil and natural gas prices in the first half of 2014 are supporting share values. Suncor is one of the largest integrated oil companies and energy marketers in Canada, with Petro-Canada retail gas stations a cornerstone. It is a major oil sands exploration & production player, oil refiner, and midstream asset holder with nearly 14,000 employees. Based in Calgary, the business also has interests in wind power and ethanol refining.
U.S. oil and gas companies ConocoPhillips (NYSE:COP), Chesapeake Energy (NYSE:CHK), Devon Energy (NYSE:DVN) and Cimarex Energy (NYSE:XEC), plus another Canadian integrated - Imperial Oil (NYSEMKT:IMO) have all bounced into and out of the Top 10 list in April and May. Newfield Exploration (NYSE:NFX) has ranked as the #1 stock overall in the Victory Formation consistently during May 2014. You can read about Newfield's upside potential and catalysts in a Seeking Alpha story I wrote a few weeks back here. This article also explains why I have favored North American producing oil/gas assets the last couple of years.
Suncor is an interesting investment choice, as it scores highly on all the metrics I follow, using a long list of value, growth and momentum considerations. However, I would say none of the individual comparisons stands out as truly outstanding or uniquely positive on their own. Suncor's operating business the last 5-10 years is the "steady as she goes," dependable B+ or A- student from high school that everybody likes and can count on. Suncor's multi-billion dollar operations are definitely not the smartest or coolest, or fastest or strongest asset setup available to investors, but they represent a great candidate to have in a team-designed portfolio. While I would suggest research and capital allocation into a number of oil and gas equities, Suncor should "outperform" the general stock market in coming years on a total return basis. The company makes a great diversification tool in a large or small portfolio if you are looking for a solid, plain vanilla integrated oil stock (in a safe political jurisdiction) to purchase and hold long-term.
Hey, if Suncor was sexy enough for Warren Buffett to make a substantial investment during 2013, there must be something worthwhile to own in this stock. As of March 2014, Berkshire Hathaway held about 13 million shares. The company pays a decent dividend yield of 2.2% at the present $38 stock price. Suncor is projected to grow oil/gas production at an above industry average 9% per annum the next six years.
In May 2014, Suncor can be purchased around 1.5x book value vs. its 10-year trailing average of 2.5x. Priced at 11x estimated 2014 EPS by Wall Street consensus (10-year trailing average of 20x) and 5.5x annual cash flow per share (10-year trailing average of 9x), Suncor should do an admirable job of generating income and stock gains during 2014-2020. The low present valuation relative to past company-specific ratios and performance is definitely an eye opener. The stock looks even cheaper when you compare Suncor's relative financial valuation to the equivalent period S&P500 ratios of the past. While typically trading near par valuations to this blue-chip index the last several decades, today the company is priced at substantial "discounts" to the S&P 500 of 20%-50% depending on which number you are reviewing.
If you believe energy prices are headed higher like I do, Suncor's star may truly shine soon. Our B+ student the last 5-10 years could grow into a Pulitzer prize-winning writer or one of those tech geniuses getting rich taking his internet business innovation public. More disciplined reinvestment of capital (including share buybacks), a number of diversified assets that could be sold to transform the company, and higher energy prices could individually or in combination provide wonderful catalysts for stock price gains the next couple of years.
Of particular note in 2014 for Suncor is the super-strong technical activity of the stock. My work is highlighting very real and sustained buying in the shares. With Warren Buffett's influence and suggestions on how to run the company this year and beyond, smarter allocations of capital and cash flow appear to be supporting the stock price and business growth future. The charts below review the past year's strong share price performance by some of my oil and gas favorites, including Suncor. The upmove since March in Suncor is quite impressive against a smaller increase in oil and gas prices or the stock market overall.
1-Month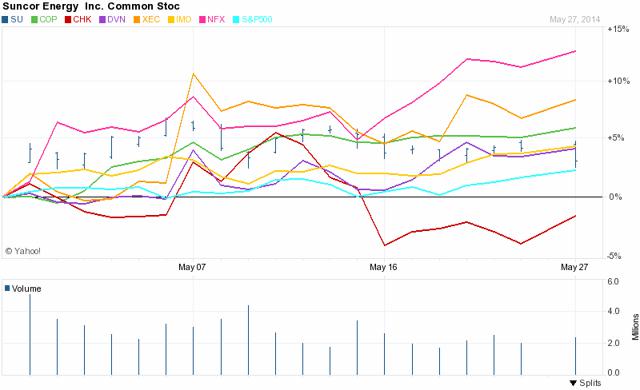 3-Month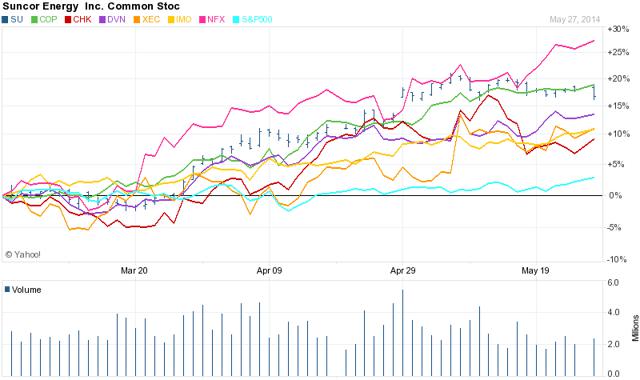 6-Month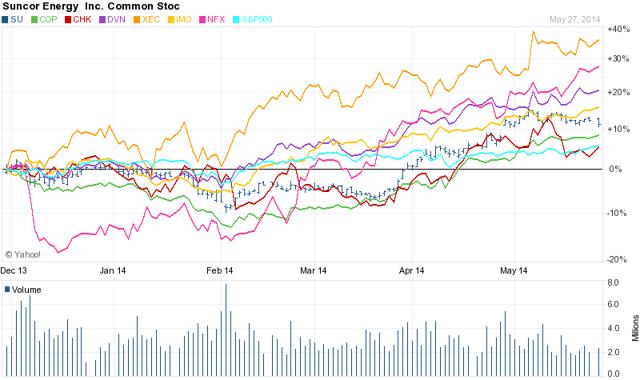 1-Year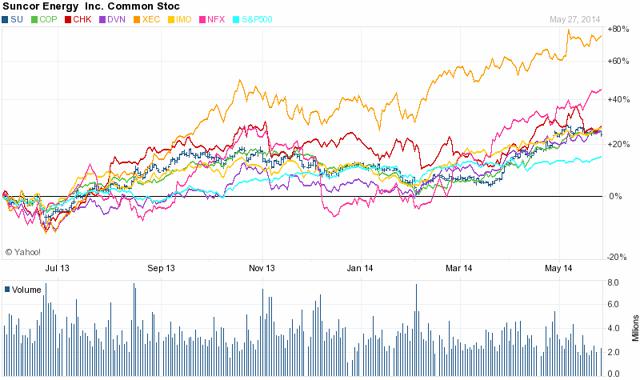 Charts courtesy of Yahoo! Finance
Conclusion
2014 could prove a breakout year for Suncor shareholders. Operating and net profit margins in 2014-15 are projected by Wall Street to be the highest since 2007. The spike in Relative Strength Index [RSI] numbers in April was quite out of the ordinary for Suncor's stock. Please view the chart below. Versus the all-time stock trade of $73 in 2008 or $47 peak in 2011, today's $38 price holds much better underlying value for new and existing owners. One can argue Suncor currently has the best "value" proposition and "growth" outlook in a decade, using a number of relative screens of financial metrics. Can Suncor reclaim past glories and generate oversized total returns for shareholders like it did before 2007? Investors may grade the company an A+ investment option again soon. Stay tuned to find out; only time will tell.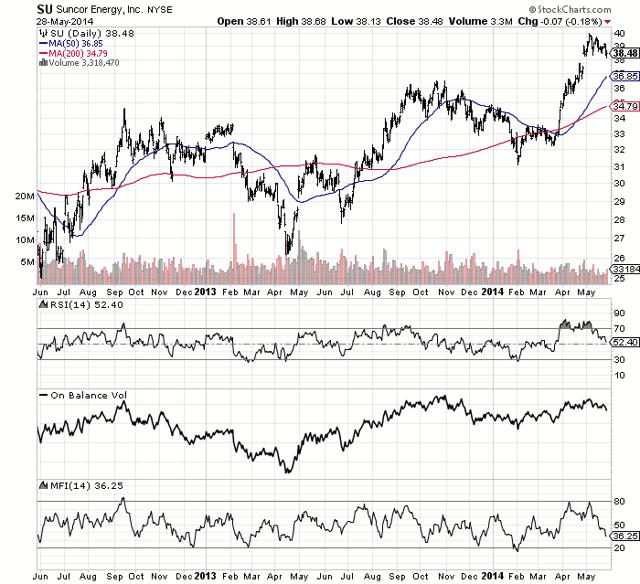 Chart courtesy of StockCharts.com
Disclosure: I may initiate a long position in COP, DVN, IMO, SU, and/or XEC over the next 72 hours. I am long CHK, NFX. I wrote this article myself, and it expresses my own opinions. I am not receiving compensation for it (other than from Seeking Alpha). I have no business relationship with any company whose stock is mentioned in this article.