Cracker Barrel Old Country Store Inc. (NASDAQ:CBRL) has been a dividend darling the past few years with huge dividend increases and massive share buybacks while the share price was depressed. If you do a lot of travel by car you're most likely familiar with the old-timey restaurant/gift shop combination stores. Its down home country cooking is great for the road weary traveler. Every now and then I get in the mood to venture away from the tried and true dividend growth companies and search for new-to-me companies to research and follow. As a dividend growth investor seeking to reach financial independence, it's usually the new-to-me companies that are providing much higher dividend growth rates which is just icing on the cake. Cracker Barrel Old Country Store Inc. closed trading on Wednesday, May 28th at $101.14 giving a current yield of 3.95%.
Discounted Earnings:
Analysts followed by Yahoo!Finance expect Cracker Barrel to grow earnings 10.10% per year over the next 5 years and I've assumed they can grow at 7.58% (75% of 10.10%) for the next three years and at 4.00% in perpetuity. Running these numbers through a discounted earnings analysis with a 10% discount rate and summing over 30 years, yields a fair value price of $114.95. This means the shares are trading at a 12.6% discount to the discounted earnings analysis.
Graham Number:
The Graham Number valuation method was conceived by Benjamin Graham, the father of value investing, and calculates the maximum price one should pay for a company given the earnings and book value. Cracker Barrel earned $5.13 per share over the last twelve months and has a current book value per share of $20.87. The Graham Number is calculated to be $49.08, suggesting that it's overvalued by 104.8%. Since we invest for the future, let's replace the earnings per share with forward looking earnings of $5.70 for FY 2014. Keeping the book value per share the same and re-running the calculation gives a fair value of $51.74. Shares are still overvalued by 94.3%.
Gordon Growth Model:
The Gordon Growth Model is a quick way to calculate the fair value of a company using the current dividend, the expected dividend growth rate, and your required rate of return or discount rate. Assuming a constant 7.00% dividend growth rate and a discount rate of 10.00%, the GGM valuation method yields a fair price of $133.33. Cracker Barrel is currently trading 24.6% discount to this price.
Dividend Discount Model:
For the DDM, I assumed that Cracker Barrel will be able to grow dividends for the next five years at the lowest of the 1, 3, 5, 10-year growth rates or 15%. In this case that would be 15.0% since all growth rates are higher than 15%. After that, I assumed Cracker Barrel can continue to raise dividends at 12.0% (80% of 15.0%) for the next three years, and in perpetuity at 5.00%. The dividend growth rates are based on fiscal year payouts and don't necessarily correspond to quarter-over-quarter increases. To calculate the value, I used a discount rate of 10.00%. Based on the DDM, Cracker Barrel is worth $151.64, meaning it's trading at a 33.7% discount to this valuation.
Relative Historical Valuations:
I've decided to start combining the historical valuation range methods into one section to condense these analyses a bit. In the following table, you'll find the 5- and 10-year average high dividend yield, average low P/E ratio, average low P/S ratio, and average low EBITDA per share ratio. I've also included the base metric estimate for each valuation (i.e. dividend estimate is the dividend payment, P/E is earnings per share...) and the associated price targets.

P/E Ratios:
Cracker Barrel's trailing P/E is 19.72 and its forward P/E is 16.13. The PE3 based on the average earnings for the last 3 years is 23.52. I like to see the PE3 be less than 15 which Cracker Barrel is well over; however, that's due to rapid earnings growth which is a good sign. Compared to its industry peers, Cracker Barrel is undervalued versus Denny's Corporation (NASDAQ:DENN) 25.19 and DineEquity, Inc. (NYSE:DIN) 20.77. Previous comparisons are on a TTM basis. On a forward P/E basis Cracker Barrel is fairly valued versus DENN (16.38) and DIN (15.38). Cracker Barrel is trading at a 5 year PEG ratio of 1.75 which has shares overvalued against DENN (1.23) and fairly valued versus DIN (1.81). A PEG ratio of 1 is generally considered fair value and CBRL is well above that mark.
Margins:
Cracker Barrel's gross margins for FY 2012 and FY 2013 were 13.1% and 13.0%, respectively, and they have averaged a 46.2% gross profit margin over the last 5 years. The net income margin for the same years were 4.0% and 4.4% with a five-year average of 3.6%. Cracker Barrel's net profit margins has been very consistent and with a slight uptrend since the lows during the "Great Recession"; however, the gross profit margin has taken a huge hit the last 2 fiscal years after consistently being at the high 60% level since FY 2001. This is concerning and something that I need to look into more to see the justification. Since each industry is different and allows for different margins, I like to compare the company I'm analyzing to its peer group. Over the TTM, Cracker Barrel's gross margin was 13.3% with a net profit margin of 4.6%; Denny's gross margin was 28.3% with a net profit margin of 5.2%; and DineEquity's gross profit margin was 57.8% with a net profit margin of 11.4%.
Share Buyback:
Since the end of FY 2003, Cracker Barrel has been great at reducing the share count. From FY 2003 to the end of FY 2013, the share count decreased from 51.0M to 23.9M. That's a total of 53% of the shares outstanding since the start and is good for an average annual decrease of 7.3%. Most of the share reduction came between FY 2006-2008 when the share count was cut by more than half. Since the end of FY 2008 though the share count has actually risen from 23.4M to 23.9M at the end of FY 2013. I'd like to see a return to consistent share count reduction, but at least the share count has been relatively flat over the last six fiscal years.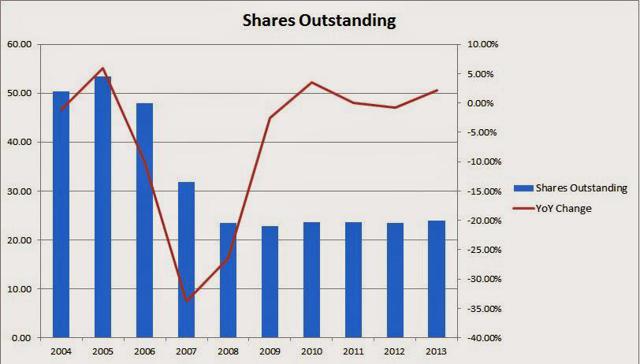 A negative number for the percentage change value means shares were bought back by the company and a positive value means the shares outstanding increased.
Dividend Analysis:
Cracker Barrel is a dividend contender with 11 consecutive years of increasing the dividend. The dividend has been increased at a 78.6%, 45.0%, 27.6%, and 36.7% annualized rate over the last 1, 3, 5, and 10-year periods, respectively. Dividend increases are based off fiscal year payouts and don't necessarily correspond to quarter-over-quarter increases.
The payout ratio based off earnings per share has increased over the last 10 years from 19.6% in FY 2004 to 46.0% in FY 2013. Over the last five fiscal years, the payout ratio has averaged 29.3%. The general trend has been a higher payout ratio, as dividend increases have outpaced earnings per share growth and the last two increases have been absolutely amazing with a 33% and 50% increase, and has led to the huge increase in payout ratio. Analysts expect 10.1% earnings per share growth over the next five years, and given the still relatively low payout ratio, I expect to see solid double digit dividend increases for the time being.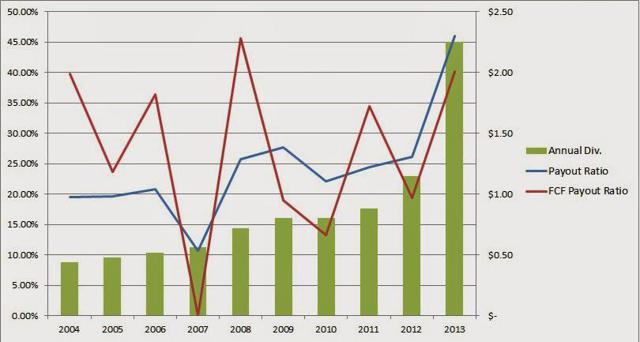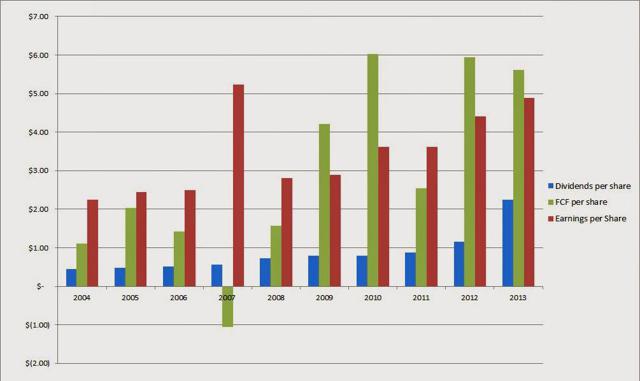 I also like to look at the cash flow and the free cash flow payout ratio in order to determine the safety of a dividend. Cash flow is less susceptible to accounting tricks when compared to earnings because after all cash is cash. The free cash flow payout ratio has been a lot more volatile than the traditional payout ratio and surprisingly was still about the same in FY 2013 as FY 2004. Operating cash flow has increased from $164.1M in FY 2009 to $208.5M in FY 2013 good for an average annual increase of 6.2%. Capital expenditures have been increasing at a much lower rate growing from $68.1M to $74.4M in the same years for an average annual increase of 2.2%. Since operating cash flow has been increasing faster than capex this has been great for free cash flow. FCF has increased from $96.0M in FY 2009 to $134.1M in FY 2013 good for an average annual increase of 8.7%. As a dividend growth investor, the sustainability of the dividend is of utmost importance to me, so I also like to calculate the free cash flow after paying the dividend, or FCFaD. The FCFaD has been doing quite well although thanks to the high dividend increases hasn't grown nearly as fast as FCF. In FY 2009, FCFaD was $78.4M and in FY 2013, it was $88.7M. That's good for an average annual increase of 3.1%. As mentioned above, the FCF payout ratio has been quite volatile over the last 10 years ranging from a low of 13.3% in FY 2010 to a high of 45.7% in FY 2008. FY 2007 actually saw negative FCF thanks to a huge share buyback that retired over 30% of the shares outstanding.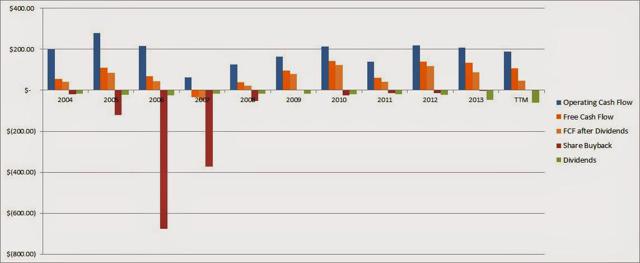 Revenue and Net Income:
Since the basis of dividend growth is revenue and net income growth, we'll now look at how Cracker Barrel has done on that front. Revenue growth since the end of FY 2008 has been fair at best with a 2.1% annual increase, growing from $2.38B to $2.64B. Net Income over the same years has grown at an annualized rate of 12.4% from $65.3B to $117.3B. Although that's coming off of a low base during the start of the "Great Recession". Since net income has been growing faster than revenue, the net income margin has improved from 2.7% in FY 2008 to 4.4% in FY 2013.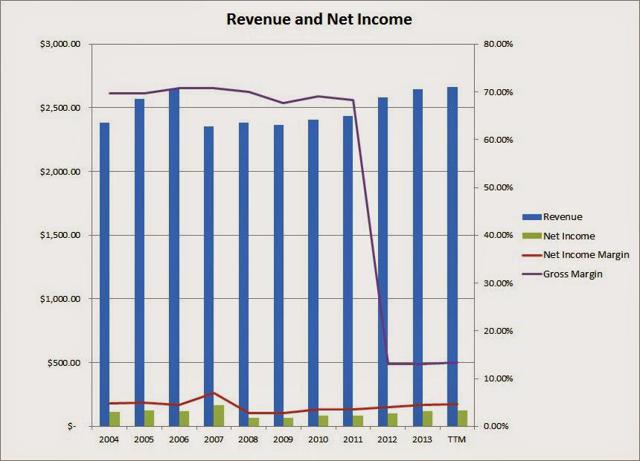 Forecast: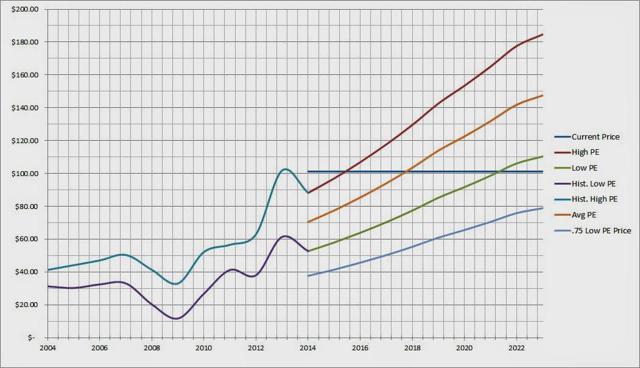 This chart shows the historical high and low prices since FY 2004 and the forecast based on the low, average, and high P/E ratios, and the expected EPS values from the discounted earnings calculation above. I have also included a forecast based off a P/E ratio that is 75% of the average low P/E ratio. I like to buy near the 75% low P/E ratio price although this price doesn't usually come around very often. In the case of Cracker Barrel, the target low P/E ratio is 9.2 and the 75% low P/E ratio is 6.9. This corresponds to an entry price of $52.66 based off the expected earnings of $5.70 for FY 2014, with a 75% target price of $37.63. Currently, Cracker Barrel is trading at a $63.51 premium to the 75% low P/E target price and a $48.48 premium to the target low P/E price. FY 2015 price targets are $57.93 for low P/E and $41.39 for 75% low P/E. If you look at the chart, the current price line intersects the average P/E line towards the end of FY 2018, suggesting that it's currently well above fair value and that you're paying up for about 5 years of growth at current prices. The current price line intersects the low P/E line towards the middle of FY 2022 so you're paying up for about 9 years of growth at current prices. The P/E ratios appear to be fairly depressed for a faster growing company and have started to trend higher which will increase the estimated values. If actual growth comes in above/below analyst estimates, then these numbers are subject to change.
Conclusion:
The average of all the valuation models gives a target entry price of $90.10 which means that Cracker Barrel is currently trading at a 12.3% premium to the target entry price. I've also calculated it with the highest and lowest valuation methods thrown out. In this case, the DDM and EBITDA valuations are removed and the new average becomes $87.67. Shares are currently trading at 15.4% premium to this price as well.
Assuming that Cracker Barrel grows their earnings and dividends at the rates that I assumed, you're looking at lackluster returns over the next 5 years. In 2018, EPS would be $8.38 and slapping an average P/E of 12.65 gives a price of $105.95. Over the next 5 years, you'd also receive $31.01 per share in dividends for a total return of 35.42% which is just a 6.25% annualized rate if you purchase at the current price. If you purchase at the target entry price of $90.10, the 5-year total return jumps to 52.01% or a 8.74% annualized rate. These numbers are subject to change, as the average P/E ratio appears to be quite depressed compared to the typical range for the Cracker Barrel's P/E over the last two years. There would be huge multiple contraction over the time to lower the P/E down to a 12.65 ratio, which I don't expect to be the case as the average P/E ratio should begin to climb as we get further out from the last recession numbers skewing the results slightly.
According to Yahoo!Finance, the 1 year target estimate is $108.33 suggesting that the share price is undervalued and has about 7.1% upside over the next year. The following table is from Morningstar and shows the current valuation of Cracker Barrel compared to its industry, the S&P 500, and its 5-year averages.

Cracker Barrel operates full service restaurants with a old-timey/nostalgic feel. What's unique about their restaurant layout is that they also have a gift shop that doubles as a waiting area while guests are waiting to be seated. They really provide a blended restaurant/retail experience. Cracker Barrel operates 624 stores in 42 states as of the end of FY 2013.
Cracker Barrel has a three pronged plan to continue to grow the company that entails "Enhance the Core, Expand the Footprint, Extend the Brand". By "Enhance the Core", Cracker Barrel is continuing to introduce new and healthier options to their menu. Results have been great so far and several concept items have been added to their core menu. Cracker Barrel is also continuing to work towards new options for the retail portions of their stores. Cracker Barrel is working to "Expand the Footprint" by strategically opening new stores in markets where they see fit. With only 624 stores and over 3.9 million highway miles in the United States, there's plenty of room for expansion for a company that is popular among tourists and drivers. By "Extend the Brand", Cracker Barrel is reaching out to customers through various social media platforms and running promotions to engage them. In 2013, Cracker Barrel sponsored country artist Brad Paisley's latest tour which helped get the Cracker Barrel brand name front and center. Cracker Barrel also reached a multi-year licensing agreement to have Cracker Barrel food products (i.e. pancake mixes, jellies/jams, apple butter...) sold in grocery stores. I for one love their apple butter. Cracker Barrel has consistently ranked at or near the top of consumer and employee rating surveys which bodes well for the future because a happy customer is a repeat customer.
Overall, I think the valuation of Cracker Barrel seems a bit rich at this time. The various valuation methods are fairly scattered in their targets with about half in the $50 range and half in the $130 range. The big reason for the discrepancy seems to be the really low historical valuations leading to depressed forecasts. If you believe that Cracker Barrel will continue to command higher valuations then current prices seem to be attractive; however, if you think this is temporary and the valuations will suppress in the future then it's on the high end of its valuation range. If it pulls back into the mid-$90s, I would contemplate in making a small purchase, but for the time being I'll be holding off on adding Cracker Barrel to my portfolio.
What do you think about Cracker Barrel Old Country Store as a dividend growth investment? How do you think the long-term dividend growth prospects are?
A full list of my holdings can be found here.
Disclosure: I have no positions in any stocks mentioned, but may initiate a long position in CBRL over the next 72 hours. I wrote this article myself, and it expresses my own opinions. I am not receiving compensation for it (other than from Seeking Alpha). I have no business relationship with any company whose stock is mentioned in this article. I am not a financial professional and all thoughts/ideas here are my own and for entertainment purposes only. Investing involves risks. Please consult a financial professional and do your own due diligence before investing. The author is not responsible for losses of any kind by readers. All charts/images and data are sourced from my personal stock analysis spreadsheet, Morningstar, Yahoo!Finance, or Cracker Barrel Old Country Store Inc.'s Investor Relations page.