Wendy's Co. (NYSE:WEN) has been winning rave reviews from customers and the restaurant industry since debuting its 680-calorie Pretzel Bacon Cheeseburger last summer.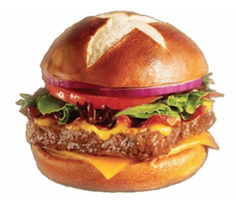 The description of the burger itself is enticing enough:
"A delicious twist on our classic hot n juicy cheeseburger with a sweet & smoky honey mustard sauce, melted cheddar cheese and applewood smoked bacon all on a warm, soft pretzel bun."
The response to the new offering has been so positive that it was recently named "Best Limited-Time Offer" of 2014 by Nation's Restaurant News' (NRN) MenuMaster.
Wendy's itself has proclaimed the Pretzel Bacon Cheeseburger as one of the greatest items in the history of the business.
It proved to be so popular that it helped Wendy's beat out its rivals Burger King (BKW) and McDonald's (NYSE:MCD) in terms of same-store sales growth in the second half of 2013.
While BKW and MCD each saw 0.9% sales growth in Q3 2013, Wendy's reached 3.2%. And as BKW and MCD attained 1.7% and -0.1%, respectively, in Q4 2013, WEN maintained a 3% growth rate.
The Pretzel Burger's euphoria has settled down since then, and this was reflected in its 1.7% sales growth in Q1 2014. However, the company's financial results far exceeded Wall Street expectations.
The Dublin, OH-based fast food chain posted adjusted EPS of $0.07 which more than doubled from Q1 2013's $0.03. Though consolidated revenues declined from the same period last year due to franchisees taking over 418 of its company-owned locations, net income skyrocketed from $2.1 million to more than $46.3 million.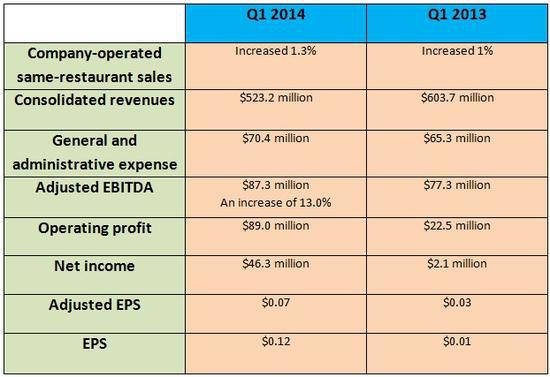 And while its latest burger had much to do with its growth, it was part of an overall brand rejuvenation strategy over the past year.
Wendy's saw an increase in customer traffic due to its "Image Activation" re-imaging program that was initiated in 2011. Renovations include the installation of multiple flat-screen televisions, WiFi, fireplaces, lounge seating, and digital menus. 200 of its company-owned and franchised locations were remodeled as of last year. In 2014, the company expects another 200 more restaurants to undergo the remodeling, split evenly between company-owned and franchised.
Its Q1 boost in net income also benefited from an $8 million slash in interest expense due to its debt restructuring last year. A further $15 million in interest savings is expected in 2014, adding to its current cash balance of $384.7 million.
Looking ahead, Wendy's expects its adjusted earnings to be within $0.34-$0.36 cents per share in 2014, up from 2013 levels. Management anticipates adjusted EBITDA will be in the range of $390.0 to $400.0 million, resulting in an increase of 6.0% to 9.0% year over year. Additionally, same-store sales growth will likely be in the range of 2.5% to 3.5% at company-operated restaurants.
With the continuation of the Image Activation program, Wendy's 2014 CapEx is around $280-$290 million.
One thing to note is that margins at its company-operated locations are expected to dip slightly from 16.8%-17% to 16.3%-16.8%. Input costs are going up across the industry (including beef), and this is likely going to have an impact on Wendy's Q2 and Q3 results as menu prices could potentially rise. But since all restaurant operators will be feeling the cost pinch, if Wendy's continues to focus on innovation, quality, and improving the customer experience then, all in all, there's no reason why this company can't continue its reign as the Queen of fast food.
Disclosure: I have no positions in any stocks mentioned, and no plans to initiate any positions within the next 72 hours. I wrote this article myself, and it expresses my own opinions. I am not receiving compensation for it (other than from Seeking Alpha). I have no business relationship with any company whose stock is mentioned in this article.