This is the sixth of several articles I am writing to show you exactly what I am doing to cope with an unexpected job loss after middle age, but before retirement age. The first installment, titled Part 1, was introductory. In Part 2, I began to explore my strategy in asset allocation, and I covered the Business Development Companies I chose for my portfolio. In Parts 3, 4, and 5, I explored my Real Estate Investment Trust choices, banks and energy companies, and Utility companies. Today, in Part 6, we will begin to look at the largest of my categories, which I call "USA Industrials." Some may disagree with my logic, some may complain that I have the advantage of age and a head start, but everyone can rest assured that I will honestly tell you exactly what I am doing with my own money.
______________________________
Today we continue looking at the asset allocations I used for my Rollover IRA. If this is the first time you are reading one of my articles, I suggest you go back and read "Unplanned Early Retirement, Part 1" to get the background on my situation. You might also want to read Parts 2, 3, 4, and 5 depending on which types of investments interest you.
My 401k to IRA Rollover action plan consisted of asset allocations and specific dollar targets for each security within each asset class. I was looking for positions that either had dividend growth with a yield at least 3% or 4%, or in the absence of dividend growth, I wanted yields in the 5% to 6% range or higher. I allowed myself some flexibility on these rules for the sake of diversification. I avoided positions that might generate foreign taxes or otherwise would make no sense in a tax deferred account. My final asset allocation plan, as executed in January and February 2014, was as shown in the following table: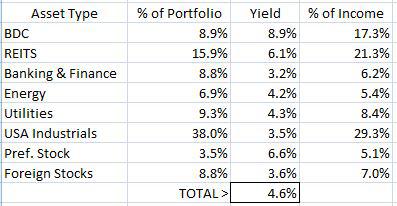 As I state in one of my disclaimers, I am not a certified financial planner of any kind. You may notice that not all of the companies I discuss today would be classified as "Industrials" in an educated financial setting. The term "Industrials" typically refers to companies that are engaged in manufacturing. For my purposes, however, I included fast food companies and retailers. These are the companies that Americans know either by name or by product. They provide "things" for American people from food to services to drugs to electronics to household goods. The amount of each stock that I purchased is a reflection of my opinion of the company and its price on the day of purchase balanced against my knowledge of the amount of that stock I already owned in my taxable account. I have 20 different companies in this list, so I will discuss only 10 in this installment. I will save the other 10 for Part 7, so without further discussion, in order from largest investment to smallest, here they are.
The first company is McDonald's Corp. (NYSE:MCD). Almost everyone in the world from New York to Houston to Beijing to Tel Aviv knows MCD. MCD has managed to translate their business into most cultures by adjusting menus and customs while maintaining speed and efficiency. The current dividend yield is 3.2% and has a good dividend growth history, at least for the past few years. MCD also gets exposure to international markets including most emerging nations so if you believe emerging markets have a place in a growth and income portfolio, MCD fits the bill. I put 2.74% of my Rollover account in MCD on 1/31, and as of today, it is up 9.4% in 4 months including reinvested dividends.
The second company I added to my IRA was Kraft Foods Group, Inc. (KRFT), another American icon. In my taxable account, I have owned Kraft for many years. On October 1, 2012, the snack foods segment of Kraft spun off as Mondelez International. Mondelez competes against other giants such as Frito-Lay. The new Kraft left behind after the split is the smaller company that provides all the staple brands we see in our grocery stores such as Kraft Macaroni & Cheese and Oscar Meyer Wieners. Mondelez is expected to be an international growth company while Kraft is expected to continue turning out cash with its brand name staples. For my IRA, I chose Kraft because the expectation is for strong cash payout at the expense of slower growth. The current yield on KRFT is 3.6%. They paid their first dividend as a separate company, 50 cents a share, on 12/27/2012. They raised it to 52.5 cents per share on 10/9/2013. I put 2.57% of my IRA in KRFT and it is now up 12.1% in 4 months including reinvested dividends.
The third company I chose is Orchids Paper Products Company (NYSEMKT:TIS). Obviously, Orchid is not a household name like my first two selections. Orchid is a small regional paper company based in Pryor, Oklahoma. They make paper towels, bathroom tissue, napkins, and various similar household products which they market mainly through dollar stores, discount retailers, and convenience stores. They have basically no debt and decent profit margins. This has been a shareholder friendly company in the past and more than 28% of the shares are owned by insiders. This I like. They have been paying dividends since March 2011 and have raised the payout 4 times. The current dividend is 3.5 times that of March 2011 and the current yield is 4.8%. The payout ratio is a little high, however, at 88%. I put 2.44% of my IRA in TIS and have so far been disappointed. In 4 months this position is flat to slightly down even with dividends included. I am not a reactive investor, but this is a position I will watch carefully.
The fourth position is Leggett & Platt, Incorporated (NYSE:LEG). LEG is a true industrial company. You may not recognize the name, but I can almost guarantee you have their products all around you. You may be sitting or sleeping on one or driving around with one in your car. LEG makes steel springs and mechanisms for innerspring mattresses, chairs, and other furniture. They provide showcases for retail stores, office furniture, garment racks, automotive control cables, electric motors, sewing machines, and van interiors. This is one extremely diverse manufacturing company. They have been in business since 1883 and are based in Carthage, Missouri. The current yield is 3.6% and they have a long history of dividend increases. As a matter of fact, LEG is a Dividend Aristocrat with 40+ years of increased payouts. I put 2.34% of my IRA in LEG and in 4 months that position is up 14% including reinvested dividends.
For my fifth purchase, I went with AT&T, Inc. (NYSE:T). As everyone knows, T is not just a phone company anymore. If I were writing this article 30 years ago I might have covered T as a government regulated utility, but as discussed in my last article T is now in a new competitive world where phone service does not need wires so the natural monopoly provided by wires no longer exists. In addition, they compete with cable companies in television programming delivery and broadband to the home. This new competitive environment is fraught with danger and opportunity, but so far T seems up to the task. The current yield is a very nice 5.2% and the payout ratio remains down around 53%. AT&T is a Dividend Aristocrat with a 29 year history of payout increases. I put 2.27% of my total Rollover into T and in four months it is up 7.9% including reinvested dividends.
Selection number six is The Coca-Cola Company (NYSE:KO), perhaps the most iconic of all my picks. The Coke brand and logo is known all over the world, in many languages. It is fascinating to look at a Coke bottle in a foreign country and realize that you recognize the overall appearance of the logo even though it is an unrecognizable set of characters. Coke is the big dog in nonalcoholic beverage marketing, sales, and distribution. There really is not much need to elaborate. Of course, there are challenges. Health watchdogs are always telling us to cut out the carbonated sugar water, but hey, we like it. As far as the things important to an income growth investor, the current yield is 3.0% and the payout is always growing. KO is a Dividend Aristocrat with more than 50 years of payout increases. I put 2.22% of my money in KO and that investment is up 7.9% in 4 months including reinvested dividends.
The seventh company I chose is Kimberly-Clark Corporation (NYSE:KMB). This is another iconic American company that makes many of the products we take for granted. Having worked in manufacturing for more than 30 years, my first thought is Kim-Wipes, but most people would think of Kleenex, Huggies, Cottonelle, Kotex, or one of many other brand name consumer staples. Debt is low, profit margins are okay, growth will be slow, but dividends should be reliable. The current yield is 3.0% and growing. KMB is a Dividend Aristocrat with more than 40 years of payout increase in the books. I put 2.1% of my IRA in KMB and in four months that investment is up 3.5% including reinvested dividends.
Selection number eight is a drug company: Eli Lilly and Company (NYSE:LLY). LLY is based in Indianapolis, Indiana and is one of the drug "majors." They make many of the name brand prescription drugs on which our aging population is dependent. There is also a division that makes drugs for veterinary use. I know America is getting older, and I know we love taking care of our animals. Company debt is very low and margins are good. Revenue growth is a question mark. Current yield is 3.3%. The payout has been rock steady since 2008. Prior to that time there was frequent dividend growth. Drug pipelines are a key for revenue growth. As patents expire new products must come out just to maintain revenues. This is the biggest risk in drug companies, but rewards can also be great. You must make sure you get in at a good price. I put 2.08% of my Rollover in LLY and that position is up 13.2% in four months including reinvested dividends.
My ninth pick is Sysco Corporation (NYSE:SYY). I always have to clarify when I tell people I invest in Sysco that I mean the food distributor, not Cisco the technology firm. Everyone does recognize Sysco, however. Their trucks are everywhere and you find their sugar packets on most restaurant tables. In fact, they are the biggest provider to the restaurant industry. Sysco may not have the high tech appeal of Cisco, but they also do not have the volatility. People have to eat and they want to eat out. Sysco also supplies school cafeterias, hotels, nursing homes, and just about anywhere else that provides mass food service. Current yield is 3.2% and the payout is always growing. SYY is a Dividend Aristocrat with 44 years of steady payout increases. I put 2.05% of my Rollover in SYY and to date it is up 5.8% in four months including reinvested dividends.
The last pick I will cover today, number 10, is General Electric Company (NYSE:GE). I have been a shareholder in GE for a long time in my taxable account. I held on through the crash of 2009 when the company fell along with the banking industry due to a heavy reliance on its financial division. I recovered all those losses and more, eventually. Now GE has a renewed emphasis on getting back to what they have always done best - making things. Everyone knows GE from its washing machines, small appliances, electric motors, and electronics. Some are even aware that GE is a major manufacturer of jet engines for airplanes and diesel electric locomotives to pull trains down the tracks. But GE is in so many other areas, such as giant wind turbines, industrial materials, and controls. If you want a back lot play in the new oil and gas boom, GE has a division that is dedicated to making equipment for surface and subsea drilling systems, oil production systems, and equipment for floating production platforms. Current yield is 3.3% and the payout has been growing every year for the past 5 years. I put 1.97% of my IRA in GE and that investment is up 6.7% including reinvested dividends in four months.
Please note that there is no way to do an exhaustive essay on any one of these companies when I am trying to cover several of them in one article. In my own research, I considered a lot more aspects than I can cover here. If this article generates some interest, please study carefully and do your own due diligence before investing your hard-earned money.
In my next installment, I will continue looking at the segment that I have called USA Industrials and the remaining ten specific companies in which I chose to invest. I hope you will tune in.
Disclosure: I am long GE, KMB, KO, KRFT, LEG, LLY, MCD, SYY, T, TIS. I wrote this article myself, and it expresses my own opinions. I am not receiving compensation for it (other than from Seeking Alpha). I have no business relationship with any company whose stock is mentioned in this article.
Additional disclosure: I am not a certified financial expert of any kind. This essay serves as a journal of my own investing experience.