At the end of 2013, I was very bullish on uranium as I believed the end of the 20-year Russian Nuclear Agreement would spark a rally as utilities would have to buy in the spot market. From December to March many of the uranium miners such as the Global X Uranium ETF (NYSEARCA:URA), Cameco (NYSE:CCJ) and Paladin (OTCPK:PALAF) were up significantly.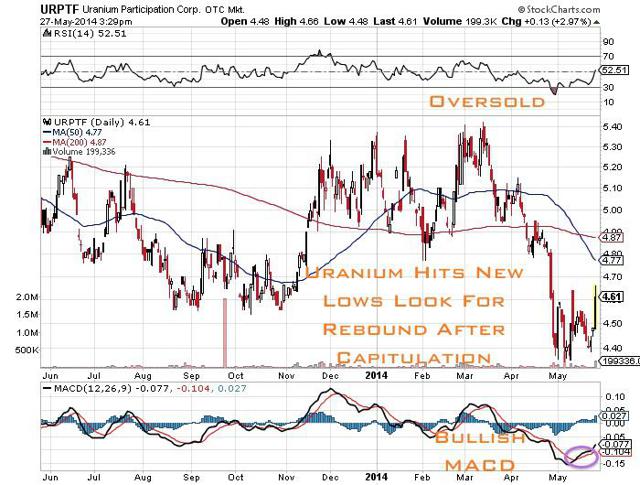 However, for the past two and a half months the spot price has taken a nasty tumble. It may be similar to the recent shakeout in copper (NYSEARCA:JJC) below $3. The marginal players may be shaken out but the long-term value investors may be continuing to accumulate uranium miners at decade-low uranium prices below $30.
Despite this shakeout, I am still bullish and looking at the high-quality junior uranium miners to add to on this pullback.
The end of the 20-year Megatons to Megawatts Program will force the United States which is the largest consumer of uranium in the world to look to the domestic uranium producers such as Cameco.
Look for Japan to turn nuclear reactors back on this summer, as they can't afford to import record amounts of liquefied natural gas. Remember Asian nations pay 4 to 5 times higher for natural gas. China is making a major IPO to raise money for expansion of nuclear power as well. Japan and China are confirming to long-term contrarian uranium investors that nuclear will remain a key base-load power source.
However, the big news will come from Germany, who went away from nuclear after Fukushima and further relied on imported Russian natural gas through the Ukraine. Electricity costs are skyrocketing in the EU. The tensions and sanctions on Russia has left Western Europe in a vulnerable situation. The German people may want to rethink nuclear as did the Japanese and come to the reality that it is either nuclear or be at the mercy of Putin.
Uranium prices still are irrationally low. This basing period is the best time to accumulate if you are a long-term investor who believes uranium will rebound. Remember there are more nuclear reactors being built and operated now than before Fukushima. Supply from mines are declining everyday as most current operations are a losing proposition. Cameco, BHP (NYSE:BHP), Rio (NYSE:RIO), Areva (OTCPK:ARVCF) and Paladin are all cutting back operations at these low price levels.
These are the best times for contrarians some of who are doubling down at these levels. They realize that big money continues to wait on the sidelines to enter the spot market. Uranium Participation Corp (OTCPK:URPTF) raised $58 million to buy spot uranium. There has not seemed to be much buying since this raise which may mean they are looking for a time to enter. When the buying begins look for the uranium spot price to gap higher.
This recent capitulation in the uranium spot price to below $30 may signal the shorts are exhausted. After arguably seven years of basing, uranium has all the characteristics for a sector about to bounce off a major bottom.
Disclosure: I have no positions in any stocks mentioned, and no plans to initiate any positions within the next 72 hours. I wrote this article myself, and it expresses my own opinions. I am not receiving compensation for it. I have no business relationship with any company whose stock is mentioned in this article.
Editor's Note: This article covers one or more stocks trading at less than $1 per share and/or with less than a $100 million market cap. Please be aware of the risks associated with these stocks.