Verizon Communications Inc. (NYSE:VZ) reported solid first-quarter results. The strength of the business continues to be the Wireless segment with the Wireline segment being a drag on consolidated results. Additionally, growth in the FiOS segment slowed in the first quarter.
While AT&T (NYSE:T) is probably the better overall telecommunications company, Verizon does have some interesting growth initiatives. There is the massive FiOS refresh from cable to fiber. There are also the health care and connected car initiatives that should add incremental revenues during the next few years. The main longer-term risk that I see is that Verizon starts to eat into too much of the consumer's income pie.
In terms of valuation, investors have been accumulating shares of less risky corporations and that has left shares of Verizon about 16% overvalued.
Recent Development
In the first quarter, T-Mobile (NASDAQ:TMUS) and AT&T bested Verizon in the battle of branded postpaid subs.
The FCC voted to restrict how much low-frequency spectrum AT&T and Verizon can buy in next year's auction.
The Wireless segment is rolling out XLTE, which appears similar to the LTE-advanced network running in South Korea.
Verizon has installed nearly 17,000 miles of fiber optic infrastructure in New York City.
Analyst's Note
Verizon Communications Inc. is a provider of communications, information and entertainment products and services to consumers, businesses, and governmental agencies. Its two segments are Wireless and Wireline.
What I figured would happen, happened! Verizon issued a substantial amount of debt to buy back Verizon shares from Vodafone (NASDAQ:VOD), and AT&T made a major move on the wireline front, which will likely include satellite if the deal closes. AT&T already had the edge in wireline, and with the potential acquisition of DirecTV, AT&T now has a significant edge over Verizon. Thus, AT&T is now the clear leader in the telecommunications industry. I figured that the deal with Vodafone would have long-term adverse consequences, and that is starting to play out.
For the full year, the forecast is for 4% revenues growth Y/Y; revenues increased 4.8% in the first quarter. The gross margin is expected to come in at 62% while Q1 came in at 63.7%. The operating margin of 23% is above my full-year forecast of 15%, but the expensing of costs related to pensions will come later in the fiscal year. Summarily, the leverage built into the cost structure produced phenomenal first-quarter results for VZ investors. I'm maintaining my full-year EPS forecast of $3.67.
Turning to the cash flows, cash flow from operations are coming in slightly below my forecast but roughly in line with my forecast. The difference is attributable to the working capital changes. I am maintaining my forecast of $25.52 billion of free cash flow to the firm for the full year. I will have a better feel for free cash flow to equity by the end of the second or third quarter. The investing activities appear sound.
Wireless is a solid business with excellent first-quarter performance. But, at an annualized $1,920 per account, consumers are going to start becoming increasingly unhappy with their wireless phone bills if the price continues to rise at this pace. The Wireline segment continues to post unimpressive results. FiOS net add growth slowed significantly during the first quarter. Additionally, when you add the Wireline ARPU with the Wireless ARPU, the combined number is large enough that consumers will attempt to reduce aggregate expenditure. Consumers are facing a bill that is over 10% of post-tax income for a two-income household.
The necessities of life are housing, clothing, food, transportation, and Verizon?
While I prefer AT&T to Verizon, as a standalone investment, Verizon is a solid play. The return on equity will be there, as the leverage impact enhances the growth numbers. Longer term, consumers are likely to rebel against a company eating too much of its income pie. And the Wireline business is likely to remain unimpressive for at least the next few quarters.
Portfolio & Valuation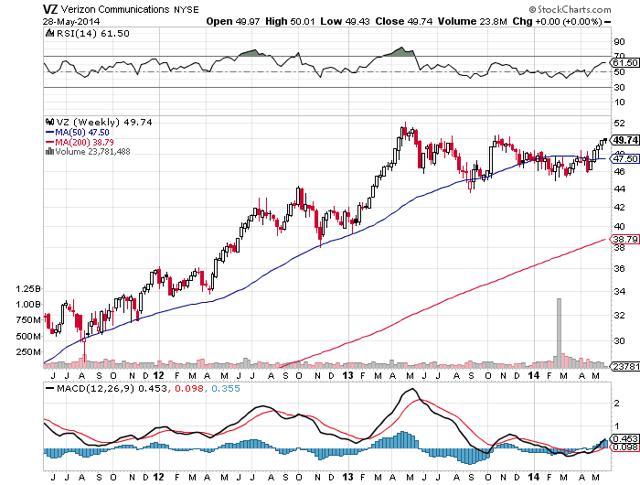 Simply stated, watch for the trading range to hold, but a breakout should take shares up to about $60.
| | | | |
| --- | --- | --- | --- |
| Monthly expected return | Quarterly expected return | Quarterly standard deviation of returns | Sharpe ratio |
| 1.3% | 3.80% | 8.50% | 0.36 |
| | | |
| --- | --- | --- |
| | Intrinsic value estimates | Forward multiplier valuations based on base case |
| Optimistic | $50.19 | P/E: 11.72 |
| Base case | $43.02 | P/S: 1.41 |
| Pessimistic | $37.64 | P/BV: 1.68 |
| | | P/CFO: 4.40 |
Based on the forecasted dividend of the firm, Verizon is fairly valued at about $43 per share; thus at about $50 per share, VZ shares are overvalued by 16%. The multiplier model valuations look relatively low, but the firm is carrying a substantial amount of debt and the growth rate is roughly in line with GDP.
General Risks
The share price is likely to remain volatile, and investors could lose a portion or all of their investment.
Investors should judge the suitability of an investment in VZ in light of their own unique circumstances.
A decline in the global economic growth rate and/or a decline in the pace of economic growth in the United States could adversely impact the results of operations and the share price.
Competition in product pricing could adversely impact performance.
Incorrect forecasts of customer demand could adversely impact the results of operations.
Higher interest rates may reduce demand for VZ's offerings and negatively impact the results of operations and the share price.
This section does not discuss all risks related to an investment in VZ.
Disclosure: I have no positions in any stocks mentioned, and no plans to initiate any positions within the next 72 hours. I wrote this article myself, and it expresses my own opinions. I am not receiving compensation for it (other than from Seeking Alpha). I have no business relationship with any company whose stock is mentioned in this article.