Seadrill (NYSE:SDRL) just reported first-quarter earnings and the market seems pleased with the results. Seadrill closed up Thursday by more than 2%. Such upside action is a continuation of a greater upward trend since about April when the stock was about 19% lower than where it is now. This article will weigh Seadrill's first-quarter results and will attempt to gauge how much continued upside Seadrill has.
First quarter results
This quarter Seadrill reported EBITDA earnings 10.5% higher than those of the same quarter last year and almost 3% greater than the EBITDA of last quarter.
Fleet utilization, an important metric reflecting the health of any rig lessor, dropped to 88% for floaters but remained at 97% for jack-ups. Seadrill's floater utilization rate was well below its own standard but still above the current industry average of 79.7% according to Rig Zone. This lower rig utilization was apparently due to technical issues on three of Seadrill's deepwater floaters, which caused some downtime. Management has already secured the replacement parts and is confident that rates will return to their usual place in the high 90s.
Management also raised the dividend from $0.98 to $1.00. Unlike last quarter, management did not raise the dividend because it saw little use in the further raising the yield at such low equity prices. Apparently management was encouraged by the significant price appreciation since April.
As mentioned in the conference call of a previous quarter, the dividend is fine until 2016 at least, despite the fact that Seadrill pays nearly all of its operational cash flow in the form of dividends. This is because Seadrill has contracted the majority of it ships for multi-year deals, and hence has good cash flow visibility.
Finally, it is worthy to note that Seadrill has seven floaters under construction which are still uncontracted. Although most current ultra-deepwater floaters are contracted at dayrates between $500,000 and $600,000, some new contracts are fetching dayrates between $400,000 and $500,000, particularly off the coast of Brazil. However, it is still too early to tell what rates Seadrill's newbuilds will fetch.
Utilization rates may be positively effected by an agreement made between Seadrill subsidiary North Atlantic Drilling and Russian oil giant Rosneft, in which North Atlantic Drilling will supply rigs for Rosneft's Artic operations. Rosneft will also buy an equity stake in North Atlantic Drilling. Details are still being discussed, and so the immediate impact is still unknown.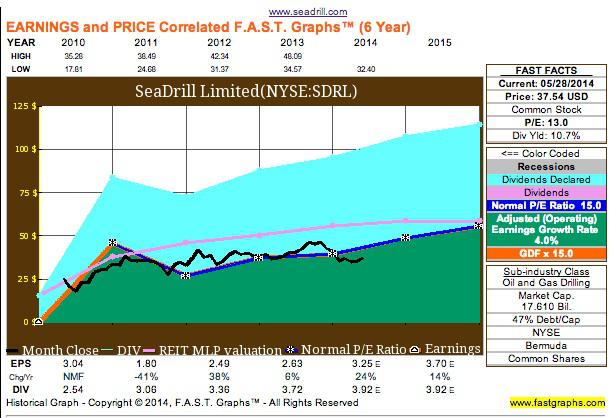 FAST Graphs
Valuation
As FAST Graphs above shows, Seadrill is still undervalued despite its impressive run up since late April. At the stock's average P/E ratio, which is illustrated above as the dark blue line, shares would go for $48; pretty big upside from today's price of around $38.
I think, however, a more conservative approach is warranted. Few other offshore lessors pay the totality of cash flow in the form of dividends. Therefore, Seadrill's more comparable equity class may be upstream MLPs, which are involved in upstream oil and gas and also pay most, and sometimes all, cash to shareholders, just like Seadrill does. Currently, most upstream MLPs yield somewhere between 9% and 10%.
To be sure, this is a crude comparison. Seadrill has the advantage of exposure to Brent Crude prices and not to WTI. Seadrill also has longer-term visibility for growth and is in a secularly growing market where demand for rigs will likely outstrip supply in the intermediate future. Seadrill's low double-digit per year EBITDA growth trajectory is also one that many upstream MLPs would envy.
Still, at a yield of 9% Seadrill would sit at $44. I believe that is a more realistic short-term price target. This means there is another 15% of upside remaining, plus, of course, the generous 10.4% dividend yield.
Conclusion
In my opinion, Seadrill's quarter was a B+. EBITDA continues to march upward and the secure dividend continues to follow in its wake. While there are some signs of weakness in dayrates going forward, there are also some encouraging signs such as an important deal with Rosneft. Despite the runup over the last month, Seadrill continues to be a good deal right now.
Disclosure: I am long SDRL. I wrote this article myself, and it expresses my own opinions. I am not receiving compensation for it (other than from Seeking Alpha). I have no business relationship with any company whose stock is mentioned in this article.