After the bell on Thursday, Glu Mobile (NASDAQ:GLUU) announced a secondary offering, which is expected to total $30 million in size at a price of $3.50 - $3.60 per share. The official pricing is expected to occur before the market opens on Friday. The shares were trading down some 8% in after-hours action.
Individual investors almost universally view secondaries as bad news. Indeed, for a struggling company, a secondary might simply dilute existing shareholders and delay its inevitable failure.
However, contrary to the negative sentiment, a secondary is often great news. For a fast-growing company, a secondary provides the cash infusion that enables accelerated growth. In this way, a secondary is not much different than an IPO.
For example, when SodaStream received a major cash infusion (via its 2010 IPO), sales growth quickly reaccelerated, skyrocketing from 5% (down from 16% in the prior year) to more than 50% just one year later:
| | | | | | |
| --- | --- | --- | --- | --- | --- |
| SodaStream (SODA) | 2008 | 2009 | 2010 | 2011 | 2012 |
| Revenues | 129,664 | 136,246 | 208,414 | 288,953 | 436,316 |
| Growth | 16% | 5% | 53% | 39% | 51% |
SODA's shares responded by tripling in 8 months. Indeed, being able to finance channel inventory was a major contributor to the growth of its then-winning product.
Anecdotally, the ratio of bullish secondaries versus bearish ones is about 50-50. However in over 90% of the cases, the stock gets crushed on the news. That is simply because of the short-term supply/demand imbalance that results.
SodaStream - First 8 months after IPO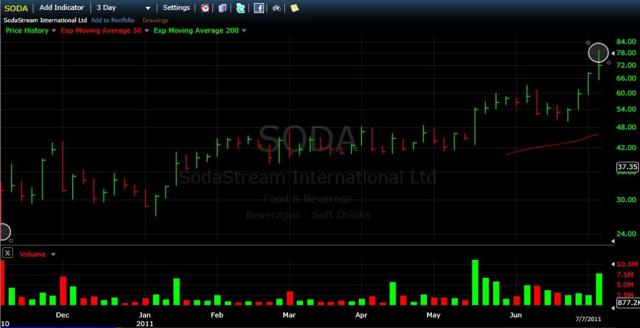 Source: FreeStockCharts.com
If you can identify the situations where the secondary is bullish news, you can take advantage of panicky investors. To figure it out, start by categorizing the secondary as "survival capital" or "growth capital." In other words, did the company need the cash, or raise it for growth / acquisitions?
When it's the former, it's more likely to be bearish. When it's the latter, it often precedes a great benefit to the company and its shareholders. FYI, for a private company a public round of "growth capital" is better-known as an IPO.
For proof of my assertions, just look at the secondaries for GLUU on September 17, 2013 and Attunity (NASDAQ:ATTU) on November 21, 2013. As you can see below, both stocks fell in the week leading up to the secondary. Both also opened lower on the day after announcing the secondary. However, both went straight up from that point forward.
GLUU rose from $2.00 to $5.50 in 6 months and ATTU went from $7.00 to $12.00 in just 3 1/2 months.
GLU Mobile secondary (September 17, 2013)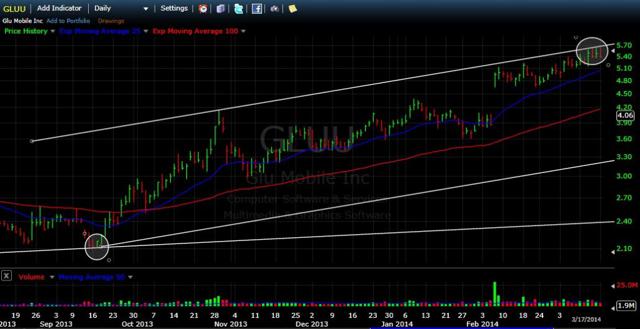 Source: FreeStockCharts.com
Attunity secondary (November 21, 2013)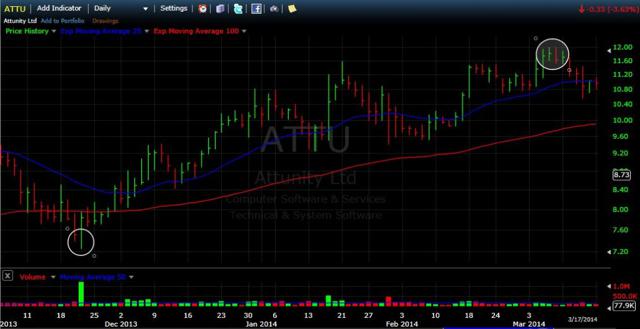 Source: FreeStockCharts.com
The reason for all of this is simple. Institutional customers can often sniff out a secondary offering in advance. Many will sell or short the stock involved, knowing they can buy into the offering at a lower price. In fact, their selling actually contributes to the lower price.
However, offerings made by fundamentally promising company attract plenty of demand. This is why secondaries like the aforementioned ones resulted in such immediate reversals in share-price momentum.
Inexperienced investors tend to assume that all secondaries are bad, panic out, and don't look back (the loss is a painful memory to be forgotten). Experienced investors look at each situation on a case by case basis and assess whether the deal represents an opportunity.
In this case, GLUU has $37 million in cash, so an investor must ask, "why would they raise money now?" To anyone who attended the company's last investor presentation, the answer is obvious. Armed with a value-creating monetization platform, GLUU sees acquisitions as a valuable way to leverage its capabilities. This should be viewed as extremely bullish.
In conclusion, as is the case with many great investing opportunities, GLUU watchers have two choices -- think about today's pain or focus on tomorrow's gains. Personally, I always look ahead. Thus, I continue to believe that shares of GLUU are poised to triple.
Remember, when comparing a company to its stock, the value of the company is ultimately what drives the stock, not vice versa.
Disclosure: I am long GLUU. I wrote this article myself, and it expresses my own opinions. I am not receiving compensation for it. I have no business relationship with any company whose stock is mentioned in this article.
Additional disclosure: Mr. Gomes' investment Methodology serves as the basis of his selection process, asset allocation, and trading decisions. Investors who seek to act on his research should first read his Methodology and Portfolio Tracker, free to the public at PoisedToTriple.com.