Just before the election results were known, with the research assistance of Prasoon Raghuwanshi, I wrote an article talking about the promise of India. Below is a further refinement after seeing the landslide victory occur.
Election update
The landslide victory of Modi's BJP (Bharatiya Janta Party) is the first time in the history of Independent India that a non-Congress party has got a majority in Parliament in the Lok Sabha.
This event indicates a coming of age of Indian democracy. India's rising aspirations and frustration with corruption and ineptitude are driving the political debate in the country. BJP has earned a rare prize of winning 282 seats (10 more than what is required for forming a government in India) by highlighting economic reforms and underplaying its usual religious agendas. This increases the probability that the new government will focus on development and governance as its prime agenda.
Modi formed the government on May 26 and had a pro-investors cabinet of Ministers. On its first day in office, the new government brought up the issue of retrospective taxation that had been hurting multinational companies like Vodafone (NASDAQ:VOD), which is fighting a $2-billion tax dispute. The new government also announced setting up a special investigation team to unearth black money.
A four-dimensional economic puzzle
Modi will need to work on four macro-economic dimensions of growth, fiscal deficit, current account deficit, and inflation to help India come out of its existing stagflation. India's economy expanded 4.9% in 2013-14 after slipping to a decade-low growth of 4.5% in 2012-13.
Growth in this financial year is estimated at 5%. The current account deficit narrowed to $35 billion in 2013-14 from a record level of $88.2 billion in the previous financial year.
India's macro problems are interrelated. India's high inflation, especially food, reflects a tight supply situation. The poor quality of infrastructure and restriction on foreign and domestic investment in certain sectors limit the increase in supply to meet demand. For example, India's agricultural productivity is below levels in comparable countries, supporting persistent food inflation. The central bank responds in a typical fashion by increasing interest rates to check inflation. High interest rates, in turn, further limit Capex growth.
Modi's plan for legislative support
India's macro challenges require a strong legislative support. As I pointed out in my earlier article that Modi will need support from both houses-Lok Sabha (lower house) and Rajya Sabha (upper house)-to pass any major structural reforms in India. Modi has majority seats in Lok Sabha but he will still need support from Rajya Sabha as any resolution must be passed by a majority of the total membership and at least two-thirds majority of the members present and voting.
At the moment, the NDA (BJP and its allies) has 57 members in the 240-member Rajya Sabha while the UPA (Congress and its allies) has 77. Other parties that might swing towards NDA have eight seats while some other parties with 14 seats have an issue-based approach towards voting in Rajya Sabha. NDA has already started extending invitations and building collaboration with various members of Rajya Sabha to mobilize support for any upcoming resolutions. Moreover, the NDA had supported the UPA government many a times in Rajya Sabha on various issues. If the UPA has learned any lesson from its defeat in the recent polls then they would rather be on the side of promoting India's growth than stifling it.
The government's priorities according to BJP's Manifesto
BJP had already been preparing for India's macro challenges. In the run-up to the elections, the BJP highlighted that high inflation is on account of supply-side and infrastructure issues and that raising interest rates, while being ineffective in tackling core inflation, only stifled a demand-led recovery.
Modi already formed a blueprint which included reforms in existing agriculture marketing laws, liberalization of agri-markets, along with an unbundling of government operations of procurement, storage and distribution to attack inflation.
Modi's long-term vision is visible in BJP's manifesto given its emphasis on agriculture, infrastructure creation in urban and rural areas, and development of an institutional infrastructure to remove bottlenecks on the growth path. Highlights are as follows.
Initiatives to support economic development
Urbanization: Building 100 new cities, enabled with the latest in technology and infrastructure; focus on urban transport.
Transport: Launching Diamond Quadrilateral project of High Speed Train network (bullet train); setting up agriculture rail network and strategic new rail networks.
Manufacturing: Developing industrial regions; facilitating easy clearance including environment clearance.
Infrastructure: Setting up gas grids and national optical-fiber network.
Energy: Comprehensive 'National Energy Policy', electronic auction of precious natural resources, expedite oil and gas explorations, and set up small-hydro power generation projects.
Agriculture: Ensuring a minimum of 50% profits over the cost of production and reform agriculture marketing policies.
I do worry that if too many "glamorous projects" such as bullet trains drain investment away from more practical projects that help a broader cross section of both business and the overall population, this could be a recipe for progress derailment (pardon the pun).
Develop a supporting institutional infrastructure for growth
Team India: A group of Prime Minister and State Chief Ministers including other functionaries for addressing common problems and increase collaborating between the center and the states.
Adopting national land use policy: To implement a monitoring agency to work with the state land use authorities for timely clearance for setting-up businesses.
The manifesto clearly identifies supply-side and structural problems to address India's macro challenges. In the short run, BJP has its work cut out to overcome the inflation problem and reduce the current and fiscal deficits. The sticky consumer price inflation along with low growth has started the most contentious discussion in Indian politics about interest rates. The newly-elected prime minister could be at loggerheads with India's central bank governor, Raghuram Rajan, on interest rates. Rajan's hawkishness hasn't yet translated into a meaningful victory over inflation. BJP's ministers have openly discussed that Rajan was "only aggravating the problems by increasing interest rates".
Although the wholesale-price index at 5.2% is below its long-term average of 6.1%, consumer price inflation accelerated 8.59% in April from a year earlier (divergence is because of the weightage of fuel and power). In the short term, India's fight against consumer price inflation largely depends on the monsoon, which provides water to farmers for agriculture. The government is forecasting a below-average monsoon this year, which could drive up food prices. In the short term, interest rates should remain relatively stable as some of the macro indicators are recently positive. BJP's insistence on addressing supply-side issues should reduce India's dependence on monetary policy to control inflation in the long term.
Modi will face pressure to cut costly energy subsidies that contributed to a budget deficit of 4.6% of gross domestic product in the fiscal year ended in March. In the initial phase, Modi does not have the means to reignite the economy by investment-heavy fiscal measures, which means slower growth in the short term. However, if BJP succeeds in policy reforms and removing bottlenecks in infrastructure creation then it can help the investment cycle by clearing up $218 billion worth of stalled projects. Despite these short-term debates and concerns, BJP's action plan and focus on supply-side measures to tame inflation should benefit the cyclical sectors sensitive to interest rates and likely to gain heavily from an increase in private spending on Capex and infrastructure growth.
Potential sectors to gain from BJP's plan: Trends emerging from recent quarterly results suggest that India's corporate earnings have bottomed out. Most sell side analysts are predicting 14-17% earnings growth for FY14-16, which indicates a new up cycle and reversion to the average 17% earnings CAGR in the last decade. Sensex on May 16 traded near to its 10-year average, but substantially down from its 10-year high of 24.6x PE.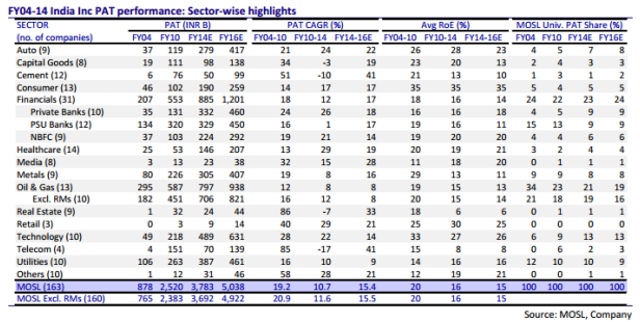 A number of sectors in India are trading below 10-year average valuation across various indicators. Long-term investors in India can benefit from targeting sectors with estimated high growth in earnings and reasonable valuation. Most of the sectors have been up recently because of high expectations from the new government but some of the defensive sectors with strong links to consumption are trading at a discount from their 10-year average. I believe that the new government's pro-growth policies and structural reforms should give further upside to this new upcycle and drive re-rating of valuations.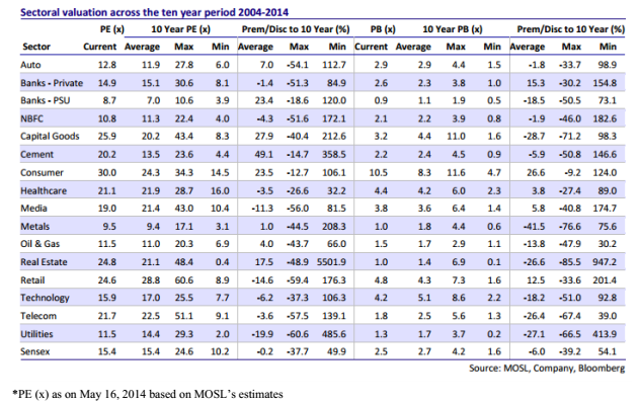 Sectors like financials, capital goods, auto, media, utilities, and healthcare can provide a balanced exposure to upcycle as well as domestic consumption growth in India.
Potential risks to BJP's growth plans
As of May 6, as many as 243 projects involving an investment of $218 billion was pending with the Project Monitoring Group in the Cabinet Secretariat. Most of these projects are stuck at the state level. According to a report by Credit Suisse, only a fourth of the stuck projects are dependent on the center for approvals. So, if the new government has to expedite these clearances then it will need the support of the state governments. The nine states that are ruled by BJP and its allies may be more helpful than those ruled by rivals. Modi has already initiated setting-up a separate department at the center level to clear stalled projects. The new government has also initiated plans to set-up state level offices within the office of each state's chief minister to collaborate with the central government on stalled projects and rapid clearances.
Foreign investors will be essential for India's growth and the stock market, especially when the government will be in deficit. So far this year, foreign investors have invested about $6 billion, absorbing the selling by domestic investors. If the US Fed continues to taper its bond-buying program, which could boost the dollar against the rupee, then foreign investors might take out some money from the market. However, in case of a change in India's fundamentals, foreign investors would still like to be invested in one of the high-growth markets.
Conclusion
The change in government in India has been a momentous victory of growth over any other polarizing themes. The BJP gained majority based on its economic agendas and Modi's prior run in Gujarat. BJP's pro-growth policies should help India build a strong institutional infrastructure to help the economy grow again. The market has run up lately and the sell-side has also updated its model on India's growth prospects. Morgan Stanley reiterated India's GDP growth to accelerate by 210 bps over the next 8 quarters to 6.8% while inflation will finally head towards RBI's comfort zone of 6% over the next two years. Nomura highlighted short-term catalysts as: 1) cabinet formation; 2) the budget; and 3) potential policy announcements. Within a broader growth, a long-term investor can invest in sectors which will benefit the most from new reforms. In a low-growth world, the momentous election outcome in India is a great opportunity even for the "Safe Investor" to continue to diversify and access secular growth trends in the third largest economy in the world.
Disclosure: The author has no direct investments in individual Indian equities.