Since its Q4-2014 reporting very little bad news about J.C. Penney's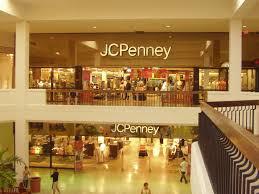 (NYSE:JCP) operations or sales have been published, but the good news has been flowing from writers and analysts who have recently upgraded guidance.
Missing from current talk is J.C. Penney's loss of $352 million last quarter, and quarterly payment of $97 million in interest. This projects almost $390 million interest per year. It is evident that bad news is not popular.
A few current websites allude to bad news such as the possibility of J.C. Penney reverting to ways of the past, but most ignore negativity. Missing is discussion of serious problems such as:
▪ J.C. Penney's burden of $8.54 billion in liabilities. This is an enormous amount for a business that conducts $11 billion annually.
▪ Its advertising campaign of continuous 20% to 15% discounts is uninspired and overworked. The repetitive use of identical discounts is like not having a discount at all.
▪ Credibility of J.C. Penney's low price claims is questionable. These claims follow recent merchandising plans that claimed lowest price, which were abandoned.
▪ Kohl's (NYSE:KSS), Nordstrom (NYSE:JWN), Macy's (NYSE:M) and like businesses out-merchandise J.C. Penney. These businesses are able to invest in extensive development where J.C. Penney is not because of financial restraints.
▪ Few businesses will give up even a dollar of sales to J.C. Penney. Those whose operations are not strong, such as Sears (NASDAQ:SHLD) are not plentiful.
▪ J.C. Penney has enabled recent bookkeeping changes and engaged loans with obscured terms. The confusion makes financial analysis difficult.
▪ Store anti-theft systems at J.C. Penney have been dismantled and only partially reinstated. Store theft is easier to perform than at most chain retailers.
▪ Most of J.C. Penney's assets have been pledged to lenders. This limits sources of capital that may be needed.
▪ J.C. Penney's former boutique shops are in limbo. Space is wasted, and may not achieve planned per area sales.
What is important to investors with rapidly distressed companies that are not easily evaluated is what is told and what is heard. It matters little if the good news is born of imagination or fantasy.
Encouraging investors are analysts who claim J.C. Penney stock will soon reach $22 per share, upping its price from Thursday's closing of $9.03. Even more hopeful is telling that the stock price could reach $75 in a few years. This is prophecy, not news.
Because current optimism about J.C. Penney's financial progress is so abundant, many investors consider JCP stock an acceptable investment with normal risk. They don't understand that their equity may be quickly diluted or may disappear.
Investors forget about the lost fortunes of professionals who recently invested in J.C. Penney: George Soros, William Ackman and Richard Perry who have collectively lost over a billion dollars with J.C. Penney during the last 9 months.
It is obvious that investors want to hear good news and to filter out the bad.
The tellers of tales about future high valuation intimate that they have made large gains with JCP trading. The stock charts do not support this tale of good fortune. JCP stock is erratic and volatile. Even the positive Q1-2014 financial report does not correlate results with a stock price as investors would expect a rapid rise (graph below).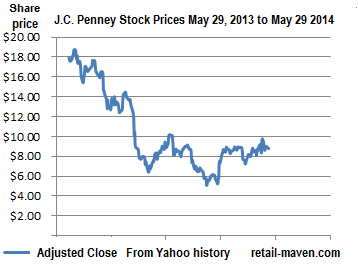 Has J.C. Penney's business recovered in such a short time to allow enthusiastic predictions about its future?
No! There is no convincing evidence that J.C. Penney has detached itself from its problems. Its stock's volatility and apparent random movement makes it a magnificent trading vehicle, and it should remain as such; a speculative equity that is best played with funds that one can afford to lose.
Disclosure: I am short JCP. I wrote this article myself, and it expresses my own opinions. I am not receiving compensation for it (other than from Seeking Alpha). I have no business relationship with any company whose stock is mentioned in this article.