Most Apple Inc. (NASDAQ:AAPL) investors probably already believe that AAPL is the perfect stock, especially with the recent breakout over the past 5 weeks that has sent shares soaring almost 20%.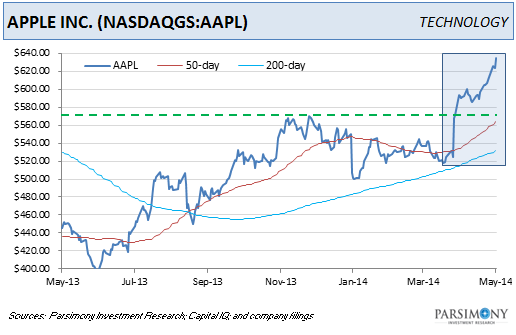 But from the perspective of a long-term dividend investor (like ourselves), there is definitely room for Apple to improve.
Getting Older Is Part of Life
Apple is maturing as a company and it needs to embrace this new chapter in its life. Don't get us wrong here... Apple is still going to innovate and create best-in-class products, but the company is not as small and nimble as it once was. Instead of trying to keep up with the rapid growth of all the "young buck" technology companies, Apple should embrace its maturity and look to the growth stocks of yesteryear for guidance.
McDonald's (NYSE:MCD), Wal-Mart (NYSE:WMT), and Coca-Cola (NYSE:KO) were all innovators in their industries and also experienced hyper growth in earnings at one time. But when earnings growth started to slow, these companies focused their attention on increasing shareholder value in another way... dividend growth!
The Magic Number For Dividend Investors
Apple generates so much cash that it would make an ATM jealous. For the trailing twelve month period ended 3/31/14, AAPL generated over $36 billion of unlevered free cash flow and the company is sitting on over $150 billion of cash (and investments) on its balance sheet (as of 3/31/14). But the real kicker here is that the company has built an enormous ecosystem that will continue to generate a significant amount of cash flow in the future.
Now this massive cash machine is no secret on the Street and investors have been salivating over it for years. The company took a step in the right direction a few years ago when it started paying a distribution to shareholders and it sliced off just enough to pique the interest of dividend investors... but it has certainly left investors wanting more.
That said, as much as income investors would like to load up on Apple shares, the current 2.1% dividend yield just isn't enough. Most dividend junkies have a minimum yield threshold of 3% and are reluctant to use up too much capital on stocks below that level.
Wouldn't it be nice if Apple paid a 3% dividend?
The $130 Billion Capital Return Program and 7-for-1 Stock Split
In late April, Apple announced that it expects to utilize a total of over $130 billion of cash under its capital return program by the end of calendar 2015. Well with a headline like that, one would think that a big dividend hike was imminent. Not so fast, my friend... later in the press release, Apple stated that it would increase its quarterly dividend by 8% to $3.29 per share. What? Eight measly percent?
We don't mean to sound pretentious here, but an 8% increase is kind of a slap in the face when the stock is only yielding around 2% and there is supposedly $130 billion of capital being "returned" to shareholders in the next 18 months. Share repurchases are great... but a larger check to cash each quarter would be a lot better!
That said, the Company also announced in that same press release that the board had approved a 7-for-1 stock split (to shareholders of record on June 2), which certainly helped take the sting away from the paltry dividend hike. Retail investors have been complaining for years that Apple's stock price is too expensive and now we will finally get to take smaller bites at the Apple (pun intended).
Maybe it's the stock split talking... but wouldn't it be nice if Apple also paid a 3% dividend?
How Much Would a 3% Dividend Really Cost Apple?
Based on the current price of $635.00 and the expected annual payout of $13.16, Apple's forward dividend yield is 2.1%. The Company's payout ratio (the proportion of earnings paid out as dividends to shareholders) is a conservative 29%. Let's run the numbers here to see what it would really take to juice Apple's dividend yield to 3%.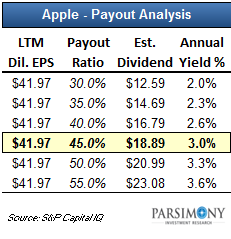 As shown in the table to the right, Apple would only have to increase its payout ratio to 45% (which is still a pretty conservative level in our opinion) to offer investors a 3% dividend yield. This would equate to a 44% dividend hike (up to ~$19.00 per share) and it would only cost the company an additional $5-6 billion annually (over and above the current payout). It's not very often that you can throw the word "only" in front of $5-6 billion... but hey, this is Apple we are talking about.
The Perfect Stock
As dividend investors, we think that Apple could potentially become the best dividend growth stock of all time. Earnings growth should remain stable for the foreseeable future and Apple's cash generating ecosystem should be able to produce consistent dividend hikes for at least the next 10-15 years. Now if we can just get that 3% base yield to start with... Apple could become the perfect stock!
Disclosure: I am long AAPL. I wrote this article myself, and it expresses my own opinions. I am not receiving compensation for it (other than from Seeking Alpha). I have no business relationship with any company whose stock is mentioned in this article.