One of the best investment opportunities right now lies in a market that most people are running away from. We're talking a "if you only invest in 10 companies in your entire life, you should invest in this" opportunity.
Gold. Silver. Zinc.
These days, precious metal investments just aren't in fashion with the investment world.
But their loss is your gain.
Now, keep in mind that we cannot predict the future. Everything we write in this article is only our professional opinion about this company based on hundreds of hours of research.
That said, we believe this is a great investment opportunity for the rest of the year.
It lies in a small mining company called Solitario (XPL).
Our colleagues at Fincom wrote an excellent report on the potential of Solitario, and we fully agree with their findings, which you can find here. We provide a recap here along with some new updates on the company for the remainder of this article.
Solitario specializes in owning interests in mining opportunities, and is currently valued at $45,000,000. Now we know what you're thinking. "Is it really safe to invest in a company worth less than $100 million dollars?"
Not usually.
But Solitario is an exception. There are very good reasons to believe that this company is horrendously undervalued by the current market. This isn't just idle speculation. This is backed by real, physical assets that are worth several times the entire valuation of the company.
For example, Solitario partially owns:
One Of The Few New Zinc Mines In The World... At A Time When Zinc Is Running Out.
Located in Bongará, Peru, the Bongará Mine is forecasted to produce 250 million pounds of zinc a year, for over 12 years, with the potential of a lot more. It's been called the "motherlode" of new zinc developments. Here's the interesting thing: Solitario isn't paying a penny of the development upfront of the mine. The entire project is financed by Votorantim Metals, the $20 billion dollar Brazilian mega corporation, and South America's largest zinc smelter. That means zero development costs now. Solitario is getting a free ride on a project with incredible 50% margins, at Zinc prices of $1.
Factoring in operating costs, Solitario could make over $40 million per year in profit from their share of the project.
| | |
| --- | --- |
| Production Rate | 5000 tpd |
| Mine Life | 12+ Years |
| LBS of Zinc - Solitario Share | 77 million |
| Zinc Price | $1 |
| Operating Costs | < $0.50 |
| Zinc Revenue | 38.5 million |
| Silver Revenue | $2+ million |
| Solitario Annual Profit | $40.5 million |
The area itself is still being drilled, but results thus far are exceptional, and expected production start is 2016. But let's take a moment to think about this.
A company valued at $45 million... generating over $40 million a year in pure profit from a single project.
Seems a little strange, doesn't it? You're probably beginning to see why we think there's something "off" about Solitario's market valuation.
The Coming Zinc Shortage
Zinc is most commonly used in consumer products like refrigerators, televisions, and automobiles.
Demand for such products in China, with its 1.3 billion person consumer base, is skyrocketing.
This had led to the biggest global Zinc shortfall in eight years. The Asian powerhouse currently accounts for 44% of global zinc usage, and that usage rose 7% last year. It's going up, up, and away.
Plus, some of the world's largest zinc mines are running out in the next year or so, and not enough new zinc mines are being opened to make up for this deficit.
In other words, although Zinc is currently trading fairly low at under a dollar, but it won't stay that way. Supply is shrinking and demand is expanding - meaning that Zinc will only become more valuable.
The Bongará Mine Is Completely Ignored When It Comes To Solitario's Market Valuation.
$60 million has already been invested in the Bongará project, and the total project is estimated to cost four times that at completion by Votorantim Metals, a multi-billion dollar corporation and one of the biggest players in the global zinc market.
The Solitario interest in Bongará is currently worth over $70 million. Given the potential of the project, it may eventually sell to Votorantim for a lot more than that. Here is the net present value calculation:
| | |
| --- | --- |
| Discount Rate | 8% |
| Years | 10 |
| Annual Cash Flow (10) | 40.5 million |
| Time Delay ($0 cash flow) | 1.5 Years |
| Dev Cost | ($69 million) |
| Mine Value | $147 million |
| NPV-Dev Costs (Total Solitario Value) | $78 million |
So how is Solitario only worth $45 million dollars? It isn't. There's a huge disparity between what the market thinks the company is worth, and what it actually is.
In just a few days, one of the major preliminary reports of the Bongará site will be released, highlighting the material potential of the project, called an NI 43-101 report.
And that's not even half of why we believe the company is undervalued. Let's talk about another asset of Solitario's that's about to "switch on."
Now, this is going to sound a little unbelievable, but this single asset could nearly double Solitario's market valuation by October, 2014.
It's Solitario's main project, the Mt. Hamilton development in Nevada, producing mostly gold.
The project is nearing completion, and the licenses for the mining rights arrive in just a few months (and by our estimation at the very latest, October 2014). These are the permits that will allow Solitario or the new owner to develop the infrastructure around mining the open pit. This could bring Solitario's market cap to at least $80 million.
Why?
Because Mt. Hamilton is a gold mine with an estimated 60,000 Oz of gold produced annually, with a lifespan of 8-10 years. It is one of the few major gold mines in Nevada.
| | |
| --- | --- |
| Annual Gold-Equiv. - Solitario Share | 50,800 Oz |
| Gold Price | $1,300 |
| Mine Life | 10 years |
| Operating Costs | $550 |
| Annual Solitario Profit | $38 million |
Solitario's interest, considering current worldwide gold prices, and the costs to develop, has a minimum net present value of $90 million dollars, calculated in the chart below.
| | |
| --- | --- |
| Discount Rate | 8% |
| Years | 10 |
| Annual Cash Flow (10) | $38 million |
| Dev Cost | ($80 million) |
| Mine Value (NPV) | $174 million |
| NPV - Dev Costs (Solitario Total Value) | $94 million |
That means, almost overnight, Solitario will own an asset worth double its current market worth, that can be sold.
Keep in mind, we're just talking about Mt. Hamilton. We're not even factoring in Bongará.
So what happens if Solitario does not sell Mt. Hamilton?
Initial estimates, based on startup costs, yearly gold output, and current price of gold worldwide, would give us an annual EBITDA of $38,000,000.
Consider again, that the company right now is only at a $45 million valuation.
When You Factor In Both Mt. Hamilton And The Bongará Project…
You get a company which owns two assets providing over $78 million dollars a year in revenue. A number that is almost double Solitario's current market worth. You get two assets which, combined, are worth at least $170 million, possibly much more.
When investors wake up to the asset values that Solitario holds, this $45 million market cap company could be trading closer to $170 million, or $4 per share.
And that's not even considering the upcoming shortage of Zinc in the marketplace.
Unlike other opportunities, the company boasts a strong management team, an excellent track record of competence, and owns physical assets worth many times the company's current value.
Risks To Solitario
There are two major assumptions made by the market in regards to Solitario that lower its perceived value. One is that gold prices will plummet in the near future. Second, some believe there will be shareholder dilution for the Mt. Hamilton project, limiting potential gains.
People have been predicting that gold prices would collapse for the last 10 years - yet it's still relatively strong. Minor fluctuations in the price won't affect the value of the Mt. Hamilton project, because the mine is a low cost open pit mine. We consider a major drop in prices unlikely. Here is a look at profitability around the Mt. Hamilton mine at varying gold prices:
| | |
| --- | --- |
| Gold Price Oz | Solitario Ebitda |
| $1,300 | $38.1 million |
| $1,200 | $33.02 million |
| $1,100 | $27.9 million |
| $1,000 | $22.8 million |
| $900 | $17.7 million |
So gold prices could drop 30% and Mt. Hamiliton would still be throwing off good positive cash flow in the amount of $17.7 million per year.
Shareholder dilution for the Mt. Hamilton project may be necessary if the company decides to develop the project themselves. However, the management has repeatedly stated their focus is on minimal shareholder dilution in their projects. Raising capital through equity dilution is not the best method to take when share prices are undervalued. Solitario needs to raise $80 million to finance the build of Mt. Hamilton. Our estimate is they will focus on using debt to do this, or a combination of small amounts of equity and mostly debt, and not all equity.
We believe the market has already priced in that dilution, and dilution would have a limited effect on share price. A capital raise, in this case, is highly accretive to investors. It's unlocking the door to the profits rolling in on the Mt. Hamilton project.
| | | | | |
| --- | --- | --- | --- | --- |
| Valuation | Shareholder Dilution | New Ownership % | Enterprise Value | EV/Ebitda |
| $45 million | $25 million | 64% | $70 million | 1.84 |
| $45 million | $50 million | 47% | $95 million | 2.5 |
| $45 million | $80 million | 36% | $125 million | 3.3 |
Even with full dilution the EV/EBITDA for current shareholders is still attractive at 3.3.
Additionally, some analysts believe a 50% increase in Zinc prices is fairly likely, which would expand potential returns from the Bongará project to about $77 million annually.
Combined with Mt. Hamilton, that would be a profit of $115 million dollars annually. Not bad for a $45 million dollar company.
To those who haven't studied Solitario and its projects, an uncertainty hovers around its future. That uncertainty is what is keeping the company's valuation so remarkably low. Two events are happening in the near future that will completely clear up this uncertainty. Within a few months, several reports will validate the full potential of the Bongará project. Next, permits for the Mt. Hamilton mining build out rights will be issued, and uncertainty will be cleared.
Once these events happen, the company could appreciate by multiples in value. The overwhelming evidence that Solitario is undervalued is impossible to ignore.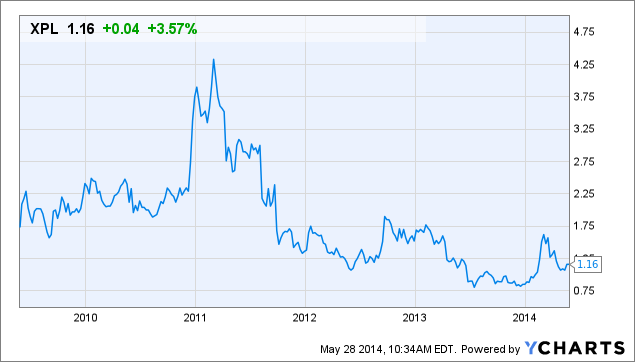 XPL data by YCharts
Disclosure: I am long XPL. I wrote this article myself, and it expresses my own opinions. I am not receiving compensation for it (other than from Seeking Alpha). I have no business relationship with any company whose stock is mentioned in this article.
Editor's Note: This article covers one or more stocks trading at less than $1 per share and/or with less than a $100 million market cap. Please be aware of the risks associated with these stocks.