There is no link between U.S. Growth and U.S. Treasury Yields. If you thought that Friday's U.S. GDP data would provide a sound ex post justification for the ongoing rally of U.S. Treasuries, you were definitely disappointed.
As can be seen below, there is absolutely no link between quarterly changes of the U.S. GDP and U.S. Treasury changes for the same frequency (I took nominal GDP here, but the pattern is exactly the same for real GDP or even for Gross Domestic income).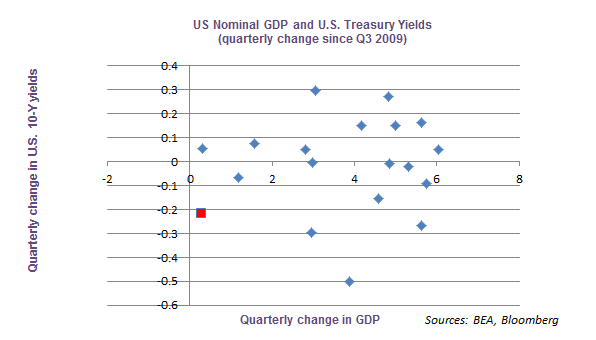 Another interesting pattern is the analysis on a year-over-year basis. Barring the "out-of-recession" outlier on the left side of the chart, there seems to be a link between growth and yearly changes in U.S. Treasury yields. But the link is completely at odds with what Econ 101 would suggest: a weaker year-over-year growth rate for the U.S. economy comes along with a further fall in U.S. Treasury yields!
You can blame it on the ill-timed episodes of QE or the taper fear impact, but you cannot use today's bad data to retroactively justify the low level of U.S. yields.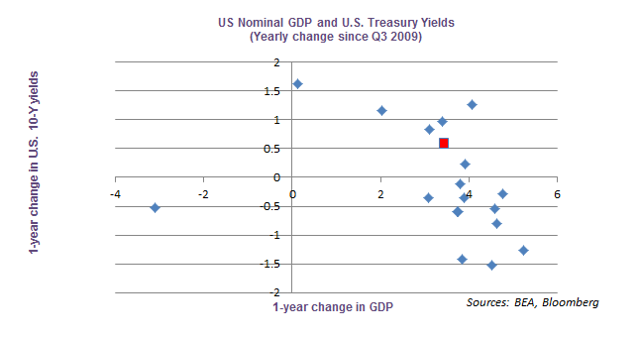 The chart below shows that the positive link held pretty well before the Great Recession: strong GDP data would come along with positive and significant rises in U.S. long-term interest rates.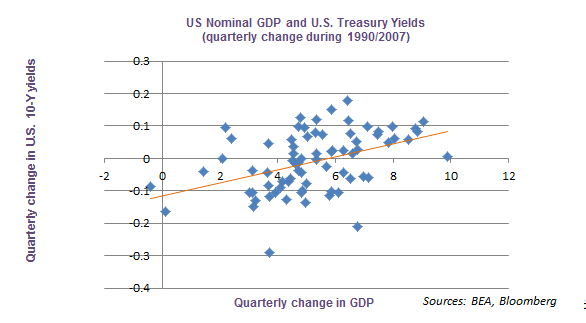 On a year-over-year basis, the relationship was asymptotic: the rise in yields would get stronger when the economy was close to reaching its upper limit (high growth and high inflation).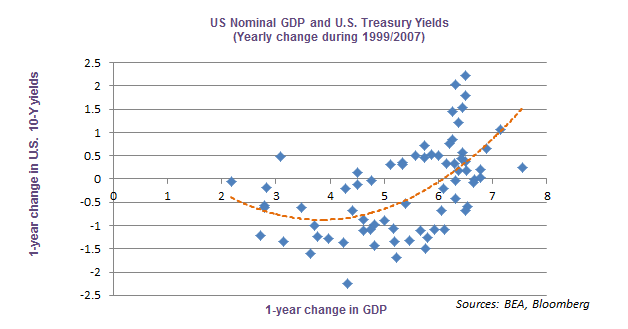 Unfortunately, the relationship has completely broken down!
Bottom line: The new conundrum for U.S. long-term yields continues. Unfortunately, U.S. GDP data are not helping us understand why U.S. Treasury yields continue to drift downward. You need much more than a poor GDP figure to justify the low level of U.S. Treasury yields.
Disclosure: I have no positions in any stocks mentioned, and no plans to initiate any positions within the next 72 hours. I wrote this article myself, and it expresses my own opinions. I am not receiving compensation for it (other than from Seeking Alpha). I have no business relationship with any company whose stock is mentioned in this article.