A new venture founded by former Wall Street traders is taking on dark pools. IEX Group is a trading platform designed to eliminate the problems associated with high-tech investing. Formed last October, IEX Group has gained early acceptance as a trading venue by some big names on Wall Street. IEX is now being used for trades placed by Goldman Sachs (NYSE:GS).
Dark pools driven by high-frequency trading have proliferated in recent years. Unlike normal stock exchanges, such as the New York Stock Exchange or Nasdaq, dark pools are not available to the general public. Lack of transparency gives "dark pools" their name. Trades are announced only after a transaction has been executed.
A Dark Side of High-Tech Investing
Government regulators have launched various investigations into computerized trading venues. "Flash Boys," a recent book by Michael Lewis, deals with high-frequency trading and computerized dark pools. High-frequency trading is potent fodder for financial critics like Lewis.
Dark pools began as a way to facilitate large trades. The private nature of these trading venues enabled large institutional investors, such as pension funds, a way to execute block trades without signaling the market as to their intentions and, as a result, obtaining a sub-optimal execution price. However, predatory trading strategies that can harm traditional investors have arisen on dark pools.
Bringing Light to the Darkness
IEX intends to change the current situation. The company is a small start-up at this point. But IEX has big plans for the future. The idea behind IEX is that a trading venue owned exclusively by fund management firms, as opposed to broker-dealers, would revolutionize high-frequency trading by leveling the playing field for all participants.
IEX would like to obtain additional support from hedge funds, private equity firms, and asset management companies. The company is seeking capital to build itself into a full-fledged stock exchange that would be a refuge from predatory trading practices that can be executed on dark pools.
Goldman Could Be Boosted By Supporting IEX
Goldman Sachs could get a boost if it chooses to align more closely with the IEX trading platform. Current owners of IEX include the mutual fund company Capital Group, which is one of the largest shareholders by percentage of Goldman Sachs, according to Bloomberg.
Brokers are allowed to trade on the IEX platform but, as noted, they're not allowed to be owners. IEX needs to raise a significant sum of capital in order to realize its ambitions. The cost of regulatory compliance alone is quite high to become a full-blown stock exchange.
Goldman, which announced its consideration of closing its dark pool, due to heightened public scrutiny, as well as security issues, could stand to lose significant trading revenue. If Goldman switched to IEX, and IEX prospered, this could offer a more publicly accepted avenue for the activity and could help avoid some trading losses.
The trading environment has been tough for institutions lately, particularly JPMorgan (NYSE:JPM). As Goldman CEO Gary Cohn noted recently: "Innovation is critical to a healthy and competitive market structure, but not at the cost of introducing substantial risk."
Conclusion for GS Investors
Backing IEX could be a step in the right direction to mitigate trading losses in a tough environment-as well as bringing more transparency and acceptance to a currently increasingly infamous activity.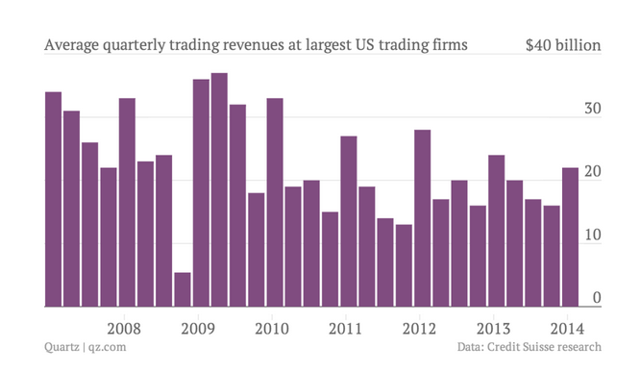 (Source: qz.com, via data from Credit Suisse Research)
GS stock has held relatively steady in a tricky YTD.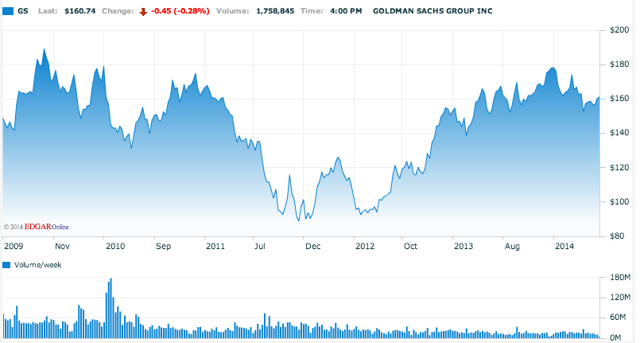 (Nasdaq.com)
In addition, the firm has consistently beat earnings per share estimates for more than eight quarters.
We are positive on GS moving forward in 2014 as the firm continues to innovate.
We invite readers wishing to join the discussion on Goldman Sachs to click the +FOLLOW button above the title of this article and follow @DRDInvestments on twitter.
Disclosure: I have no positions in any stocks mentioned, and no plans to initiate any positions within the next 72 hours. I wrote this article myself, and it expresses my own opinions. I am not receiving compensation for it (other than from Seeking Alpha). I have no business relationship with any company whose stock is mentioned in this article.