The 180 day lockup period initiated with the December 12, 2013 IPO of Cheniere Energy Partners LP Holdings (NYSEMKT:CQH) will conclude on June 11, allowing major pre-IPO shareholders to sell their outstanding shares in CQH.
CQH is in the exclusive business of receiving dividends paid on shares owned in Cheniere Energy Partners, LP (NYSEMKT:CQP), which owns and operates liquefied natural gas regasification facilities. Substantially all of these shares are held by Cheniere Energy Inc (NYSEMKT:LNG).
If Cheniere Energy chooses to sell shares as detailed below, the resulting increase in the supply of CQH shares on the market may lead to a decline in the price of CQH shares, potentially creating a short opportunity for aggressive investors.
CQH's Upward Trend Post-IPO
CQH's IPO priced at the midpoint of its expected range at $20 per share, only to see a small first day loss of 3.9%. After holding steady in the neighborhood of $18-$19 per share for two months, CQH began to trend upwards in mid-February, and has continued to do so ever since. CQH closed at $23.65 per share on May 23.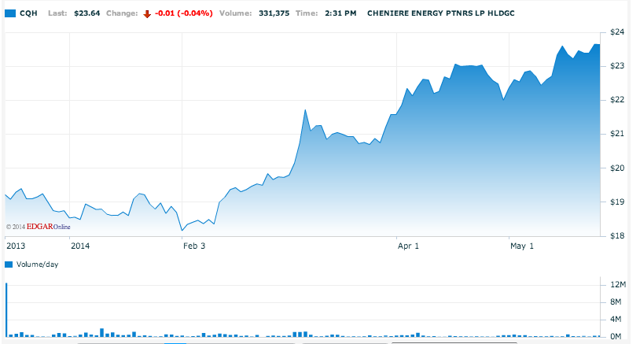 (Nasdaq.com)
Share Unlocking
The June 11 expiration of the lockup period will free 195.7 million shares of CQH to be sold on the market, far exceeding the 36.0 million shares that the firm offered through its IPO.
All of these shares are held by Cheniere Energy Inc , the parent company of both CQH and CQP.
As detailed further below, the formation and IPO of CQH in part came about as a mechanism for LNG to raise capital for early-stage development projects and marketing activities at relatively low cost. LNG may choose to sell more of its CQH shares in order to raise further capital, as it would continue to maintain control of CQH until and unless it ceased to own more than 25% of CQH's shares.
At the time of the IPO, CQH's filings stated that LNG did not intend to allow any transaction that would result in LNG's ownership of less than 80% of outstanding CQH shares.
Additional Details of CQH Business
CQH was initially formed to hold the limited partner interests in CQP owned by LNG, allowing LNG to separate its lower-risk, cash-flow generating assets from its relatively high-risk, early-stage projects and marketing activities. CQH's only business is the ownership of a 55.9% stake in CQP; this stake consists of 11,963,488 common units of CQP and 135,383,383 subordinated units of CQP.
CQH receives dividend payments CQP from the ownership of its common units, which CQH then redistributes to its shareholders, meaning that the success or failure of the company and its stock are entirely dependent on the success or failure of CQP. CQP's quarterly distributions, which it has paid each quarter since 2007, total $0.425 per common unit, or $1.70 per common unit annualized.
CQP functions as a limited partnership formed by LNG to own and operate its regasification facilities at its Sabine Pass liquefied natural gas terminal, which consist of five liquefied natural gas tanks with a total capacity of approximately 16.9 Bcfe along with a pair of docks for vessels of capacity up to 265,000 cubic meters. CQP derives revenue through long-term agreements with Chevron (NYSE:CVX) and Total (NYSE:TOT), which collectively pay approximately $250 million per year for the use of the terminal.
Very Poor Dividends
The central purpose of the CQH IPO was to raise funds to finance LNG's new Corpus Christi terminal; the IPO was more or less an indirect sale of part of CQP. CQH's fortunes are now tied directly to those of CQP, and while its risk profile is perhaps lower than that of CQP, its dividends are practically nonexistent.
The firm declared a quarterly dividend of $0.019 per share payable on May 30, with an ex-dividend date of May 16, translating to a meager annual yield of 0.3 percent.
Conclusion - Avoid CQH Entirely
Though it isn't yet clear whether LNG will choose to sell shares in CQH, we see little reason to believe that its stated intention to avoid doing so at the time of CQH's IPO has changed. This would render a serious supply shock at the conclusion of the CQH lockup period unlikely.
Though CQH has performed relatively well on the market since its IPO, we are wary of the stock's future since LNG created the firm with the fairly explicit purpose of using it as a piggy bank-there are obvious concerns of conflicts of interest arising between CQH, CQP and LNG.
Some investors may prefer CQH to CQP, due to the tax difficulties inherent in the ownership of master limited partnership securities, but the ludicrously low yields and management concerns surrounding CQH lead us to recommend avoiding the stock entirely.
Readers wishing to join the discussion on IPO lockup expirations should click the +FOLLOW button above the title of this article and follow @DRDInvestments on twitter.
Disclosure: I have no positions in any stocks mentioned, and no plans to initiate any positions within the next 72 hours. I wrote this article myself, and it expresses my own opinions. I am not receiving compensation for it (other than from Seeking Alpha). I have no business relationship with any company whose stock is mentioned in this article.