Uranium Energy Corp. (NYSE: UEC) currently is one of Wall Street's highest-flying stocks, but shares are soaring for all the wrong reasons. The purpose of this two-part series is to educate investors about the real causes for the recent 64-percent gain over 10 trading days and to shed light on the decision-makers within the company and their past Wall Street dealings.
Our opinion is that there are three distinct causes for this recent run:
Insignificant press releases disseminated by the company that do not change the business's intrinsic value, such as the recent update about the company's CEO speaking at an upcoming conference in Austria;
A vast number of bullish articles and positive commentary. One article by an individual investor admits themselves that "there has been a spree of bullish articles in support of the company."

Below you can find a list of recent articles, videos and other marketing materials that we believe are the main reason for the recent increase in share prices:
In our opinion, there is little doubt that the plethora of hype and buzz has caused the valuation of the company to increase by over 50% despite little-to-no material developments taking place within the company.
By far the most suspicious marketing material is contained within the text published by MobileInvestor.com:
"One uranium stock in particular could well bring major returns for the company's shareholders as the company capitalizes on its successful business strategy and transitions into a leading U.S. uranium producer."
MobileInvestor.com is a website operated by Uranium Energy's President & CEO through his other company Blender Media Incorporated.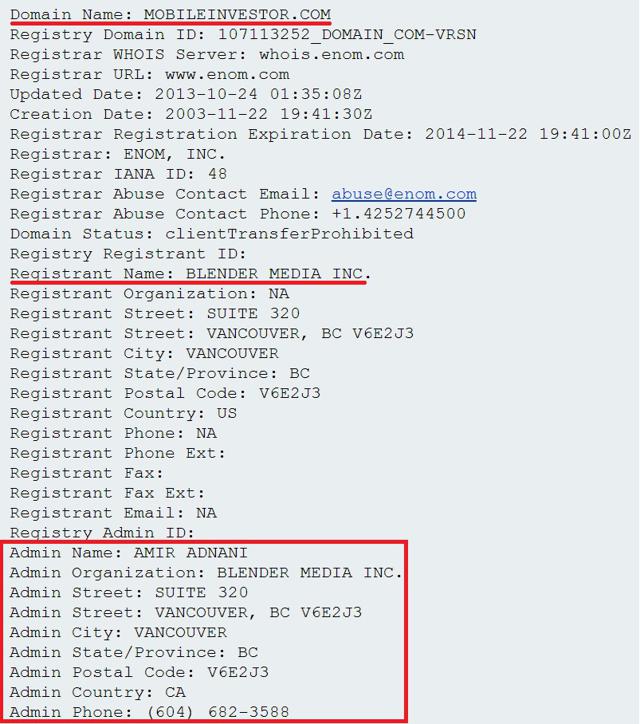 SOURCE: DomainTools.com
Blender Media is an interactive agency specializing in investor marketing solutions. They have worked with over 500 publicly traded and private companies. Blender is also the aggregator and publisher of the Canadian Financing Bulletin (CFB), which we will cover in more detail in a later section because the UEC banner ad on CanadianFinancing.com featuring "North America's Newest Uranium Producer" is yet another example of questionable marketing practices on behalf of UEC's management team.
Paid stock-promotion campaigns funded by third-party compensation sources and by the company itself. Below is one example, in which FutureMoneyTrends.com was paid $87,000 by UEC to promote the company's stock. This raises many red flags regarding the motives of Uranium Energy's decision-makers. Often, paid promotions like this one act as precursors to dilutive capital raises.


SOURCE: HotStocked.com
First, we will discuss the business itself and explain why we believe the current $163-million market cap is too high. Afterward, we will dissect the background of Uranium Energy's officers, directors and financiers and the vast number of promoted penny stocks, which can be connected to them. These individuals' past activities related to failed public companies and close ties to penny-stock promotions would lead any rational investor to seriously consider whether the three hype-driven causes above are responsible for the recent run in share price. If this is true, UEC is due for a major correction. The recent heavy volatility may present one of the most lucrative opportunities on Wall Street for short sellers.
The Business
Uranium Energy Corp. is a uranium mining and exploration company incorporated in Nevada. It utilizes the In-Situ Recovery method to produce uranium. According to World-Nuclear.org, In Situ Leach ("ISL") mining of uranium is the most cost-effective and environmentally acceptable method of mining. The ISL process recovers minerals by pumping fortified groundwater in the ore body, in most cases with an oxidant, to recover the minerals in it by leaching.
The image below is courtesy of Heathgate Resources and is a pictorial representation of the ISL process: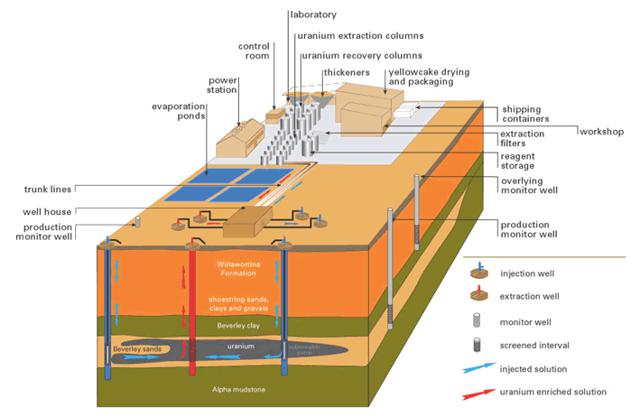 SOURCE: World-Nuclear.org
Uranium Energy's most recent corporate update is the acquisition of the Longhorn Project, located in central Live Oak County, Texas. According to CEO Amir Adnani, for the past 18 months the company has drawn down the Longhorn Project leases and their exploration data at a very low cost.
The property lies between two former U.S. Steel production areas within the historic U.S. Steel Clay West production area. The company claims to have an extensive database of information regarding the area. Combined historic resources of the two former U.S. Steel production areas are believed to be approximately 4.75 million pounds U3O8a. Unfortunately, these historic resource estimates were completed prior to the implementation of Canadian National Instrument 43-101
For those investors unfamiliar with NI 43-101, it is a codified set of guidelines and rules, overseen by the Canadian Securities Administrators, for reporting and displaying information related to mineral properties. So although the company believes the resource estimates are relevant because of the "quality of the historic work," we believe it is always prudent to maintain skepticism on Wall Street, and thus, we consider the above estimates to be immaterial.
The image below is a diagram of the Longhorn Project and the surrounding area in South Texas: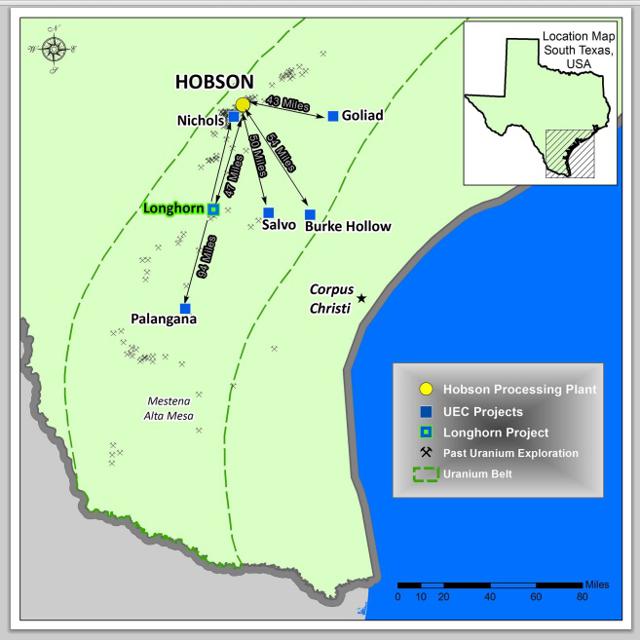 SOURCE: newswire.ca
The South Texas Regional Strategy
The recent Longhorn acquisition further develops UEC's exposure throughout southern Texas. According to UraniumEnergy.com, the company's regional strategy in South Texas is focused on consolidating assets along the re-emerging 300-mile South Texas Uranium Belt. Existing projects along the belt include the Palangana in-situ recovery mine; the Goliad in-situ recovery project currently under construction; and the ISR Hobson Processing Plant, the center of all the company's South Texas operations.
Financials
Uranium Energy's most recent 10-Q was for the period ending Jan 31, 2014, so the following financial information will exclude recent acquisitions and new developments that have taken place in Q2. However, for that three-month period ending Jan 31:
The company generated zero sales, compared to $2,103,750 for the same three-month period the previous year
The company lists $9,033,946 in cash and cash equivalents, a 37-percent decrease from the same period the previous year
Long-term debt decreased by 67 percent as a result of a $20-million credit agreement, dated July 30, 2013, with Sprott Resource Lending Partnership and CEF Capital Markets Limited
Interest and finance costs for the three-month period increased from $5,189 to $832,088 YoY
Quarterly net losses increased by 28.4 percent
Uranium Energy is still in the Exploration Stage as defined under the Securities and Exchange Commission's Industry Guide 7. Therefore, initially, acquisition costs of mineral rights are capitalized as incurred and pre-production expenditures are expensed as incurred until the company exits the Exploration Stage. As a result, the accounting for inventory costs and costs of goods are lower than if the company was in the Production Stage. Results of operations, on the other hand, have the appearance of higher gross profits and lower losses compared to those of companies in the Production Stage.
A Company Plagued By Individuals with Checkered Pasts
In 2007, Citron Research published several articles about UEC, including an eye-opening piece that exposed several skeletons in management's closet. Although some materials within this section may be redundant, there are various areas in which we were able to expand beyond what Citron Research discovered in 2007. In fact, the discoveries we made beg the question of whether UEC is inundated with a consortium of individuals who migrate from stock to stock, often acquiring very cheap shares as financiers, seed shareholders and sometimes part of the management team.
Citron Research articles investigating Uranium Energy Inc. include:
April 5, 2007 - Why You're Better Off Without Uranium Energy Corp.
April 10, 2007 - Citron Issues Part 2 on Uranium Energy Corp.
May 1, 2007 - Citron Calls for a Regulatory Investigation of Uranium Energy
May 7, 2007 - Uranium Energy: Corporate Credibility in Serious Doubt
Dec 3, 2010 - Citron Research Updates Uranium Energy (AMEX:UEC)
Our team believes the success of any company starts at the top. Therefore, we will begin outlining this apparent consortium with an active small-cap participant from Vancouver, BC - Alan P. Lindsay:
Uranium Energy Corp. (UEC)
Chairman of the Board for Bullfrog Gold (OTCQB:BFGC)
Former Chairman, President & CEO of MIV Therapeutics, Inc.
Director of DUMA in 2010; now trading as Hydrocarb Energy Corp. (HECCD)
Large Shareholder and Former Chairman for TapImmune Inc. (OTC:TPIV)
Former Chairman, President and CEO of Santa Fe Gold Corp. (OTCPK:SFEG)
With the exception of Hydrocarb Energy Corp., every one of these penny stocks connected to Alan P. Lindsay were subject to penny-stock promotion:
To date, Hydrocarb has not been subject to paid promotion in the few months that it has been a public entity but we are very confident that it eventually will be based on its history. Until April 2012, the stock traded as Strategic American Oil Corp. (SGCA) and was heavily promoted. Also, courtesy of PumpsAndDumps.com, we know that Larry Isen from the OTC Journal has begun writing about HECC and its predecessor, DUMA. Larry Isen is a stock promoter who the S.E.C. claims engaged in transactions, practices, or courses of business, which operated or would have operated as a fraud.
Given that Alan Lindsay is responsible for so many companies, we find it very hard to believe he is able to fully carry out his position as chairman of Uranium Energy Corp. However, he does have help from several family members, including son Oliver-Barret Lindsay, president of an investor-relations firm doing business as Lindsay Capital Corporation. According to a news release:
"Based in Florida and the Cayman Islands, Lindsay Capital Corp. was founded to provide a full range of capital market and investor relation services, personalized to the needs of pre-IPO and publicly listed North American based small-cap to mid-cap companies. LCC is owned by Mr. Oliver-Barret Lindsay, an investor relations professional with over 12 years marketing experience. LCC has assisted numerous small-cap corporations gain coverage and recognition within the global investment community."
Oliver is not the only family member employed by Uranium Energy to share Alan's burden, nor is he the only investor relations professional who assists small-cap corporations gain coverage and recognition. As we previously discussed, Uranium Energy's president and chief executive officer, Amir Adnani, is Alan Lindsay's son-in-law. In addition to acting as UEC's president, Adnani also provides investor marketing solutions through Blender Media. In fact, according to DomainTools.com, the Registrant for UraniumEnergy.com (the issuer) and BlenderMedia.com (the promoter) are identical: 320-111 West Hastings, Vancouver, Canada.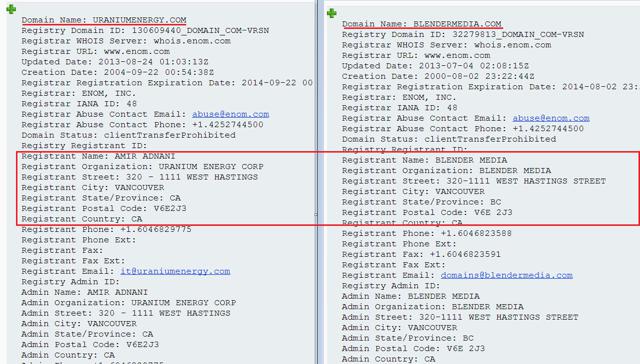 You can view all kinds of investor-oriented marketing designs for Uranium Energy Corp. in the portfolio section of Amir Adnani's BlenderMedia.com. Adnani also makes no attempt to hide a deceptive UEC banner ad on another of his websites, www.CanadianFinancing.com.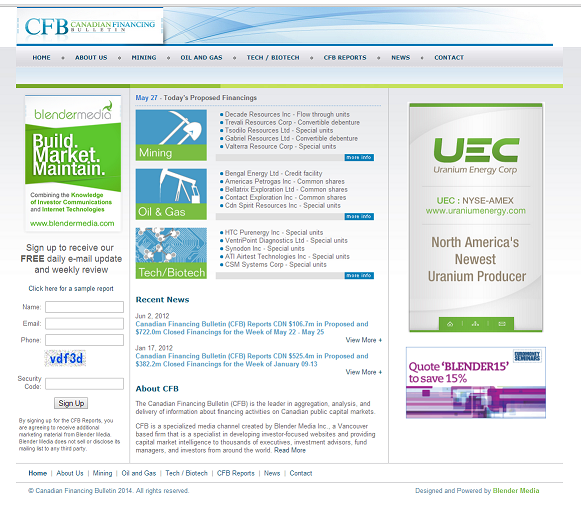 Our decision to research UEC and publish this article ultimately was based on the degree to which the individuals within the company are intertwined. As we already explained, it is very difficult to argue that a company carrying net losses and an accumulated deficit exceeding $155 million should be valued at $163 million. But this story goes far beyond the company's limited operations and steep valuation. It is about the people involved.
After investigating all those individuals, we hold a strong belief that there are people within this organization (and every other company listed within the article) who are far more interested in acquiring cheap stock, engaging stock promoters and liquidating shares for a profit than in building a profitable business that consistently generates positive cash flows.
This consortium goes far beyond the officers and directors who are involved with both Uranium Energy Corp. and BRZIF and the fact Uranium Energy Corp. appears to be operated from the same location as a Vancouver stock-promotion firm by a father, son and son-in-law.
There is a much bigger issue at hand. We have compiled sufficient evidence to outline how the Lindsay family has operated together with a number of other Wall Street participants. It seems as if all these companies are subject to paid stock promotion and that they eventually fail as businesses.
Part 1 of this series explained how Uranium Energy Corp. is far from a sound long-term investment and also isn't a wise short-term trade. After its recent 64-percent rise based on fluff, we expect the stock to retrace by at least 25-30 percent very soon. This article also discussed the business itself and took a quick look at the individuals managing the company. Part 2 will expand on the company's management, its ineptitude at operating a mining company and its failure to create value for common-stock shareholders.
Disclosure: I am short UEC. I wrote this article myself, and it expresses my own opinions. I am not receiving compensation for it (other than from Seeking Alpha). I have no business relationship with any company whose stock is mentioned in this article.
Additional disclosure: The company has been called and sent an email but neither have been responded to. They have been given more than one full business day to provide a response.