Vapor Hub International Inc. (OTCPK:VHUB) is a name that I believe is currently the target of a penny stock promotion scheme. It is my view that the stock's intrinsic value is somewhere near $0, and it is with conviction that I recommend that any investors currently in the name sell the entirety of their stakes immediately. I also believe that Vapor Hub International Inc. is a stock definitely worth shorting. My track record of identifying and publicly exposing such highly overvalued equities is excellent.
Little Revenue. Debts. No Business. Bright Future?
As is usually the case with these types of hyped-up scams, it takes only one quick glance at the balance sheet to realize that the $43M market capitalization that this equity commands is beyond ludicrous. With $343,658 in total current assets and $206,399 in current liabilities in the recent quarter, it is clear it is not going to have monumental success. I find it difficult to believe that the company can make any moves in the right direction. It's my suspicion that the purpose of this company is not to succeed, but to sell stock. The recent volume is due to overly bullish emails and boiler room tactics.
Picture of OTCPK:VHUB chart
You can see that trading in Vapor Hub International Inc. started seeing really big volumes around the start of April. This is when people were reporting having received boiler room calls and started to receive emails. Coincidence with the time of boiler room calls/email campaign and volume in Vapor Hub International Inc.? Absolutely not.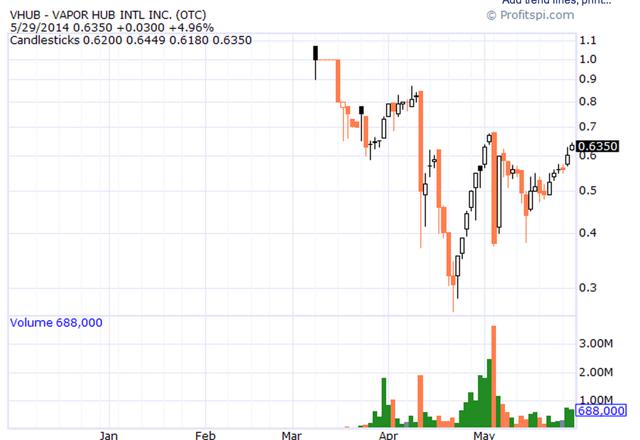 Brighton Markets Group
This is the group behind VHUB stock promotion. Who exactly is the Brighton Markets group? They're a group that uses boiler room tactics, along with email campaigns to promote stocks. They call people and send emails to tout certain stocks. Their websites are listed below.
The following are older sites from when their promotions were more successful.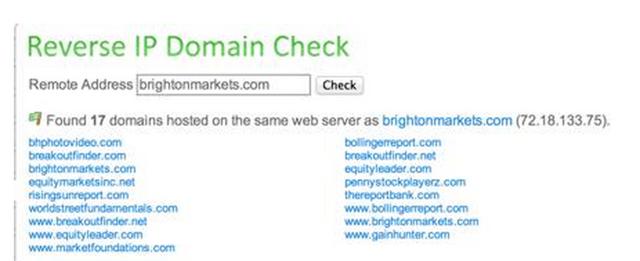 Newer sites promoting $VHUB

Email Campaign
The recent Vapor Hub International Inc. move is because they have started to repump Vapor Hub International Inc. since May 15th with emails like this one below: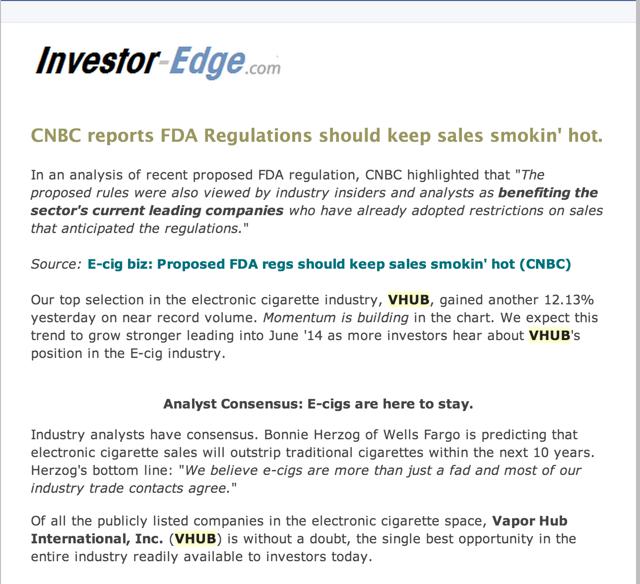 Disclaimer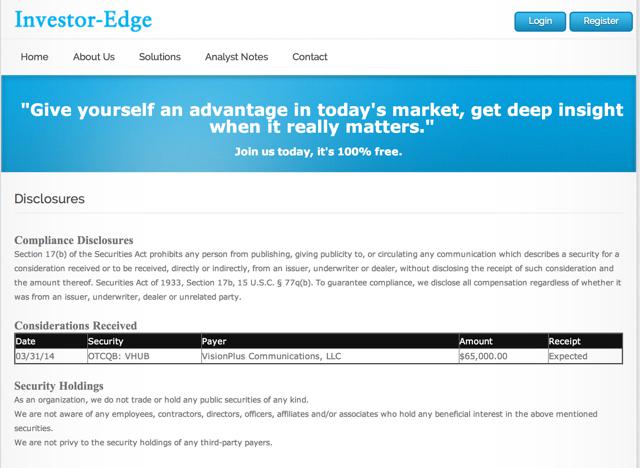 You can see obviously someone is interested in increasing public awareness for Vapor Hub International Inc. Most likely the insiders, who have 30,060,000 free trading shares in Vapor Hub International Inc. Inc. Why else would someone spend up to $65,000 to increase public awareness? It's my guess for the level of work they have put into promoting Vapor Hub International Inc. that they were compensated more, but have not disclosed. At these levels, those are worth 15,000,000+! It is worth it to them, because if they can bring in buyers and liquidate their shares around these prices, that can mean millions in profits! Running pump and dump schemes is a lucrative business, and that is why we see it way too often. My job is to alert you.
Brighton Markets Promotion History
When this promoter came onto the scene, they had a lot of success. Not so much recently. Below are the stock promotions that put them on the map and some of their recent ones.
Independence Energy Corp. (IDNG) - This was their first promotion that put them on the map. Naive retail stock buyers got crushed as the insiders banked big.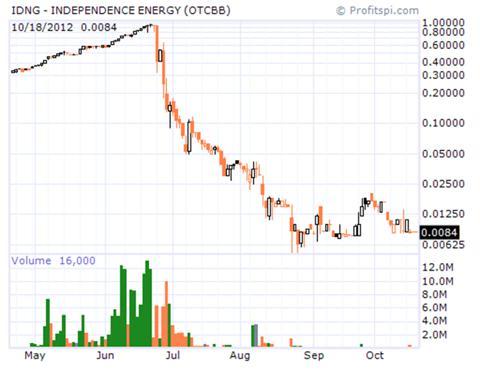 Punchline Resources Ltd. (OTC:PUNL) - Punchline Resources Ltd. was their second promotion. One thing you can pick up from these two promotions is when they start to dump, they dump BIG and they dump FAST. Take a close look at the following chart and be happy you weren't on board for this crash.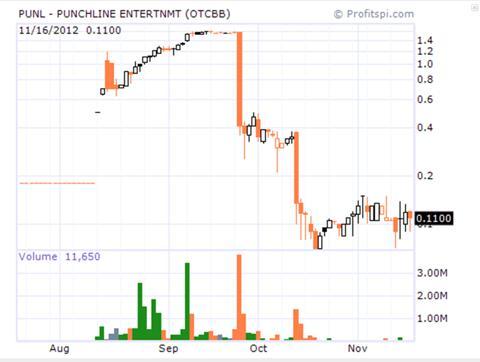 Green Innovations Ltd.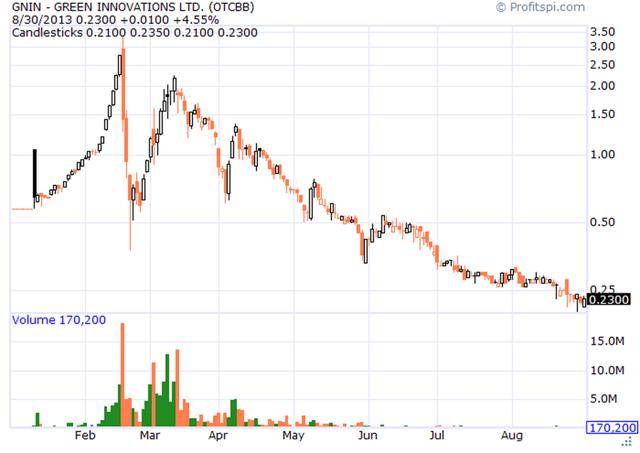 Some Of Their Other Promotions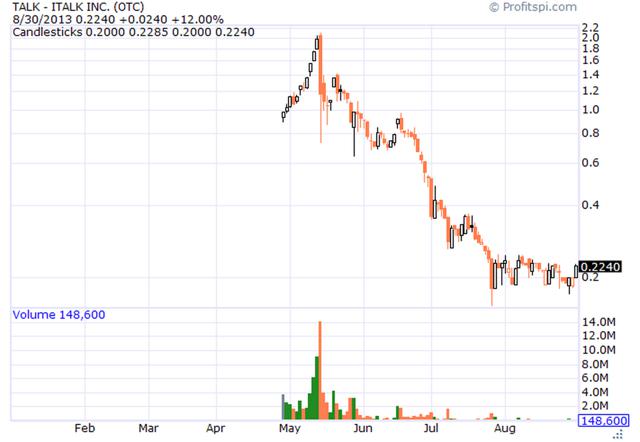 Crashed from the start, but later had a decent repromotion bounce.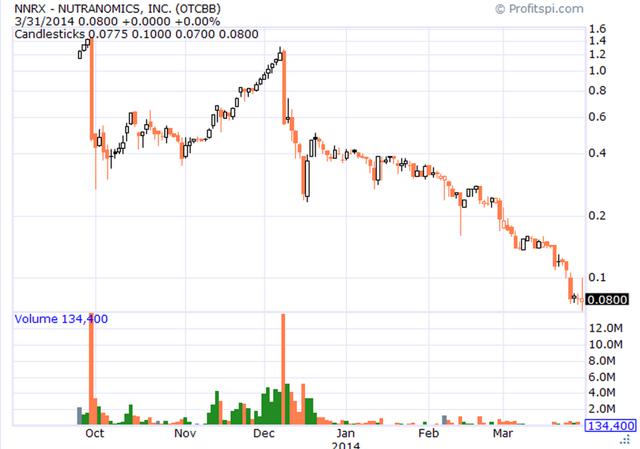 Recent SEC Halts
The SEC is finally cracking down on pump and dumps lately. Here is a list of big stock promotions that have been halted recently. Stocks that get halted tend to reopen 2 weeks later, down 70%+. My latest report was on Imogo Mobile Technologies Corp., which was halted five trading days after my report was published. Makism 3D Corp. and Life Stem Genetics were two pumps that halted after my articles as well.
My Recommendation
If you own shares of this company, get out now. Do not hope that you can hang on to sell them to a greater fool. These shares are worthless. I have shown you that the reason for the promotional mailers/boiler room calls indicates that the individuals behind this stock scam are trying desperately to unload their worthless shares onto the unsuspecting public and book a huge profit before the inevitable collapse. If you are a more sophisticated investor and can get a borrow on these shares, then I believe that shorting this name will be highly lucrative for you. I believe this small bounce and repromotion gives people an opportunity to get out and minimize their losses before it is too late. All of the past Brighton Markets promotions have made their way below 10 cents, and I believe Vapor Hub International Inc. will be no different. You have been warned.
Disclosure: I am short VHUB. I wrote this article myself, and it expresses my own opinions. I am not receiving compensation for it (other than from Seeking Alpha). I have no business relationship with any company whose stock is mentioned in this article.
Additional disclosure: Short only 5k shares.