On March 25, 2014, I issued a trading call to go long Sonus Networks (NASDAQ:SONS) and AudioCodes (NASDAQ:AUDC). Unfortunately, I was early with the call as the pullback in small caps, which saw a broad sell off in the Russell Indices had not ended. I'm still long the two names from this trade and from listening to their recent conference calls I believe that the sector as a whole is heating up very nicely. I'm adding more shares to both of these names as I believe the second half of the year will bring strong revenue growth to an all IP networking world.
Sonus Networks: Business Summary
Sonus Networks, Inc. provides networked solutions for communications service providers and enterprises. The company's solutions enable its customers to seamlessly link and leverage multivendor, multiprotocol communications systems, and applications across their networks. Its products include session border controllers (SBC) that address the network requirements for small, medium, and large businesses, as well as for communications service providers; and open services switches for converting various types of voice signals into Internet protocol (IP) packets, and transmitting those IP packets over a data network. Sonus Networks, Inc. was founded in 1997 and is headquartered in Westford, Massachusetts.
Here's why you need to stay long or buy more Sonus Networks:
Insider Buying and Company Buyback.
o CEO, Raymond P. Dolan bought 1 million shares @ $2.98 in the open market on 04/29/14.
o CFO, Mark T. Greenquist bought 15k shares @ $2.95 in the open market on 04/29/14.
o Sonus Networks repurchased 21.5 million shares @ $3.49 on 03/25/14.
o Sonus Networks bought back 2 million shares @ $3.63 on 5/23/14.
o Sonus Networks has bought back over 47 million shares in the past 6 months, over 15% of its shares.
o Sonus Networks still has an additional $32 million to buy shares in its share repurchase agreement.
In recent meetings with investors, the CEO has been extremely bullish on its SBC business. At the recent Cowen Group conference he said, "In this year more than half of our results will be driven by growth engines (SBC market) that virtually didn't exist 3 to 4 years ago. It's a pretty profound shift, but that shift is resting on an underlying architecture that generated the gateway success from our very founding days."
For the second time in two months, the analyst from Jefferies & Co. is out calling for the stock to double or potentially triple in the years to come and bullishly stands by his $5 price target for this year.
VoLTE contracts: AT&T (NYSE:T), Verizon (NYSE:VZ) and T-Mobile (NASDAQ:TMUS) are all deploying initial phases of VoLTE and Sonus will be amongst those competing for these lucrative contracts.
AudioCodes: Business Summary
AudioCodes Ltd., together with its subsidiaries, designs, develops, and sells Voice-over-IP ((VoIP)), and converged VoIP and data networking products and applications to service providers and enterprises worldwide. The company deploys its products through broadband, mobile, and enterprise networks, as well as cable. Its products and solutions include IP phones, session border controllers, media gateways, multi-service business routers, residential gateways, media servers, mobile communications solutions, value added applications, and professional services. AudioCodes Ltd. was incorporated in 1992 and is headquartered in Lod, Israel.
Here's why you need to stay long or buy more AudioCodes:
AudioCodes' pipeline is growing stronger post its secondary offering. It has delivered excellent proof of this with a recent flurry of press releases that seem to have gone unnoticed:
o SAP (NYSE:SAP) announced that it has certified AudioCodes' SBCs. This is super positive as AudioCodes' SBC business is only 2 years old and already it's being accepted by a Tier One player in the market. Remember folks SAP's number one competitor Oracle, bought AudioCodes' competitor Acme Packet (NASDAQ:APKT) for its SBCs.
o NEC certified AudioCodes' SBCs. This is an old relationship that has been rekindled and it bodes well for 2nd half growth.
o Deutsche Telecom entered into an agreement with AudioCodes to supply its enterprise customers with AudioCodes' new MSBR. This is an accretive deal and is not factored into revenue models hence it could be accretive to the 2nd half.
o AudioCodes was awarded $20 million by the Israeli Office of the Chief Scientist (OCS) to invest in cloud computing and mobility. I believe this grant is an investor's dream and could be the catalyst that turns AudioCodes into a very big networking company and could lead to it being acquired sooner rather than later.
o Avaya is using AudioCodes again as both companies were selected by a leading Asian Service Provider to supply hardware for its next generation SIP contact center.
Cash Position: AudioCodes is sitting on $94 million in cash post its secondary offering on March 5, 2014. AudioCodes could put this cash to use on exciting new ideas or just leave it on the balance sheet, which would reduce investor's risk.
Short Position: I see AudioCodes' short position as being unmerited as it only trades at 1.20 times 2014 revenues less cash. I believe that AudioCodes will very easily beat revenue and EPS forecasts in the third and fourth quarters making the shares trade closer to 1 times revenue. This type of execution will make the holders of the 800k shares that are short seriously consider covering their position. This could place a natural buyer in the shares.
Oppenheimer currently has a market perform rating on AudioCodes. I see no reason for them to maintain this rating if AudioCodes delivers another stellar quarterly report and outlook. If this is the case, I would expect to see an upgrade by Oppenheimer's best technology analyst.
Valuation:
| | | |
| --- | --- | --- |
| | Sonus Networks | AudioCodes |
| Price per share: | $3.75 | $6.27 |
| Market Cap: | $930 M | $250 M |
| Cash: | $159 M | $94 M |
| Revenue in recent Qtr: | $70 M | $36 M |
| 2014 EPS: | $0.05 | $0.20 |
| 2014 Revenue est.: | $302 M | $150 M |
| 2015 Revenue est.: | $328 M | $163 M |
| Multiple to 2014 Revs: | 3.05 | 1.73 |
| Multiple to 2014 Revs (less cash): | 2.52 | 1.11 |
| Multiple to 2015 Revs: | 2.80 | 1.60 |
| Multiple to 2015 Revs (less cash): | 2.32 | 1.02 |
Industry Outlook:
Sonus Networks and AudioCodes sit in front of a very strong secular trend in VoIP as enterprises are now transitioning to an all IP network. After a decade of sideway action in the sector, this trend to an all IP network is being fueled by an improvement in the technology enabling the ease of transition of which Sonus and AudioCodes have played a big part. Now with a clear technology window the sector is poised to shine in its choice of an all IP world.
Sonus is proving that it's about to excel by putting its money where its mouth is. The repurchase of shares and its recent acquisitions has positioned them to really outperform in both the short term and long term. I look to see the company show contract wins and/or incredible results to justify its large stock buybacks. A partnership with a key industry player or a contract win with a large service provider would open the shares up to a big rally through $4.25 - $4.50 per share in short order.
AudioCodes is executing extremely well, but its shares have suffered immensely due to a ridiculously handled secondary. I believe the company is sitting on a much stronger pipeline than ever before and that it's positioning itself for much larger growth opportunities, especially in mobility. The CEO hinted towards this in his recent Reuter's interview, "The company is investing and believes mobility will become a substantial growth engine starting in 2015." The market is not paying attention to this at all and I remind all investors whether they are retail, institutional, short term or long term that there's billions of mobile phones and AudioCodes' mobility platform is a 90-95% margin business model so only 2-3 million subscribers adds strong EPS to the bottom line. The pure idea of that, coupled with the cash in the bank and the low multiple the stock trades at makes AudioCodes cheap up until $10 per share.
Charts: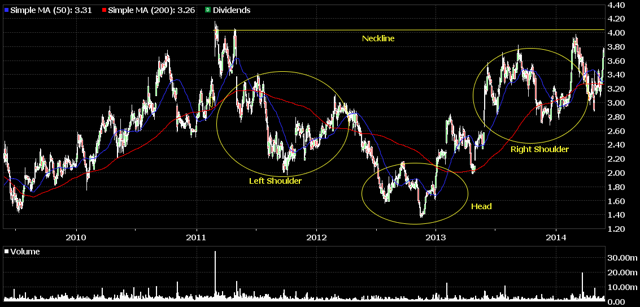 In looking at the Sonus Networks chart we can see that it is closing in on a very important level at $4.00. It has been forming a head and shoulders bottom pattern for 3 years and a break above $4.00 will give the shares a $6.50 to $7.00 price target.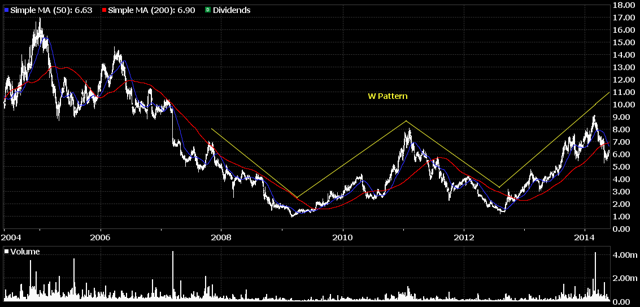 AudioCodes is in a W pattern and as it stabilizes and moves higher from its recent pullback, we can see that it is ready to make its next run up. A close above the 200-day moving average at $6.90 would give us a price target of $11.00.
Conclusion:
In summary, I'm a long term-holder in AudioCodes, but I see it being attractively priced for a trade too. I'm a short-term holder of Sonus, but I see no reason to sell here. Both companies are executing on their business models and have been exceeding expectations. I believe we are in the early innings of a secular trend in VoIP and that AudioCodes and Sonus Networks will see strong growth as the sector grows. I believe Sonus will trade through $4 per share shortly and that will bring many eyeballs to AudioCodes causing it to trade back to 52-week highs of $9 -10 per share.
Disclosure: I am long AUDC, SONS. I wrote this article myself, and it expresses my own opinions. I am not receiving compensation for it. I have no business relationship with any company whose stock is mentioned in this article.