Starbucks' (NASDAQ:SBUX) 2013 was nothing short of remarkable. Revenues were up 12% to a record $4.9 billion. Global comparable same-store sales were up 7%, marking the 4th straight year that 7% or better sales numbers were reached.
GAAP numbers took a hit, but it's important to consider the impact of the $2.8 billion pretax charge that was the result of arbitration with Kraft Foods Group (KRFT). Excluding that impact, operating income was $2.5 billion, up 23%. Operating margin was 16.5%, up 150 basis points. EPS was $2.26, a massive 26% increase. Because of the fine, GAAP EPS for fiscal year 2013 came in at only $.01. This is the reason for the current extravagantly inflated P/E. Starbucks' forecast forward 12-month PEG ratio is 1.52 - still not cheap, but far more reasonable.
Looking forward, the future looks promising geographically. Very importantly, Starbucks' Europe, Middle East and Africa region has undergone a positive transformation, so it is no longer a drain on other geographical highlights the company has. The U.S. has been producing high single-digit growth in comparable same-store sales since the 2009 recession ended, and the Americas as a whole produced 11% revenue growth in 2013. The real superstar for Starbucks, however, is its China and Asia Pacific region. With just over a dozen nations, 27% revenue growth was generated in 2013. With the last quarter's 24% growth, that now makes 14 consecutive quarters of greater-than-20% growth in the CAP region. Estimates vary, but experts predict that as many as 3 billion people will be added to the middle class in the next 15 years, which is good news for Starbucks, who depend on individuals' disposable income.
In some Asian countries such as China, Starbucks already has a significant presence, with over 1000 stores. Even so, rampant growth is still expected, as that number is anticipated to increase by 50% in 2015. India, on the other hand, is a market Starbucks has only been in for just over a year. A CAGR of 9% can be expected over the next 4 years in that market.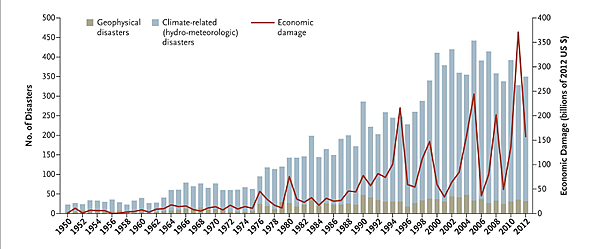 (Source)
Operating under the assumption that Starbucks' growth initiatives go according to plan, with sufficient consumer demand in place, there is one major hiccup I can see in the company's future profitability. Urbanization, deforestation and other environmental degradations are leading to a steadily increasing level of environmental disasters. Steps are being taken by the scientific community to mitigate these disasters, but elevated levels are still expected for the time being.
Starbucks uses Arabica beans, whose price has surged around 90% in 2014, thanks to a drought in Brazil, which is the largest producer of the beans. Starbucks is safe from increasing prices for the remainder of this fiscal year, as well as some of the next, thanks to already locking in prices for its supply at reduced levels. Eventually, of course, rising prices will catch up to Starbucks, should they continue. Another item Arabica production has to deal with is a fungus called Roya, which is wreaking havoc on the beans.
It's a wildcard in the mix for sure. Starbucks has the ability to implement hedging strategies to help soften the blow of price volatility, but should prices rise above $3 a pound, those hedging strategies will weaken. Not all input costs will be able to be passed on to the consumers, either.
Of course, Starbucks also has a big bet on tea. A recent $620 million collaboration with Oprah Winfrey is betting on tea's success in North America. Tea sales have increased from $1.84 billion in 1990 to $10.41 billion in 2013 in the U.S., and the increased popularity is showing no signs of lessening. Starbucks having success in this area, which I feel is likely, could significantly soften the blow of potential coffee price volatility.
Disclosure: I have no positions in any stocks mentioned, and no plans to initiate any positions within the next 72 hours. I wrote this article myself, and it expresses my own opinions. I am not receiving compensation for it (other than from Seeking Alpha). I have no business relationship with any company whose stock is mentioned in this article.