Acco Brands Corporation (NYSE:ACCO) manufactures and sells a wide range of products, which include Mead (paper products), Day-Timer and Day Runner (planners and organizers), Kensington (computer products), Wilson Jones (storage and organization), Five Star (notebooks and binders), Swingline (staples and staplers), Academie (drawing and construction papers), At-A-Glance (calendars), and many more. This company clearly owns many well-known brand names, and that makes it a "best-in-breed" company in this industry. It also sells its products to many top retailers, such as Costco Wholesale Corporation (NASDAQ:COST), Staples, Inc. (NASDAQ:SPLS), and Amazon.com (NASDAQ:AMZN).
In recent years, shorts have been targeting businesses which they feel have no place in the "modern" world. Some believe that with digital products, there is not much need for paper products or something like a stapler. While there is no question that the digital age will reduce growth rates for some industries, there is still plenty of demand for the products this company makes. There will always be a need for real goods, whether it is drawing paper, a binder, etc. Furthermore, a growing population around the world can also increase overall demand for both digital and non-digital products. Finally, it is important to note that Acco Brands also makes products like computer and tablet accessories and other items which benefit from the growth in high-tech goods. For these reasons, the shorts are wrong to go overboard in shorting this stock, especially when it is trading at such cheap levels of just about $6 per share.
Shorts have made mistakes on many stocks based on a similar belief that the days might be numbered for certain companies in a digital world. One of these companies is Pitney Bowes, Inc. (NYSE:PBI), which shorts had piled into for the past couple of years. Many shorts believed that postage meters were a thing of the past in a digital world. But take a look at what has happened with this stock for the past several months. The shorts clearly went too far, and helped to beat this stock down to just $16 per share in September. Since then, the shorts have been absolutely burned, as the stock has risen roughly 70% in the past few months, and now trades near a 52-week high. Furthermore, a recent Barron's article suggests that it could jump another 60% to about $42 per share in the next 3 years. That would add more pain for those betting against this stock, which still has nearly 11% of the float short.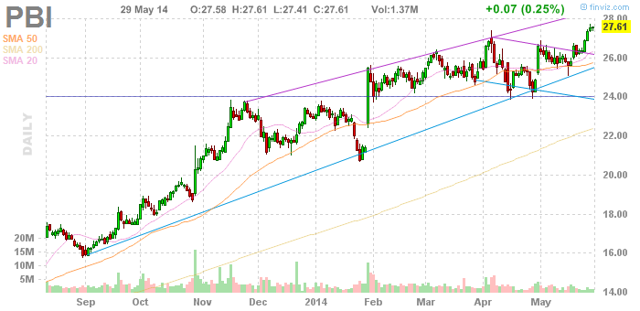 As the Pitney Bowes chart above shows, the shorts are getting crushed in this stock. Acco Brands could be positioned for big gains as well, and once again, shorts could help fuel a major rally. According to Shortsqueeze.com, there are nearly 16 million shares short, and this stock has a recent trading volume average of about 429,000 shares per day. This short interest is equivalent to around 37 days' worth of average trading volume, or about 14% of the float. That is a huge amount of short interest, which means they may get burned in a short-squeeze rally. At current levels, the shorts appear to be playing a very dangerous game, especially since this stock is cheap and the company is profitable. Furthermore, analysts expect this company to see earnings grow from about 73 cents per share in 2014 to around 80 cents per share in 2015. That represents earnings growth of about 10%, and it also indicates that this stock is trading for just about 7 times earnings. That is less than half of the average price-to-earnings ratio for the S&P 500 Index (NYSEARCA:SPY). This cheap valuation is another reason why the stock could rise significantly. It also indicates that shorts have probably gone too far, and in the process, created a lot of risk for themselves. With about 16 million shares short, that is like a guaranteed stock buyback program that is built into this stock, since every share has to be covered at some point. When too many shorts get into a cheap stock, it often doesn't take much to trigger a short-squeeze rally. In fact, just one large short covering can cause the stock to rise and set off a chain reaction with other shorts, who then continue to cover and push the stock up.
Furthermore, if you look at who is investing in Acco Brands, it is another reason why shorts should be concerned. A number of top institutional investors appear quite bullish on Acco Brands shares. This is evidenced by the very significant positions held by companies like FMR LLC (better known as Fidelity Mutual Funds), which owns about 11.7 million shares. This position is equivalent to about 10% of the entire company. Take a look at the data provided by Yahoo Finance below, which shows the very large stakes held by these top institutional investors. These large institutions are usually long-term investors, and just these top ten holders own about 60% of the entire company.
Top Institutional Holders
| Holder | Shares | % Out | Value | Reported |
| --- | --- | --- | --- | --- |
| Wells Fargo & Company | 8,454,103 | 7.41 | 52,077,274 | Mar 31, 2014 |
| Vanguard Group, Inc. (The) | 6,537,736 | 5.73 | 40,272,453 | Mar 31, 2014 |
| Invesco Ltd. | 5,433,590 | 4.76 | 33,470,914 | Mar 31, 2014 |
| Tocqueville Asset Management L.p. | 5,381,450 | 4.72 | 33,149,732 | Mar 31, 2014 |
| Oppenheimer Funds, Inc. | 4,053,290 | 3.55 | 24,968,266 | Mar 31, 2014 |
| Rutabaga Capital Management, LLC | 4,035,427 | 3.54 | 24,858,230 | Mar 31, 2014 |
| Lombardia Capital Partners, LLC | 3,433,970 | 3.01 | 21,153,255 | Mar 31, 2014 |
| Royal Bank of Canada | 3,432,255 | 3.01 | 21,142,690 | Mar 31, 2014 |
| Wellington Management Company, LLP | 14,829,705 | 13.00 | 91,350,982 | Mar 31, 2014 |
| FMR, LLC | 11,700,000 | 10.25 | 72,072,000 | Mar 31, 2014 |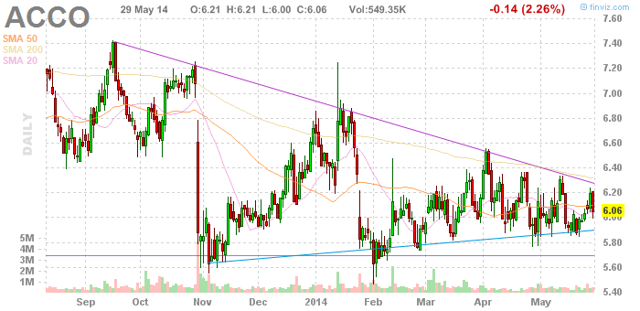 It's worth noting that this stock did seem to have a short-covering rally from November to about January, which took the shares up by about 40% to around $7.20. More recently, this stock has been showing signs that it has been in an uptrend since February (as shown by the light blue uptrend line on the chart). It also shows that this stock is building a very solid base at around $6 per share. That means a breakout could be coming soon, especially since these shares would only have to trade up to about $6.30 in order to break out over the upper end of the recent trading range (which is shown by the purple line on the chart). The combination of cheap fundamentals, strong institutional ownership, a recent uptrend, and an excessive number of shorts in this stock could all be pointing to a looming rally.
Acco Brands has about $1.74 billion in annual revenues, which is equivalent to over $15 per share in revenues. This means this stock also looks cheap when considering the price-to-sales ratio. With a cheap valuation, earnings growth, and a conservative balance sheet for a company with nearly $2 billion in revenues, the potential downside risks for longs appear limited at this time. With the U.S. and global economy showing signs of improvement, sales for this company could rise in the coming years. Profits could also increase, thanks to cost-cutting measures which the CEO announced late last year. Analysts at Barclays have set a $9 price target for this stock. That would give investors who buy now a gain of about 50%. A price target of $9 seems very reasonable, based on earnings estimates, and that is one more reason why shorts could get burned in this stock.
Here are some key points for Acco Brands:
Current share price: $6.06
The 52-week range is $5.47 to $7.63
Earnings estimates for 2014: 73 cents per share
Earnings estimates for 2015: 80 cents per share
Annual dividend: none
Data is sourced from Yahoo Finance. No guarantees or representations are made. Hawkinvest is not a registered investment advisor and does not provide specific investment advice. The information is for informational purposes only. You should always consult a financial advisor.
Disclosure: I am long ACCO. I wrote this article myself, and it expresses my own opinions. I am not receiving compensation for it (other than from Seeking Alpha). I have no business relationship with any company whose stock is mentioned in this article.