Disclosure: I am long REX shares and earlier this year held shares of PEIX, also mentioned in this article, and may again do so.
Basic investment thesis:
These are boom times once again for the ethanol industry on their best profit margins (crush spreads) in over five years. REX American Resources (REX), a producer of ethanol biofuel and corn byproducts, has taken superb advantage of the profitable trend, growing its earnings by spectacular leaps and bounds. This will continue to propel whopping share-price growth in coming months.
REX has by far the healthiest balance sheet and best earnings-per-share ((EPS)) the past three years and for the foreseeable future compared to peers Green Plains (NASDAQ:GPRE) and Pacific Ethanol (NASDAQ:PEIX). Just in the past five quarters, REX has posted EPS of 0.43, 0.71, 1.20, 1.95, and now 2.67 for this year's Q1 (Feb-March-April) (NOTE: REX's fiscal year ends on Jan. 31).
REX's record-high EPS of 2.67 announced on Wed. May 28 is fully 520% higher than last year's Q1 earnings of 0.43 EPS. This gigantic increase year-over-year will light up many stock-screener programs when financial sites update the numbers!
The 2.67 EPS for Q1 could have easily been around 3.30 EPS except for an unusual natural gas price spike that cost REX an extra $8M for the quarter. Thus, REX could likely generate at least 3.00-3.20 EPS next quarter and beyond.
Crucial for investors, REX fattened its cumulative trailing twelve-month (TTM) EPS all the way up to a whopping 6.53 ttm EPS with Q1 results, compared to 4.29 after Q4's earnings and just 1.81 trailing EPS after Q3 reported last Dec. Such colossal earnings growth will bring much higher share-prices.
Trading in the low $70s, REX carries a trailing P/E (price-to-earnings) merely around 11, yet recently (in April) traded at a P/E near 16, and for much of the past year traded at P/Es up in the 20s and even 30s. The small float, owned mainly by institutions, will allow higher P/E as people bid for scarce shares.
A P/E valuation of just 16 on the new trailing 6.53 EPS would take the stock to over $104, a shareprice likely developing within several weeks as REX's potential becomes better known (thus far it is quite under-followed in financial media and investor forums).
Early September should bring in Q2 results at 3.00 EPS or higher, cumulatively making for a new trailing EPS up in the 8.80s. A P/E of just 16 on that would make for a stock over $140, a double-gainer from today, likely within just 5 months.
Assuming crush margins continue to be amazingly profitable on current supply-demand forecasts, the Q3 results reported in early Dec. and then Q4 results emerging in March 2016 could bring full year trailing EPS to well over 12.00 per share and shareprice nearing or surpassing $200.
Applying to trailing and future EPS growth an historical P/E of 16 (not to mention up in the 20s) is warranted not only because of higher cumulative EPS developing each quarter but also because the company is growing cash so phenomenally it could go out later this year or next (as any opportunity arose) and simply buy or build another Fagen/ICM ethanol plant for $50M and immediately add 38% growth to the bottom line.
Moreover, if proven viable, REX's "Future Energy" segment, a potentially revolutionary heavy oil sub-2000' steaming technology, could easily add at least $1Bn-$2Bn to REX's valuation. (A small pilot plant is hopefully to be built by early 2015 for just $3M.)
Best crush spreads in five years = big profits for ethanol producers
Ethanol companies's stock-prices have soared over the past year as they "print money" on their best profit margins in five years. This is due to 1) a bigger crush-spread or profit margin primarily due to lower corn costs from the bumper crop in 2013 (after 2012's worst crop in fifty years) and 2) higher selling prices for ethanol biofuel on much tighter supplies due to not only domestic demand but also foreign export demand; and 3) robust selling prices for these companies' key byproducts-- distillers grains and corn oil. With conditions looking good for a fine corn crop for marketing year 2014/2015, the "good times" for producers look to continue for at least another year and probably much longer, given USDA projections for the next decade of lower average corn prices down to the mid-$3/bushel level, though any given year could represent an exception.
In the 1-year chart below roughly depicting "crush spread" profit margins for ethanol producers, notice how things have been looking exceptionally lucrative since last autumn, coming off the epic 2012 drought and consequent high corn prices for months afterward. The black dots and rough black line show the price of ethanol futures (ZKN14) over the past 12 months, while the green line represents the price of corn futures (ZCN14) relative to the former. In early May 2014 occurred a narrowing of the spread due to fears that the harsh, lingering winter would impede the corn planting schedule. But timely planting has eradicated this fear. Note that the narrower crush-spread in early May still exceeded the prevailing crush-spread that benefited ethanol companies for much of November, a very profitable time. The current very wide crush spread as we enter driving season (higher ethanol demand and prices) will make ethanol companies extremely profitable for at least several months and probably for much longer, given the most recent commodity trends and forecasts.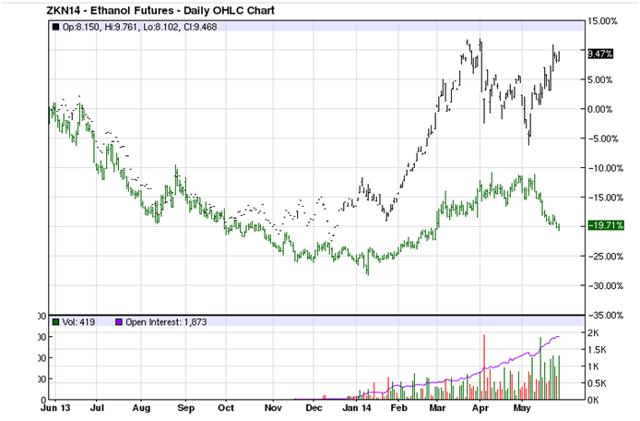 Source: Barchart.com, May 28, 2014
REX: deeply undervalued on cumulative earnings and bigger earnings to come in 2014
Among the independent, profitable, smallcap ethanol companies-- REX, GPRE, and PEIX-- REX American Resources (NYSE:REX) (not to be confused with Rex Energy / REXX) is the stellar performer. In an ethanol sector strewn with wreckage since 2008 due to the catastrophic financial crash and recession and then the historic July 2012 corn-crop failure and its disastrous aftermath for several months, REX is clearly the most consistently successful company in the "pure play" ethanol space because of their superior profit margins in creating ethanol biofuel and corn byproducts. At least a dozen ethanol producers were rocked with bankruptcies since 2008, but not REX. Entering the field at a most opportune time, it has posted profitable or very profitable earnings-per-share in fully 12 of its last 13 quarters because of its ownership in several strategically located Fagen/ICM plants, which REX CEO Stuart Rose praises as the best-engineered and best-run in the business.
REX is a former electronics/appliance retail company whose leadership very wisely, presciently began a shift out of that business in 2007 right before the economic crash and then in 2009 moved more fully into the ethanol sector, buying up ownership interest over the next few years in great Fagen/ICM plants at bargain prices. Looking at 2013's 10-K statement (p. 22) for fully diluted earnings from continuing operations (the ethanol and corn byproducts business) they posted annual EPS gains of 1.88 in year 2010, then 2.95 in 2011, a 35-cent loss for 2012's horrific drought-year (which killed some companies but not REX), and then 2013's big gain to 4.15 EPS (4.29 when including the "discontinued operations" on their realty segment-see a later section on this).
For year 2013, REX posted increasing quarterly gains of 0.43 EPS for Q1, 0.71 for Q2, 1.20 for Q3 and then their record-best 1.95 for Q4. And now REX has just posted on May 28 a spectacular 2.67 EPS for Q1 of this year (Feb-March-April).
Such quarterly and year-long earnings beat by a wide gulf REX's peers in the dedicated ethanol space-Green Plains (GPRE, formerly Green Plains Renewable Energy) and Pacific Ethanol (PEIX), the ethanol companies that have grabbed most of the attention this year from media and retail investors.
Here's part of the secret why REX does so well. Back on the March 26 earnings call for Q4, the conservative yet upbeat CEO Rose shed some light on ongoing Q1 operations, saying,
"…Things continue to go very, very well. Cash continues to come in at a very, very strong pace. This is a business, when it's going well, it generates loads of cash and that continues to be happening right now. We continue to have the good rail access which should continue to be a benefit for us [while other companies have had to deal with rail congestion, sometimes unable to get their corn feedstock or ship their ethanol]. Corn supply is great in the areas we're in, that's not an issue. We hope to be able to continue to buy [corn] at or below CBOT pricing [they certainly did this in Q4 and Q1]. Very, very good cross spreads relative to the norm of the industry are going on now [for REX]. So things… are as good as they have been since being in the industry."
Just to further itemize what REX does, in Q4 and Q1, they enjoyed strong sales of distillers grains (mainly dried distillers grains or DDG at $203/ton in Q4 and $209/ton in Q1, and also a lesser amount of modified distillers grains at $98/ton in Q4 and $91/ton in Q1). Ethanol sales generated 76.4% of REX's $620 million in revenue the past four quarters, the distillers grains about 20.4%, with corn oil at 2.8% and a tiny amount of corn syrup making up the rest. The same percentages pertained in Q1.
REX's 2.67 EPS for Q1 brings their cumulative trailing earnings for the past four quarters up to a hefty 6.53 EPS. And that 2.67 EPS could have easily been over 3.30 EPS if not for a couple of nasty natural gas price spikes in Feb. that added extra costs.
REX's CEO Stuart Rose served up a massive "under-promise, over-deliver" result in blowing away his ultra-conservative guidance given back on March 26 for just "slightly better" earnings for this quarter after REX had just posted their 1.95 EPS for Q4. I had expected EPS for Q1 of around 2.05 and almost fell off my chair when I saw the 2.67 EPS appear in the news release and then saw how much higher it would have been with less severe natgas prices averaged for the quarter, which cost REX an added $8M that otherwise could have contributed another 65 cents in after-tax EPS.
It now seems safe to predict that, with moderate natural gas prices expected for the rest of Q2 quarter (May-June-July), REX could easily post well over 3.00 EPS and thereby bring trailing earnings up around 8.80 EPS or higher when they are reported in early September, and then up to over 10.60 EPS in early December with Q3 earnings of merely around 3.00 EPS. My reasoning is based on recent USDA projections of another bumper crop of corn expected for 2014/15 as well as continuing tight supplies for ethanol on hefty domestic and foreign demand (exports are way up), and rather more moderate natural gas prices.
Stocks zoom on this kind of powerful earnings growth, so we might expect to see REX's shares (especially with their small float) bid much higher over time, probably another 40%-50% in a month or two and 100% in four to five months on a P/E of 16 and then even higher after December's Q3 report, assuming no collapse of the general markets and no unexpected bad corn crop.
We can presume that even higher earnings will likely be generated by REX in 2015, given 1) lower corn prices predicted by the USDA, 2) REX's lower debt-financing charges, 3) greater plant efficiencies, and 4) whatever new growth opportunities the company may find. They have made superb choices thus far with various investments in ethanol and other avenues.
The veteran stock-analyst Paul Resnik, formerly of Paine Webber, Merrill Lynch, etc., who founded Uncommon Equities analyst firm and is a longtime observer of the ethanol industry, in a recent personal email told me he regarded REX as "exceptionally well-run," a reassuring statement given that investors' number one concern should be quality and reliability of the management team. I will have more to say in a subsequent section about CEO Stuart Rose and his colleagues.
A strong earnings outlook for 2014-2015 now appears entirely reasonable given the macro-economics for ethanol producers. None of this has been factored by analysts into earnings estimates for these companies for the second half of 2014 or for 2015. Instead, the projections seem based on very conservative assumptions after the traumatic 2012 drought and higher corn prices lasting well into 2013. Lower corn-prices and higher ethanol prices are obviously huge boons to ethanol producers' profit margins, and that is exactly what ethanol companies are enjoying the past several months and should continue to profit from for the foreseeable future.
For instance, in what is terrific good prospects for ethanol companies, the USDA on May 9 (reaffirmed on June 11), along with experts since then, have projected that corn prices for the coming 2014/15 marketing year (NYSE:MY) will be around $3.85 to $4.55. This is significantly lower than the projection released a month earlier which prophesied corn-prices for the MY in the upper $4s. But another bumper corn-crop (like 2013's great harvest) looms on the basis of 1) timely planting thus far achieved despite the extended winter weather and 2) forecasts of cloudy, cooler weather (due to lower sunspot activity) and bountiful rainfall levels from a likely El Niño weather system this year. Along with the established trend of U.S. farmers steadily increasing their crop-yields per acre, we could easily see an extra billion or two bushels in yields, bringing corn stocks (stockpiles) much higher and corn prices much lower.
Meanwhile, ethanol prices are staying remarkably strong due to low inventories, constrained transport due to rail congestion, and heavy export demand. And the Obama White House just last week adamantly told the EPA that it expects biofuels led by ethanol to be a major part of the nation's energy solutions going forward. So the talk out of Washington DC as reported by Reuters is that the EPA will not cave to oil industry pressure to reduce ethanol in the national fuel supply, but will instead mandate about 13.6 billion gallons of ethanol for the mix. This would be down very slightly from the original 13.8 bn gallons required by the 2007 Renewable Fuel Standards (RFS) law, but nowhere near as low as the 13.0 bn-gallon figure that the EPA had first trotted out last November.
Despite the extremely favorable conditions for ethanol plays right now, REX is going largely unnoticed by most retail investors and stock gurus. This creates an ideal window for buying shares that are still quite undervalued at a trailing P/E of merely around 11 at today's all-time high prices in the low $70s (May 29), and a forward P/E under 7 on my estimated trailing earnings of around 10.60 EPS by Q3, reported in December.
I say "undervalued," because REX in the week of April 21 was trading near a P/E of 16 even when the Russell2000 smallcap index was under severe selling pressure, and REX traded for most of the past year on P/Es in the upper teens, 20s and even low 30s when future earnings prospects looked far less lucrative than they do now.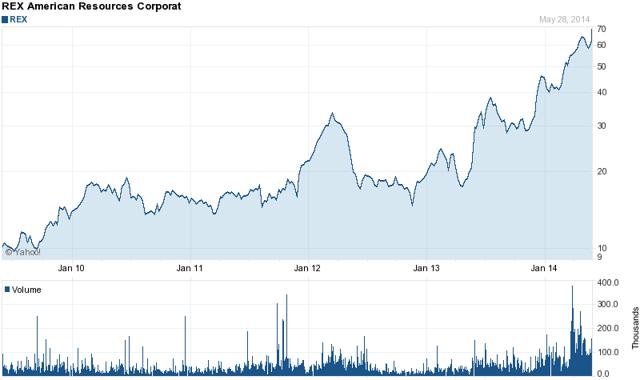 Above is shown REX's five-year stock chart, starting in 2009 when REX began to be a full-fledged ethanol producer, though not yet owning much output capacity. Notice how the epic drought of 2012 and its aftermath into 2013 interrupted the steep upward price trend of the stock. But with a good corn crop for marketing year 2013/14, the strong up-movement resumed for REX's shareprice, setting record new highs based on colossal earnings growth. The positive trend now looks good to continue even more strongly.
Boosting the stock's upward trend is the fact that cash and equivalents, up at $125.5M by April 30 with Q1's increase by $20.5M, can be projected at the current expanding cash-flow rate (even with about $8M in CapEx this year) to swell to around $170-180M or higher by Jan. 31, 2015, the close of Q4, and probably well over $250M by Jan. 31, 2016. By that same time, REX's inexpensive debt will likely be slashed from the $68M level at the end of Q1 on April 30, 2014 all the way down to zero by Jan. 2016, just 20 months away from now, eliminating debt-payment and finance charges and adding around 0.60 in after-tax EPS each quarter to the bottom line.
The added confidence from all that extra mountain of cash and zero debt will surely merit a much higher P/E valuation on whatever REX is earning by then.
Moreover, REX's quarter-billion dollar cash-stash will provide tremendous power for whatever this company's savvy management team chooses to do with that wealth through additional growth opportunities. As we shall learn, CEO Stuart Rose and his teammates have a knack for wisely reading market trends and making the right moves at the right time.
No wonder increasing institutional buyers each season are locking up more of the tiny float for REX shares, driving it higher and higher during these boom times for ethanol producers. As of last tally, institutions already own 54.4% of all outstanding (and fully diluted) 8.14 million REX shares and around 70% of the 6.23M-share float, while insiders (led by CEO Stuart Rose) and "over 5% owners" hold 32.9% of the outstanding shares.
And if retail investors begin to hear more of REX's chances to double in 4-5 months, this stock could soon get bid up to a higher P/E multiple of 20 to 24, where it often traded in the past year. Going into earnings day on 3/26/14 REX was actually trading up at a P/E of 32, as befits a growth stock like this during a terrifically profitable time for ethanol companies.
GPRE's CEO Todd Becker spoke for the entire industry in early February when he declared, "The fundamentals of ethanol are as good today as we've ever seen them."
Not to get too giddy here, but applying a P/E of, say, 22 on the present trailing EPS of 6.53 would mean a stock hitting $143, more than a double-gainer. A P/E of 22 applied to likely trailing EPS around 8.80 likely coming with the Q2 earnings report in early September would bring the shareprice up to over $193. A trailing EPS in Dec. around 10.40 EPS with a P/E of 22 would mean a shareprice of $228, well more than a "triple bagger" from here.
Why isn't REX already trading in the $80s? -- and a word about media coverage and its peers GPRE and PEIX
At this point in time, REX's tremendous success appears to be known mainly to institutions, not to the average investor. This is because the company and its stock have been largely ignored by the financial commentary media and the popular stock gurus. Its two peers in the "pure play" smallcap ethanol space, Green Plains and Pacific Ethanol have been favored with far more attention-- thus far, anyway.
Green Plains is the second oldest surviving and biggest marketcap company in the space and in the past year made several newsworthy acquisitions, and therefore is followed by several analysts and reporters, who give it great visibility for those wanting to invest in this sector. For instance, on Feb. 7, 2014, Bloomberg news ran a widely-seen story on GPRE's dynamic dealmaker CEO Todd Becker, "Ethanol Evangelist Shrugs Off Volatility to Build Powerhouse." GPRE is involved in high-profile prospects like algae biofuels (using the CO2 output from one of its ethanol plants) and commodities-trading with its own hedge fund to guard against and also occasionally exploit the kind of problems that in 2009 bankrupted and killed the oldest pure-play ethanol firm, VeraSun Energy.
REX's other peer in the space is Pacific Ethanol , the oldest surviving (barely surviving) smallcap ethanol player, having commenced operations in 2005 a year before GPRE with the help of an $84M investment from Bill Gates' Cascade Investment group (half of it sold for a loss three years later), and then coming through its own bankruptcy in 2010 to emerge as a very successful "turnaround story" in 2014. Based in California's buzzing capital Sacramento, PEIX has predictably been able to garner lots of media attention for renewable fuels and for itself as "the leading producer and marketer of environmentally-friendly ethanol and other biofuels in the Western United States."
In a much-read article from April 1 on the "Top 5 Alt-Energy Companies with Blowout Earnings" the hugely popular Investors Business Daily (NYSEARCA:IBD), Pacific Ethanol and Green Plains both received salient coverage, while REX was strangely omitted from the story.
REX has just one person posting "analyst estimate" figures that show up at popular financial sites like Yahoo and the NY Times online business section (see Addendum for how I find these figures quite unreliable). The dearth of coverage is likely due to the fact that its healthy balance sheet frees REX from having to play the quid pro quo game with investment banks-- dilutive shares and warrants in exchange for analyst coverage. Only a handful of analysts follow the company on its earnings calls but thus far, to my knowledge only one group has in the past written any analyst reports on REX for their firm's clients-- Singular Research (a gap in coverage there is now being filled by seasoned analyst Jeremy Hellman). At the Yahoo Finance "Analyst Opinion" page, two unnamed analysts are on record with recommending a "strong buy."
REX has had little or no visibility and is quite "under-followed" on popular investor forums and message boards such as Seeking Alpha, Motley Fool, Yahoo Finance, Investor Village, SiliconInvestor, InvestorsHub, et al. (In the past few months, I have posted some information and insights about REX at the InvestorsHub REX American Resources discussion board.) The only worthwhile Seeking Alpha article on REX, by The Marketer, was posted way back on January 12, 2014. A bearish piece written by someone else the prior year was proven altogether wrong, costing any readers who fell for the argument to miss out on some huge gains in the following months.
As everyone knows or should know, the ethanol sector is a highly volatile one, with commodity spot-prices and futures moving all over the place, but mid-2012 into mid-2013 was an especially dreadful time for the industry because of that draconian drought, and many people stopped following the ethanol sector. Yet in the renewed love for ethanol companies in Winter 2014, REX has been largely left out of the limelight, with far more attention going toward Pacific Ethanol and Green Plains.
Curiously, at Nasdaq.com's "Guru Analysis" section, its automated Guru Ratings evaluation of REX shows extremely high approval under the Peter Lynch and Ken Fisher methods of analyzing stocks, and positive ratings from all but one of the other methodologies, the exception predictably being the "contrarian" approach of David Dreman. Neither GPRE nor PEIX fare well at all according to the "Guru Analysis."
To my knowledge, the highly-successful investor and trend-spotter Chen Lin, author of the heavily-subscribed What is Chen Buying…? online newsletter, is the only one of the "stock newsletter gurus" who has presciently informed his online readership about REX, doing so in early March. (It was evidently Chen and then his large following that drove REX's share-price from around $47 to upper $50s within two weeks starting in late February.) This was a few months after Chen and energy-investment expert Keith Schaefer successfully touted investors onto Green Plains and Pacific Ethanol. (I was fortunate to make about 150% profits on PEIX in less than a month when I finally picked up on the story in February.) On May 23, Chen told his readers that, after making a trade on another stock, he had re-bought his position in REX, which going forward should add more buying for REX from some of his large following of investors.
One of the reasons that REX has received far less attention among investors is that its shares are not optionable, whereas a busy market flourishes in trading options for both GPRE and PEIX, a topic for much conversation among traders. On the other hand, conferring with different sources, it looks like REX's shares can be bought on margin through a greater number of online trading brokerages than either GPRE or PEIX, so one can get good leverage on REX if one is comfortable investing on margin.
REX's relative "neglect" relative to its peers by stock-watchers cannot be because of dangerous debt or an unhealthy balance sheet, despite the severe pressures afflicting ethanol companies from mid-2012 into 2013. Actually, REX's balance sheet and other metrics look really excellent, and far better than GPRE and PEIX, as detailed below. It is for this and other reasons that the company should continue its several-year trend of surpassing all ethanol companies on solid, consistent earnings growth and fortifying the strength of its balance sheet.
Comparisons to the other two major "pure play" ethanol companies, GPRE and PEIX
It is instructive to compare some key statistics for REX with those of its two peers in the publicly-traded "pure play" smallcap ethanol space, Green Plains/GPRE and Pacific Ethanol/PEIX. I do not wish to denigrate either of the latter two companies. In fact, if REX was not available as an investment, this article would be arguing the merits of investing in both GPRE and PEIX, given the extremely favorable margin environment for ethanol companies this year and for the foreseeable future. (I have written quite recently about PEIX.)
Let me start first with a quick review of the trading action for PEIX and GPRE: After the EPA scared a lot of investors away from ethanol companies last autumn by threatening to reduce the mandated levels for adding ethanol to the national fuel mix, PEIX plunged to all-time lows down at the mid-$2s last November, then soared again and again to close at a two-year high of $17.90 on April 1. It dropped back since then on news of a dilutive share-offering in early April and then after Q1 earnings report on April 30 it began to fall much further, despite posting magnificent EBITDA, due to a GAAP EPS 69 cent loss due to a fair value adjustment (FVA) over the re-pricing of its warrants, entailing a noncash charge of $35.8 million. (Again, see my recent article on PEIX for much more about this). Shares for GPRE swelled from the $15-$16 level in November to an all-time high of $31.81 on April 1, though shares have backed off since then with the selloff of the smallcap sector.
Let's dig more deeply into the numbers for each of the three companies….
NOTE: Readers already tired of sifting through numbers may simply wish to skip down to the next sections to read more about the interesting history of the company, the power of its business model, its CEO, the possibility of a dividend, the exciting potential of the "Future Energy" segment, the concluding section and analysis of REX's stock-chart.
REX American Resources reduced its debt down to $68M by April 30, 2014. With cash and cash equivalents growing to a healthy $125.6M, the company could immediately pay off all its debt if it impatiently chose to do so. Management says it would rather keep more cash on hand for any major growth opportunities that might arise, and besides their debt is very inexpensive to carry, pegged to the LIBOR. REX added over $20M cash and reduced debt by $8M this quarter (Q1) ended on April 30. Given the healthy profit margins for ethanol players and especially REX in 2014, altogether this year REX will likely add at least $70M-$80M in cash. I would calculate even more, but the company wants to spend $8M in CapEx this year to increase storage security against any potential problems with the corn crop or difficulty getting railcars, which is a great form of risk-insurance.
In other words, by Jan. 31, 2015 (end of Q4), REX's stores of cash and equivalents (after announced $8M in CapEx for 2014) could be up around $170-$180M while debt is probably down to ~$34M. Just twenty months from now, by Jan. 31, 2016, assuming no more historic droughts or global economic collapse-- or major acquisitions by REX and/or payment of big dividends-- REX should be standing with around $250-$260M in cash and zero debt.
GPRE's press release of April 29 indicates that, by March 31, 2014, it had $229M in cash/equivalents, down from the prior quarter because of some major plant-acquisitions. It carried a massive $642M in debt ($379M of that is long term). In their conference call, GPRE management could only promise that they would likely be net zero debt (not zero debt) by the end of 2015-- i.e., evening up their cash and debt totals. Pacific Ethanol as of March 31 reported only $7.5M in cash/equivalents (up from $5.1M on Dec. 31), and its debt was down from $98M on Dec. 31 to $81.5M. PEIX's cash zoomed higher within several days, spruced up by net $26M from a dilutive share-offering on 4/3/14. PEIX continued to build up its cash from exercised warrants and pay down more debt into May.
According to the most recent figures at Yahoo Finance checked on Thursday May 29, and my own adjustments for REX's statistics based on the latest results for Q1, REX showed a substantial cash-to-share ratio of $15.42/share, whereas GPRE's cash/share figure (after its different acquisitions) was only $5.54 and PEIX's was just $0.44, albeit now up to just over $1 with the newest dilutive cash-raise.
REX's price-to-book ratio is still fairly low (not overvalued) at 1.94 on a book value of $36.87 per share, compared to GPRE's 1.83 P/B ratio on their $15.93 book value. Even with PEIX's substantial share-price drop in May, its P/B is still slightly inflated at 2.37 on its $5.66 book value (before the drop it was trading at well over 3 times P/B-- but compare that to Facebook, Amazon or Netflix's very inflated P/B ratios up around 9, 13, 16).
REX's stockholder/shareholder equity is $302M; GPRE's is $596M, PEIX's is $109M.
In terms of market cap on fully diluted shares, REX weighs in at $584 million at their May 29 closing shareprice of $71.76 on 8.14M shares with no outstanding warrants.
By comparison, GPRE marketcap on same-day close at $29.18 is way up at $1.24 billion on a fully-diluted share-count of 42.7M (there's a "paper overhang" of 5,756 shares in the form of convertible notes, and 37.4M shares outstanding, for a basic marketcap of $1.09B). And PEIX's $13.64 shareprice on May 29 yields a basic marketcap of $274 million on the 20.14M outstanding shares shown by Yahoo based on PEIX's filing for quarter ended March 31, but that outstanding sharecount is already higher with the 1.75M shares offered on May 3 and then 120k shares created to pay the dividend for Series B Preferred Stock holders as reported on May 23. PEIX's fully-diluted sharecount is around 25M when accounting (not by treasury method) for all remaining 4.9M warrants (as of May 8) that will presumably be exercised this year, since these are all far "into the money." This yields a fully-diluted marketcap for PEIX of $341M at current shareprice.
If Pacific Ethanol carries a fully-diluted marketcap of $341 million, and Green Plains is way up at $1.24 billion, both of them with considerable warrant/convertible note overhang and big debt relative to cash, then surely REX's valuation "deserves" to be much higher than $584 million. Somewhere up around at least $800 million marketcap, a $98 share-price, seems more reasonable right now (which would be a P/E of merely 15).
This is especially appropriate since REX's earnings both future and trailing are calculated after taxes. PEIX, by contrast, only for the first time with Q1 set aside provisions for taxes and will be paying far more in taxes later in the year after the company exhausts its net operating loss carryforwards (NOLs). This taxation and the much higher fully-diluted sharecount have to be factored in as a major drag on PEIX's earnings-per-share capacity going forward. Also, PEIX will likely see some selling pressure from the continuing exercise of remaining 4.9M warrants and cashing in by selling of shares after exercise.
Whereas the warrants- or notes-to-shares trend will continue to dilute PEIX and pressure the shareprice for PEIX and GPRE shareholders this year, REX, to repeat, has no warrants outstanding and has actually been buying back its shares, getting its fully diluted share-count down to just 8.1M shares after purchasing 4.3 million of its own shares over the past 5 years. From REX's most recent 10-K filing, for year 2013: "REX repurchased 14,135 common shares in Q4 '13 at an average price per share of $28.80 and repurchased a total of 137,015 common shares in fiscal 2013 at an average price per share of $25.44. The Company is currently authorized to repurchase up to an additional 280,006 shares of common stock. Reflecting all share repurchases to date, REX has 8,100,256 shares outstanding."
On top of this, REX has not paid any options to its executives since 2004.
No other pure-play, publicly-traded, smallcap ethanol company than REX can boast of such excellent past performance, present financial health, future earnings prospects or shareholder-friendly moves.
It is probably for this reason that the shortseller interest on REX has stayed at a miniscule level around 3.5% while the short interest on GPRE has for months often been somewhere over 20%, with shortsellers often loading up against PEIX, too.
Some brief history and basic facts about REX American Resources
REX, founded in 1980, is headquartered in Dayton, Ohio. The company used to be engaged in the consumer retail industry, but it successfully transferred its business focus almost completely into ethanol production in 2009 and changed its name to REX American Resources Corporation one year later.
"Historically, we were a specialty retailer in the consumer electronics/appliance industry serving small to medium-sized towns and communities. In addition, we have been an investor in various alternative energy entities beginning with synthetic fuel partnerships in 1998 and later ethanol production facilities beginning in 2006. We completed our exit of the retail business as of July 31, 2009." (From the company's 10-Q filed Dec. 5, 2013)
From the recently available 10-K report for full fiscal year 2013, it is learned that the company's extended warranty-service plans from the old retail business (up to five years coverage) expired on Jan. 31, 2014.
The company has since then operated its business in two segments: Alternative Energy along with a small remnant Real Estate segment. On the latter, having sold six former retail store locations and a former distribution center during fiscal 2013, now, as of Jan. 31, 2014, landlord REX leases out four of their former retail stores (51,000 square feet) and has seven former retail stores (86,000 square feet) sitting vacant, marketing them to lease or sell. Lessee tenants are responsible for a portion of maintenance, taxes and other costs and are required to maintain adequate insurance. "We recognized lease revenue of approximately $466,000 and $472,000 during fiscal years 2013 and 2012, respectively." The current net book value for the Company's remaining vacant real-estate holdings is approximately $4.6 million. All financial matters related to the realty segment are classified as "discontinued operations."
In their primary business, the Alternative Energy segment, REX produces ethanol, a renewable fuel-source made by processing corn (and in some cases other biomass) through a fermentation process that creates combustible alcohol, used mainly as an additive by refiners to increase gasoline volume by 10% at cheaper price, reduce emissions, and enhance octane levels. Sometimes ethanol largely replaces fossil-fuel-based gasoline, as in special E-85 blends comprised of 85% ethanol. As a byproduct, the ethanol plants generate profitable distillers grains and corn-oil, both products used as a high quality animal feed.
The company's chief properties are the NuGen Energy, a 114M-gallon ethanol plant in South Dakota (99% ownership, 48% bought in July 2010 and the rest in Nov. 2011 for a total of just $32M) and the 113M-gallon One Earth Energy plant in Illinois (74% ownership, bought for $50.8M in Oct. 2007, it went online in summer 2009). These entities are followed in ownership size by the 120M-gallon Patriot Renewable Fuels plant in Illinois (27% ownership, bought for $18M in Dec. 2006, commencing operation in summer 2008). REX also holds smaller ownership percentage of four Big River ethanol plants (bought over a few years from 2006 to 2009 for $20M), spread around the upper Midwest (Big River is a corn farmers cooperative). All of this ownership and partial ownership, giving REX a current 262.8 million gallons of annual ethanol production, was gained via a total investment of $121 million, or about 46 cents per gallon purchased. The partnerships enable farmer groups to retain local management, while REX provides capital and business experience. As of 2013-14, REX's holdings of these 7 ethanol production entities are as follows, along with production capacity for each and REX's share of that: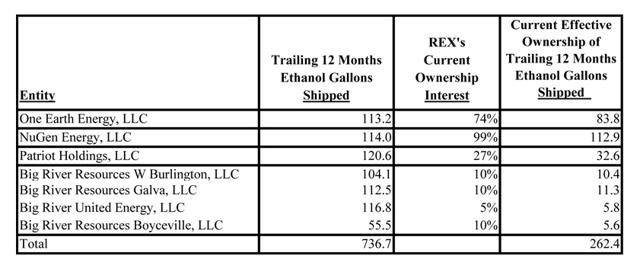 Contemplating the amount of production bought by REX, some of it-- specifically the NuGen Energy plant-- purchased for a very low price (just 28 cents per gallon of production), it is easily seen that their fast-mounting cash would allow them in future to significantly add production capacity and therefore EPS growth as any discounted buying opportunities arise on other plants that meet REX's criteria for strategic location and high caliber engineering and personnel. Even if the company "splurged" and just bought outright (with no bank-debt) a 100M-gallon Fagen/ICM plant for $50M-$60, that would instantly add 38% growth to capacity and earnings. Or the opportunity may arise to simply buy more of the deeply profitable One Earth Energy or the Patriot plant or one of the Big River operations. And REX management has shown in the past that they are willing to invest elsewhere for big gains. I will have more to say about this when discussing REX's "Future Energy" partnership in the section before the Conclusion.
The power of the ethanol producer's business model, especially that of REX
Notice again the 262.4 million gallons of ethanol production for 2013 (and onward) that REX owns, working out to just over 65 million gallons per quarter. And then realize the earnings power this production volume can generate when the "crush-spread" or profit-margin is especially robust for the ethanol industry.
For those readers interested, here's the basic math involved to get a rough idea of a more nuanced version of the crush-spread: get the corn price per bushel from a site giving commodity prices, such as Bloomberg, Nasdaq, Barchart, Teletrader, et al. Multiply it by 0.35 (since 1 corn bushel yields 2.8 gallons of ethanol) and then add around 15 cents for natural gas (add an extra dime on severe natgas price spikes) to get a very approximate cost for ethanol production. Next, look up the ethanol price per gallon for the most heavily traded futures contract at one of the same financial sites, and subtract the production costs from the ethanol price to get the company's profit on its ethanol segment (not including profits on the distillers grains or corn oil).
So if corn were as low as $4.00/bushel or as high as $5.00/bu, we multiply by 0.35 to get $1.40 or $1.75, then add 15 cents for natgas to get our approximate $1.55 or $1.90 production cost for ethanol. If the ethanol company such as REX can contract for an ethanol sales price for $2.20/gal, that's either a 65 or 35 cent crush spread or gross profit margin.
At around 65 million gallons of ethanol being produced quarterly by REX, consider that each 10-cent to 20-cent to 30-cent benefit to the crush-spread profit margin adds $6.5M - $13M - $19.5M to REX's pre-tax bottom line per quarter for their small share-count of just 8.14M fully-diluted shares.
That's a lot of earnings power when times are especially good like the past several months and foreseeable future, with corn costs relatively low compared to 2012 into 2013, and ethanol prices at nice premiums. It is important to know that, like the other ethanol companies, REX does not usually sell for the "last drop" premium spot prices but arranges a healthy margin of ethanol prices to grain costs at the time of procuring grain, with a certain amount of hedging at management's discretion to "lock in" favorable profit margins. REX's CEO Rose announced on the earnings call of 5/28:
"Crush spreads right now are strong. Currently from May we're on the spot market which appears to be a very good place to be. June production, we have sold about half of our June production the other half is spot. Sometimes we will sell out a little bit forward if we deem the margins to be very good. And we felt that on some of our June production. July currently is still on spot, but we will see what happens. Again we sell fairly close and when we do sell out, we like to match our corn purchases to our as best we can to our forward sales and lock-in spreads."
Combine the above business model with the USDA's remarkable prediction released in March 2014 that the price of corn would likely average less than $4 per bushel for the coming decade. The reason for the estimated drop is U.S. farmers' greater crop-yields per acre; larger stocks of corn expected to pile up later in marketing year 2014-15 and beyond; and expected bumper crops of corn on lower sunspot activity highly correlated with cloudier weather and cooler temperatures. (In his much-followed subscription newsletter, Keith Schaefer wrote at length in early April about this cooler-weather phenomenon literally "overshadowing" the trend of man-made global warming-an article that became publicly available for reading on April 7.
So put this into context: REX in Q1 achieved their all-time most profitable quarter on corn-price averaging $4.36/bushel and ethanol's selling price averaging $2.14/gallon-despite being temporarily handicapped with a few big natural gas price-spikes thrown in to cost them an extra $8M for the quarter. If corn prices (ethanol companies' major cost) do average in the low $4s or even into the $3s for the next decade as the USDA predicts, this company will continue to mint mountains of money for years to come.
A tremendous factor not yet mentioned here on the ethanol-demand side is the "big gorilla" looming on the global scene-- rather, the "Big Panda Bear." China's government keenly wants to clean up its nightmarishly dirty air and counter the toxic emissions of the extra 240 million vehicles that have arisen since 2001 to clog the roadways and the afflicted eyes and lungs of its citizens. The PRC has a domestic ethanol industry that adds less than 1% ethanol to that nation's fuel supply, but it badly needs crops for their 1.2 billion residents so it simply cannot increase biofuel additives to the 30 billion (and growing) gallons of fuel presently needed. The importing of ethanol is forbidden by law, but China may consider allowing some provinces to import the biofuel. Brazil's famous production of sugarcane-fed ethanol can't keep pace with the immense Brazilian demands for the high-octane, clean-burning biofuel, so that nation is often now a net importer of ethanol to cleanly fuel their cars. However, the terrible recent drought badly undermined Brazil's sugarcane production.
So where would China get most of the ethanol needed for their own cars? The United States. Already, for animal feed, they are importing huge amounts of distillers grains generated by USA ethanol companies like REX. (The bulk of the market for these homegrown distillers grains is East and Southeast Asia.) Members of the biofuel industry were invited to join the USDA's first-ever biofuel trade mission to China May 5-13 this year, led by USDA Undersecretary Michael Scuse. There's a good chance that ethanol export agreements may eventually be hammered out with the Chinese (perhaps even by later this year, writes Kelly Davis, a member of the team that went to China-http://www.ethanolrfa.org/exchange/entry/expanding-american-ethanol-to-china/). If so, the demand for ethanol and its price would soar. In other words, if China enters the picture to create more global ethanol demand (Canada is already our biggest importer), the prospect of ethanol prices ever plunging to unprofitable levels for our USA domestic producers on a glut of over-production virtually evaporates as a risk factor.
A likely dividend?
In the conference call after Q3 earnings back on Dec. 3, 2013, CEO Rose brought up a few times the idea that REX's board would consider paying shareholders a dividend with the robust inflows of cash and much lower debt. According to the 10-K statement, there are no restrictions in REX's debt terms with creditors for their ethanol plants precluding them from issuing a dividend out of their cash at the parent level. There was even mention during the Q&A on Dec. 3's earnings call and back on the Sep. 4 earnings call (for Q2) of REX perhaps eventually becoming an MLP energy company, and Rose mentioned that REX had a Washington lobbyist firm pushing for just this tax-favored status.
On the topic of dividends, Pacific Ethanol has declared no intention of paying dividends to common shareholders "for the foreseeable future" (they do pay dividends to Series B Preferred Stock holders). GPRE started paying its shareholders a tiny 4 cent quarterly dividend on Sept. 3, 2013, which would work out to a yield of 0.5% (half of 1%) per year. By contrast, REX American Resources, flowing over $35M cash for the past two quarters, likely generating another $20M or more for the coming quarter, could easily pay a quarterly dividend of 40-50 cents to owners of its nearly 8.1M shares outstanding while paying off its debt over the next two years. At, say, just $1.50-$2.00 in dividends a year (just over $12M-$16M outgoing annually, on cash flows of likely well over $70M a year), that dividend would translate into a 2.6% to 3.5% dividend. If (a big if) MLP status were to be granted, so much money presently going for taxes each quarter could go instead to shareholders and the percentage yield could zoom much higher.
Just a small dividend would allow many institutional funds that only invest in dividend-paying stocks to buy REX shares, as some probably have been doing with GPRE shares since that company started paying its small dividend.
More institutional interest in REX would start a "bidding war" for its shares because of that tiny float of shares available for buying.
The CEO and his personnel
The self-effacing, soft-spoken, ever cautious, yet highly successful CEO of REX is Stuart Rose. (View a 2011 interview with him about REX here) Not just an astute businessman and wealthy investor, Rose is a collector and philanthropic donor of rare books and manuscripts. On REX's fantastic success, he likes to shift all the praise to his personnel, including COO Zafar Rizvi (a longtime ethanol sector expert) and CFO Douglas Bruggeman and boast not only about them but also about the top-notch quality of the several ethanol plants and their managers and workers that his company invested in. On the earnings call from March 26, Rose stated:
"I really want to thank our employees; we have the best employees in the world. Our real advantage, even though we have the best sites and best plants, [is that] we have the best employees who have stuck with us for losses last year [when the price of corn shot through the roof and REX suffered its only quarterly loss in its several year history as an ethanol company]. They have been with us from the beginning. We've virtually no turnover at the upper end, we really have the brightest employees that I know of in the world and that's a real secret to our success and they are the ones that deserve the full credit."
On Dec. 3, in a concluding statement about REX and its prospects, he declared:
"We're an extremely well-financed company, with what we feel are the very, very best plants, Fagen/ICM plants in the Corn Belt. Our people are experienced, and know what they're doing and have been through all sorts of different times and certainly, they can do well in good times [like now, as shown with REX's record earnings for Q4 and then even higher for Q1]. They've also, and this is what we're probably most proud of, adept at handling tough times from drought to high corn prices. We've been through it all. And through it all, we've come out and continued to do better than the rest of the industry. Corn prices are coming down. And when I say that I mean relative to basis. We paid significantly over basis in quarters leading up to this quarter. Right now, it looks like we can buy our corn at historical [low] prices, which will be a big benefit to our shareholders."
Rose has certainly grown quite wealthy because of his investment in these people. And, just as many top shareholders in successful companies during the past year's all-time U.S. stockmarket highs have been realizing their gains, in the past 6 months, Rose cashed in about one-third of his large stash of REX holdings, selling 630k shares at all-time highest prices in the $30s to $60s, while still holding some 1.17 million shares (as of 4/22/14, worth over $70M at recent shareprices).
His selling of shares has hardly hindered the stock's upward ascent, and it looks like institutions and fund managers are happily gobbling up these insider shares coming onto the market, thereby slightly expanding the very tight float. This extra liquidity is considered very positive for institutional buyers of REX shares.
Risks and mitigation
Like all ethanol companies, REX in its legal filings must mention the possible risks facing this sector, which mainly have to do with the chance of profit margins being pressured, as they have been in the past, by severe weather, spikes in the cost of corn and natural gas, drops in the selling price of ethanol due to inventory levels, etc.
But considerably lessening some of the risk is REX's and other ethanol companies' revenue stream being fed by sale of the distillers grains (a high-quality protein-fiber-fat ingredient for animal feed) and corn oil, the selling price for both going up when corn-prices go up, thus serving as a hedge against lower profit margins for the ethanol-producing segment.
It is worth highlighting the fact that, according to CEO Rose, because of the strategic location of its plants, REX gets its corn at a price often lower than prices traded at the CBOT, a boost to their profit margins and a reason why REX posted only one quarterly loss the past three years (Q4 2012-- after the worst drought in fifty years) whereas other companies (like GPRE, PEIX and others) did not fare nearly so well. GPRE suffered three straight such losses in 2012 alone and PEIX has had only five profitable quarters over the past six years (i.e., PEIX has been in the red fully 19 out of its last 24 quarters, 8 out of its last 12 quarters).
Ethanol producers and investors hope no more "epic" / "historic" droughts will recur like the 2012 disaster that pushed corn prices through the roof well into 2013. One might worry that, with obvious climate change, we'll get at least one more of these droughts in the next several years. What is reassuring is that the world has already set "hottest year on record" numerous times since the 1990s and yet we've only had one really bad drought for the Midwestern corn crop during the same time. This bodes well for ethanol companies and the risk/reward for investors.
In any case, REX this year is spending $8M on CapEx to expand storage to mitigate against any possible problems with commodities.
On the regulatory front, the U.S. oil industry and its powerful army of Washington DC lobbyists in the API (American Petroleum Institute) and other groups have for several years been pushing the Environmental Protection Agency (EPA) to rescind the Renewable Fuels Standard mandating that 10% of the nation's gasoline supply be in the form of ethanol and other biofuels. The EPA raised the idea last November of cutting the RVO (renewable volume obligation) in its Renewable Fuels Standard 2 (RFS2) and reducing the 13.8 billion gallons of ethanol down to 13.0 billion. This sparked fears of ethanol gluts and cheaper prices, slashing profit margins for ethanol producers. A decision from the EPA is expected sometime in June. But just last week, the Obama White House made it clear that biofuels must be an essential part of the nation's energy policy, and so now the thinking out of the capital is that the EPA may only cut the 2014 mandate to 13.6 billion gallons of ethanol, a number that would increase each of the following years.
The so-called "blend wall" problem (refiners can only add so much ethanol to gasoline before hitting the 10% limit) is resolved by simply making widely available E15 fuel at pump-stations, where 15% ethanol is added to oil-based gasoline. The EPA approved it in 2010-11 for cars manufactured from 2001 onward, which comprises about two-thirds of the cars on the roadways. Studies by Ricardo Laboratories, the world's leading and most respected private lab dealing with fuel issues demonstrates that E15 can be used in all vehicles going back to the early 1990s. By early 2013, stated the EPA, "Some [fuel] companies have now met all of the Clean Air Act requirements related to E15 and may lawfully introduce E15 into the marketplace." MAPCO, operating throughout the South, became the first company to commit to selling E15 at over 100 fuel stations. Wider use of E15 would solve the "blend wall" problem, lessen dependence on oil, and help the U.S. economy in numerous ways (see next section). And, of course, increase demand for ethanol.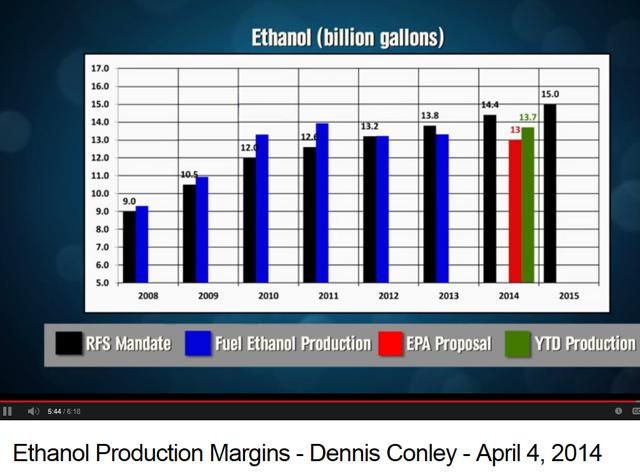 The above chart is from a Market Journal video interview with professor of agricultural economics Dennis Conley of UNL (Univ. of Nevada Las Vegas). For 2014, Conley extrapolates from known Q1 ethanol production data to get likely ~13.7 billion gallons domestic USA ethanol production for the year, showing that even if EPA were to only mandate 13.0 gallons, the ethanol industry will likely produce and sell more, just as it has exceeded the EPA mandate level in several prior years, especially in 2010-11 before the 2012 drought took down production.
Export demand is the main reason for these higher-than-mandated levels of production by ethanol companies, and foreign demand for U.S.-produced ethanol has in fact swelled, making the entire issue with the EPA a moot point. Ethanol exports totaled 622 million gallons (NYSE:MG) in 2013, compared to 306 mg of imported ethanol. In 2014, it is estimated that imports will amount to less than 100 million gallons while exports could approach or surpass 1 billion gallons.
The Obama White House in August 2012 set new fuel efficiency standards for cars and light trucks, requiring the U.S. auto fleet to average 54.5 mpg by 2025. A major part of that solution may be extensive adoption by automakers not only of electric and hybrid electric solutions, but also the British engineering firm Ricardo's EBDI or Extreme Boosted Direct Injection engine, which can use 100% ethanol or an E85 mix, optimizing ethanol's high octane rating for superior automotive performance, higher fuel-efficiency, and lower tailpipe emissions.
Interestingly, CEO Rose explained on the 3/26 earnings call that, if the EPA ever were to significantly cut the ethanol mandate in coming years, he expected the weakly-run and poorly-financed "marginal plants" in the ethanol industry to shut down (as many did in recent years) and ventured to say that REX would continue to do better than the rest of the sector, as they have done for the past several years. Rose suggested that REX, being "opportunistic buyers," would be ready to buy interest in any such ethanol plants available on the cheap for added growth to their bottom line earnings.
Thus, in any scenario of declining profit margins and stressful times for the ethanol sector, REX could offset that by growing their production capacity, for instance, perhaps paying just $40M-$50M (or less) to gain 100M gallons of capacity at a discount price, which would grow their production capacity by 38% from present levels. "In conclusion," he said, "we're prepared for anything. And there's probably no company more excited about the ethanol industry and better prepared to do well in this industry than REX."
Benefits versus complaints about the ethanol sector
CEO Rose is justifiably proud of the industry into which he moved his company in 2009 after having successfully begun to invest in the ethanol business in 2006. Some of the basic industry facts, clearing up many misconceptions in the minds of certain uninformed critics (and deliberate critics from the oil industry), can be found at websites such as http://ethanolfacts.com/ and http://www.ethanolrfa.org/ and http://www.drivingethanol.org/ethanol_lane.html.
One will learn that ethanol, an alcohol made from fermenting the starch in corn and other plants like sorghum (leaving the protein, fiber and oil for other uses), is an essential component of the ~138 billion-gallon USA gasoline market. When blended with gasoline, ethanol increases octane ratings, reduces production cost by volume for refiners, and facilitates compliance with emissions and fuel efficiency standards.
REX's own corporate presentation draws on some of the above and also presents facts as follows (I've slightly edited some grammar and added a few bracketed comments):
The ethanol industry produced approximately 13.3 billion gallons of ethanol in 2013, thereby reducing U.S. reliance on foreign oil. [The ethanol industry:]
Helps U.S. balance of trade
Helps U.S. move towards energy independence
Displaced 462M barrels of imported oil-- a $48B value in 2013
Approximately 1/3 of corn used in ethanol production is returned to the feed market in the form of distillers grains, corn gluten meal and corn oil [i.e., the ethanol industry is not taking "food out of the mouth of U.S. children"; most of the corn used is non-human grade]
Farmers require fewer government-sponsored price subsidies [certainly fewer now than what has long been enjoyed by the petroleum industry, cattle and dairy industry, etc.]; Government payments to corn growers have fallen from nearly $9 billion in 2006 to less than $2 billion in 2013
Land is transitioned away from "land bank" [i.e., farmers aren't paid to keep land idle]
Ethanol production generates higher tax revenues
Ethanol production added over $44B to GDP
Ethanol production increased household income by ~$31B [via lower gasoline prices]
Industry receives no tax subsidies
Farm states are less impacted by a challenged economic environment
Ethanol is estimated to have supported over 387,000 jobs, including across ancillary industries, from agriculture to manufacturing to the service sector
On a life cycle basis, corn-based ethanol reduces greenhouse gas emissions (GHGs) by ~34% compared to gasoline - 13.3 billion gallons of ethanol reduced GHG emissions by 38 million metric tons, the equivalent of taking 8 million cars off the road
$8.3B was paid in federal, state and local taxes
Environmentalists like myself naturally are concerned about CO2 emissions from ethanol plants and the run-off of fertilizer from corn-fields (though fertilizer use has come way down through precisely targeted GPS technology). I would love to see the world's cars one day powered en masse by self-generated electricity, solar panels or some advanced biofuel based on algae (and algae can be grown from CO2 exhausts, as Green Plains is proving). But let's not "set up the perfect as the enemy of the good." Just perusing the figures given above, the ethanol industry has clearly been a huge success for heavily pressured American farmers, for taxpayers, and for anyone who appreciates overall cleaner air. In this field, REX American Resources can be rightly proud of its accomplishments, despite the relentless damning of ethanol by the American Petroleum Institute and its supporters in the media.
In terms of visual blight, a relatively small ethanol plant surrounded by miles of green corn plants swaying in the breeze during Spring and Summer is a far preferable sight to the nation's oilfields-- those vast, surreal-looking "wastelands" largely cleared of plant growth for the sake of drilling rigs, nodding pumpjacks, pipelines, furnaces, etc., stretching for miles.
Speaking of which, REX may have found a way to radically reduce the need to drill for oil on virgin lands-through its "Future Energy" segment, described below.
REX's "Future Energy" segment
REX already has enough great prospects for big gains just on its ethanol and corn-byproducts segments. Yet, as self-described "opportunistic buyers," they are looking to make the best investments in energy and alternative energy technologies, and not just invest in any further ethanol plant ownership that might become cheaply available.
In their past, this bright management team led by Rose invested $6M in 1998 in Synfuel investments and got an enormous $178M return over 10 years (~40% CAGR). Their first ethanol investment was made in 2006 and for fiscal year 2007 saw a $24M net profit on the $14M invested, and of course they have been very profitable since shifting entirely into this segment in 2009.
Now, for just a tiny investment of $1.2 million made thus far since early 2013, REX has bought 60% interest in a zero-emissions heavy-oil steaming technology invented by Kent Hytken, as stated in REX's 10-Q statement, filed Dec. 5, 2013:
"Future Energy: Through a wholly owned subsidiary REX I.P., LLC, we have entered into a joint venture with Hytken HPGP LLC to file and defend patents for technology relating to heavy oil and oil sands production methods, and to commercially exploit the technology to generate license fees, royalty income and development opportunities. The patented technology is an enhanced method of heavy oil recovery involving zero emissions downhole steam generation. We own 60%, and Hytken HPGP owns 40% of the entity named Future Energy, LLC, an Ohio limited liability company. Future Energy is managed by a board of three managers, two appointed by us and one by Hytken HPGP. The owner of Hytken HPGP has been retained as a consultant."
REX's corporate Power-Point presentation (updated April 2014, linked at their RexAmerican.com website) on p. 13 illustrates this technology, and gives further basic information:
"Much of the world's oil reserves are in the form of heavy oil in deposits at depths below 2,000 feet. Heavy oil is too viscous to flow to the well at a reasonable rate under ordinary conditions, so technology is needed to help extract it. The most practical method developed so far is to inject steam into the reservoir, to raise the temperature thereby reducing the oil's viscosity. Current methods are limited by the heat losses on the surface and in the well bore as the steam is sent down the injection well. For any particular heavy oil reservoir and price of oil, there is a maximum depth of the reservoir that can be economically exploited. Current technology allows for injecting steam below grade to ~2,000 feet to extract heavy oil. New downhole steam generator technology seeks to create steam at depths below 2,000 feet to produce deep heavy oil."
The Abstract for the long, informative patent page (publ. date Sept. 26, 2013) describing Hytken's invention reads as follows:
Abstract-- Systems and methods for enhanced delivery of thermal energy to vertical wellbores are disclosed. In one embodiment, a method comprises heating a heat transfer fluid; continuously circulating the heat transfer fluid into a vertical wellbore to a downhole heat exchanger; advancing hot feedwater into the vertical wellbore to the downhole heat exchanger, wherein the downhole heat exchanger is configured to transfer heat from the heat transfer fluid to the hot feedwater to generate high-quality steam; transmitting the steam from the downhole heat exchanger into a subterranean formation, whereby thermal energy from the steam causes a reduction in viscosity of hydrocarbons in the subterranean formation; injecting an acid scale wash to counter scale buildup from the hot feedwater on the downhole heat exchanger; and returning the heat transfer fluid from the downhole heat exchanger to the surface thermal fluid heater for reheating and recirculation into the vertical wellbore. (From: http://www.google.com/patents/WO2013142242A1?cl=en)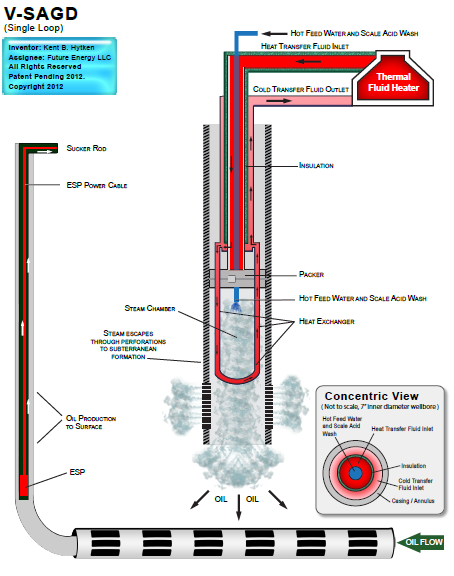 Source: REX American Resources corporate Powerpoint presentation, May 2014
Rose shed more light on this small but promising segment on March 26 and back on Dec. 3:
"…We're looking… for other alternative energy products that have a low investment and very, very high potential return. We found one that possibly meets our criteria in the heavy oil business…. There are billions of barrels of heavy oil throughout the world that can't be reached if it's steam [being used], we can't reach below a couple of thousand feet. Our technology, if it works, and I would say if, has a potential to get to steam below 2000 feet and make that oil recoverable. We don't want anyone buying our stock based on that technology, it is not at this stage proven technology but we're slowly working towards trying to prove it up." (3/26/14 conference call, boldface emphasis added by this author)
"We're very excited about that business as it has a potential to free up billions of barrels of deep heavy oil if successful. We … expect to open our first demo plant next year [on 3/26 he clarified it would likely open late in 2014 after going through the California permit process]. At that time, we'll be able to better evaluate the technology and let you know what we expect the future of that to be." (12/3/13 conference call)
In his exchange with analyst Katja Jancic of Sidoti, Rose further stated on Dec. 3 that the cost would be "probably less than $3 million for the demo plant. And that will be it for the demo plant. The beauty of this technique is it doesn't require a lot of heavy expenditures and … if it does what it's supposed to do, it has a possibility to open up reserves all over the world without large, large expenditures, just by the nature of the technology."
Other companies like defunct NiMin have tried to tap sub-2000-foot levels with new EOR (Enhanced Oil Recovery) technology but have failed. Obviously if the REX-Hytken project works as hoped, this experimental technology could bring astonishing and steady profits to an already highly profitable ethanol company. And note that if REX sells, as planned, their remnant real estate holdings from the former electronics business, worth around $4.6M, they can easily pay for the demo plant with funds to spare and not touch their fast-growing cash-flow from the ethanol segment.
Conclusion
For all of the above reasons connected with their ethanol business, REX may be seeing more analysts forthcoming this year to initiate coverage with a "buy" or "strong buy" recommendation, given the excellent risk/reward profile during a period when the ethanol sector looks extremely healthy for the rest of the year-- and maybe the next decade, as the USDA is saying with its projection of low corn prices during this overall span.
The biggest risk factor to beware is any disastrous corn crop in a given year, or anything that would constrain production/distribution of ethanol or pressure the corn-crush margin. Another risk at least several years out is the possibility of inexpensive mass production of cellulosic ethanol or advanced biofuels such as algae. But the logistical and economic feasibility of both these methods is a long way from being proven.
The reward here with this investment is the opportunity for REX shareholders to make 50% to 100% gains in a mere 1- to 5-month period.
Maybe even colossally bigger gains as that small float gets "locked up" by even more institutions and funds bidding it up from the current P/E not just to the 16 level seen five weeks ago, but to its more usual P/E in the 20s where it traded for most of the past several years, even during difficult times.
If we see strong investor confidence on prospects of low domestic corn prices (mid-$4s, low-$4s or sub-$4 per bushel), decent ethanol prices (anything over $1.90/gal), moderate natural gas prices, and a resulting great "crush spread," REX could easily be earning 11.00-12.00 EPS this year and beyond, and on a 16-20 P/E attaining a share-price around $176-$220.
Short of that happening, another prospect would be an attempt to buy out REX at a premium by one of the two big public companies, Archer Daniels Midland (NYSE:ADM) or Valero (NYSE:VLO), or the private firms Poet LLC or Flint Hills Resources, wanting to augment their ethanol production.
In sum, the risk/reward profile here looks quite excellent for REX.
Currently, many financial pundits regard the stockmarket as being on the expensive side, though certainly not in a "bubble," even with the S&P500 making all-time highs above 1900. Yet many stocks certainly do look terribly over-valued, trading up at precariously-perched P/Es in the 50s, 70, 90s or even far higher (Amazon, Netflix, and others).
By contrast, REX appears quite under-appreciated by the media and its shares extremely under-valued at a P/E around 11, given that the company is enormously growing earnings on its money-minting ethanol enterprise, and should continue to do so for some time to come, with different avenues open for future growth.
While it hums along beyond media attention, REX American Resources looks poised to enjoy an amazing year of whopping, wonderful earnings gains. With the help of steady institutional buying and new retail investors joining the ride, the stock should continue to fly higher to loftier new levels this year and beyond.
Discussion of REX's technical chart (as of May 29, 2014)
Despite the heavy selling pressure on smallcaps in February, again in March-April and then again in May, REX's 6-month daily chart (see below) looks very good, especially after Q1's stupendous earnings results and 10.3% gain for the day on May 28 followed by another up-move on May 29. The chart is in an overall uptrend, with its 50-day and 200-day moving averages both headed up. The 20 dma and Bollinger-bands had flattened out a bit, then recently dipped, but are now turning up on the huge earnings gain and a re-set of the shareprice into the $70s as a likely new base for exploring the next leg up. A precedent was set last Dec. 3, when the stock soared on a great earnings report and then continued to move another 25% higher over the next two weeks, including a few days of dipping and consolidating gains.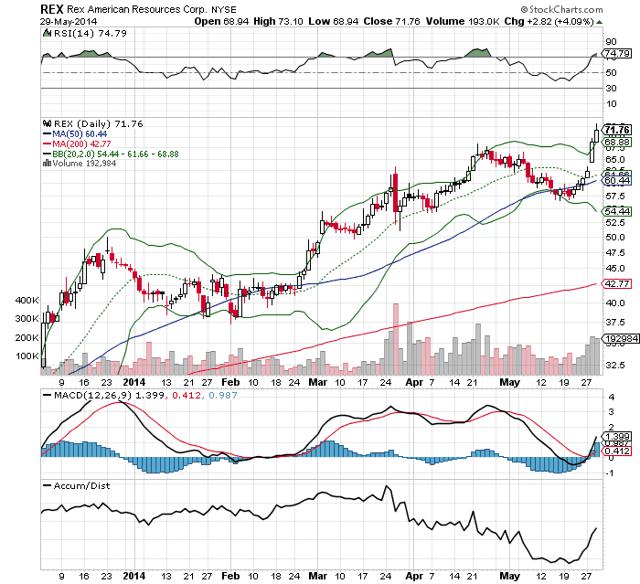 Source: Stockcharts.com
Glancing at trading dynamics over the past nine weeks, why did REX sell off so hard on March 26's stellar earnings news for Q4? One reason was another dreadful down day for the Russell 2000 smallcap index, its worst since Feb. 1. The "risk trade" sentiment had completely slammed off with jittery market sentiment. Another factor crashing REX and other ethanol stocks that day is that ethanol spot prices had just begun to fall precipitously from stratospheric levels and commodity traders were panicking on where the ethanol spot-price would land, even though it was coming down to far more reasonable and sustainable levels (when ethanol gets too expensive, refiners don't want to add it to the gasoline supply and foreign customers don't want to import it).
After languishing for nearly two weeks, the stock saw a remarkable ten straight days of moving up from April 8 into the week of April 21, hitting record highs along the way. This occurred despite a renewed fury of selling smallcaps during this same time. The CNBC "greed-fear" gauge on market sentiment for several days swung over into deeply red "extreme fear" territory. Obviously, institutional investors, in a delayed reaction to the splendid March 26 earnings report for Q4, were stealthily accumulating REX shares, locking up more and more of the small float to themselves while retail investors cowered as most of their smallcap stocks fell down further.
After the upward run in April, with smallcaps still under pressure, the stock predictably needed to take a breather and so pulled away from the upper Bollinger band and fell a bit to test for any higher new support lines. On Thursday, May 15, another terrible day for the Russell2000 smallcap index, REX shares made a shallow drop below the rising 50dma but fought back to return above it on Thursday, head higher on Friday, and then soar on May 28's great news. Because this has occurred with rising ethanol prices and an upswing in sentiment toward smallcap stocks, the stock is behaving quite positively like it did after Q3 earnings back on Dec. 3.
The MACD line had recently dipped its toe into negative territory, and now has vast room to run quite high on higher earnings strength. Likewise, even though the RSI indicator has run back above the "overbought" 70 level, it has obviously done this before a few times the past six months and spent a fair amount of time in the green 70s area; after dips below the RSI 70 level, it has returned back up on new shareprice highs. Going forward, I expect the RSI indicator to spend a lot of time in this "overbought"-looking area simply because at a current P/E around 11 on trailing EPS of 6.53, the stock is still quite under-valued. Look for any dip below the RSI 70 level to be bought up quickly as a buying opportunity. If any renewed, severe downward pressure on the markets and smallcaps were to recur, first level of support is the upper Bollinger band presently at 68.88 and rising, with strong support for REX sitting at the now-rising 20dma (mid-Bollinger band) in the low 60s and headed up. The next support level would be that rising 50dma, presently at 60.44. Below that, good support stands at the $56-$57 level in the event of a massive market correction or sudden plunge on any disastrous news.
ADDENDUM
The lone analyst posting EPS estimates to Thomson First Call on REX for sites like Yahoo Finance-- and it may just be a Quant program, not a human being-- has been all over the place with his/her/its estimates during the past several months for REX. I have checked with veteran analyst Paul Resnik of Uncommon Equities and Bill Jones of Singular Research, who have both participated in REX's earnings calls in recent years, and neither man knows who or what is posting these numbers for REX. In the middle of last week, I contacted Thomson First Call by email to say that the EPS estimate for REX's Q1, for three months sitting up at "3.13," was ridiculous and misleading, given the CEO's explicit, thrice-repeated guidance that Q1 would see just "slightly better" earnings than Q4's 1.95 EPS. Two days later, on Friday May 23, the analyst's estimates for REX were suddenly revised downward, not just for Q1 but across the board, such as Q2 and full-year and next-year EPS estimates.
This was a ludicrous set of revisions, when actually a slew of diverse good news emerged all last week, boosting ethanol companies' prospects for this year and beyond. In any case, the lone analyst's 3.13 EPS for REX's Q1 came down to 2.50 (which REX just surpassed with 2.67 EPS). But then Q2's prior analyst estimate of 2.60 inexplicably is being pulled all the way down to 1.64 EPS, when actually REX might easily exceed 2.60 EPS for Q2 because of continuing great crush-spreads and likely no more nasty natgas price-spikes that CEO Stuart Rose said constrained earnings for the first part of Q1. As far as full-year EPS estimates go, the lone analyst for the last few months had an estimate of 8.94 EPS for the present year 2014 (fiscal year 2015), a figure that was dramatically upped from a prior estimate of just 2.57 for the entire year. That 8.94 EPS estimate actually seemed quite attainable, though now it looks like REX will do an even better 11.00 or even 12.00 EPS for the year. But on the analyst's May 23 revision, that full-year EPS number was jerked down to just 6.66. Similarly, with a bumper crop of corn forecast by the USDA for marketing year 2014/15, and likely great demand pressure keeping ethanol prices strong, and lower debt-financing charges for the company, REX might easily exceed 11.00-12.00 EPS for 2015 (fiscal year 2016). But the lone analyst has inexplicably cut the prior estimate of just 5.06 down to a ridiculous 3.93 for the year, inferior to what REX earned in 2013 (FY 2014) while coming off the worst corn prices in decades. This makes no sense whatsoever.
While on this point concerning numbers being posted through Thomson First Call to popular sites like Yahoo, New York Times, and other outlets, note also that whoever/whatever posts numbers for REX has misleadingly projected merely "3% growth" over the next five years, suggesting that REX's price-to-earnings-to-growth or PEG is overvalued by about twofold right now, whereas what might be the same sole analyst has posited "30% growth" and a PEG of just 0.15 over the next five years for Pacific Ethanol/PEIX, suggesting a 7-fold upward valuation is in order-- this, for a company whose balance sheet is in no way nearly as healthy as REX and whose earnings history has been quite inconsistent in recent years, usually in the red. It is quite likely that the PEIX numbers are being skewed by the 1:15 reverse split that occurred in mid-2013. In any case, all such "5-year growth" and PEG numbers for both companies appear to be quite baseless and worthless.
Standard Disclaimer: This article is not an investment recommendation or solicitation. Any analysis presented in this article is illustrative in nature, is based on an incomplete set of information and has limitations to its accuracy, and is not meant to be relied upon for investment decisions. Please consult a qualified investment advisor. The information upon which this material is based was obtained from sources believed to be reliable, such as SEC filings audited by Deloitte & Touche LLP, but has not been independently verified. Therefore, the author cannot guarantee its accuracy. Any opinions or estimates constitute the author's best judgment as of the date of publication, and are subject to change without notice. Past performance is no guarantee of future results.
Disclosure: The author is long REX. The author wrote this article themselves, and it expresses their own opinions. The author is not receiving compensation for it (other than from Seeking Alpha). The author has no business relationship with any company whose stock is mentioned in this article.
Additional disclosure: I have also earlier this year been long on shares of PEIX and may at some point re-buy a long position in PEIX again.