Introduction
We have witnessed Amazon's (NASDAQ:AMZN) astronomical growth over the last few years and it seems apparent that the trend won't be stopping yet as the company is on a continuous search for expansion. This growth has led to Amazon taking advantage of economies of scale and with unique methods like "Pay to Quit" and "Last Mile," Amazon is churning their growth with improved margins to make sure their future business will be working at an optimal output in production that is greater than we ever thought would be possible.
Currently Profitless
Despite Amazon's revenue growth as seen in the chart below, their incredibly thin margins have been posting displeasing profits due to their self investments. For the first quarter this year, Amazon posted a net sales of 19.74 billion, a 23% year-over-year increase that only yielded a profit of $108 million, or 19% less than last year's period. To put these figures into perspective, Wal-Mart (NYSE:WMT) generated $115 billion in revenue for the first quarter and has a trailing twelve-month profit margin of 3.32%, which is significantly better than Amazon's 0.38%. With Amazon generating less than a fifth of Wal-Mart's revenue and practically no profits, investors at the start of the year easily questioned a $180 billion market cap that was almost three quarters of Wal-Mart's cap. Since the start of the year, we have seen Amazon shed over 20% of its value but with Amazon's continuous growth coming into play, their potential to reduce costs in the future are looking like they could yield a very profitable business.
Amazon's Revenue 2010-Q1 2014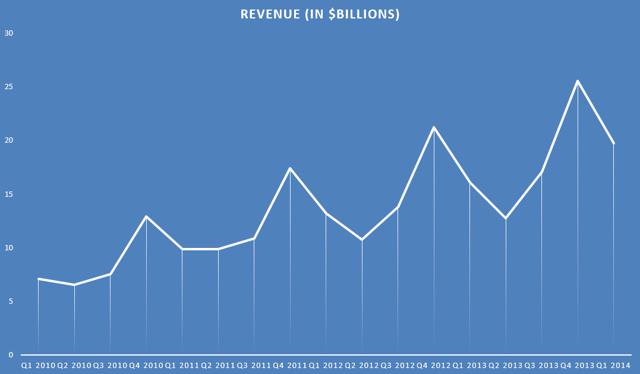 Stretching Economies of Scale
Naturally, as a firm grows in size, the average cost of production starts to decline like you see in the graph below. Beyond that optimal point of production, labeled as Q*, the company's size starts folding in on itself making size counterproductive and more costly. As Amazon grows, it gets closer and closer to that point of production where it must stop growing but with Amazon's unique measures in reducing costs, we see the possibility of economies of scale being stretched to levels that may generate incredible profits as the business stabilizes.
Unfortunately, we can't tell how close we are to that point as they continue to invest large amounts of money into new things such as its video streaming service and recently announced music service. However, it is clear that growth is a factor and for those willing to bet on a big business in the future, an investment at even the current levels, which are commonly perceived as over-valued, could very well be worth it in the long run. To briefly cover two methods in which Amazon is making this possible, I will go over the "Last Mile" delivery service and "Pay to quit" tactic that Amazon announced this year.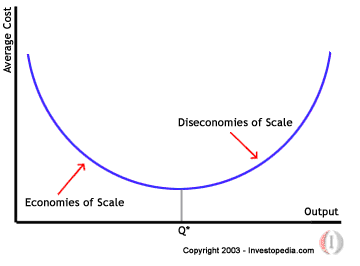 Pay to Quit
With customer goods scattered throughout enormous fulfillment centers, the labor required in retrieving them is a very important part of Amazon's success. With employees working shifts as long as 12 hours and walking as far as 11 miles in a single day to fetch merchandise, it's easy to understand why Amazon would create a system that makes people think about whether the online retailer is the right place for them. In an effort to potentially improve their work force, Amazon offered a tactic that involved paying their full-time employees as much as $5000 to quit their job. Each year, the associates are offered an amount of money to quit. For the first year, they're offered $2,000 and then with each succeeding year they're offered an additional $1000 should they choose to quit the force.
Of course, even Amazon admits that they don't really want their employees to quit but the offer acts as a way of encouraging their associated to critically think about their dedication to the company. Unmotivated associates can bring up supervisory and managerial costs as well as lower output and reduce efficiency so by filtering some of them out, Amazon can potentially reduce costs and improve output. This uncommon method can contribute to lowering the average cost of the entire company, allowing them to increase the optimal output in production before reaching "diseconomies of scale."
Last Mile
Another method in which Amazon plans to reduce costs is by creating their own delivery service called "Last Mile." Last holiday quarter Amazon generated nearly $26 Billion in net sales and during the peak period, UPS missed the deadline for promised deliveries and left Amazon with frustrated customers. With the addition of Amazon's growth outpacing their own deliverymen and the unappealing increases in shopping costs, it makes sense for them to think about taking action. Earlier in April, they started testing this new delivery system in San Francisco with an expansion to other places in the US later on.
Such a high-risk challenge could prove very difficult with their inexperience in such a complex system but the payoff could be very impressive. The "last mile" of delivery is the most expensive part of shipping and as Amazon adds more fulfillment centers outside of major cities, they could provide same-day, controlled shipping even late at night. Such an advantage and broad selection of goods would put them in a class of their own.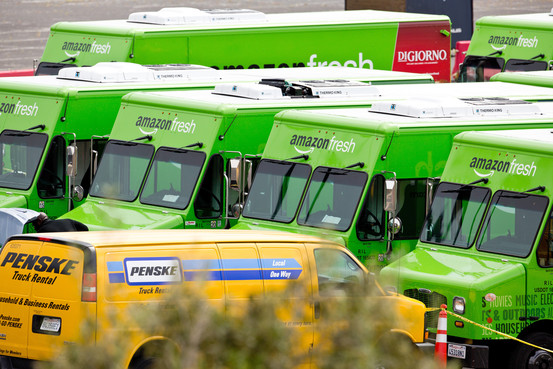 Source: The Wall Street Journal
Conclusion
Clearly, Amazon can't grow forever, but as they grow they do so on a successful route to generate a very large and profitable business. As the online retailer continues to reduce costs, they set up a foundation that seems very capable of generating acceptable margins posting desirable profits. Amazon is proving to be a very clever business and is surely worth the investment for those who believe in Amazon's long-term ability to succeed.
Disclosure: I have no positions in any stocks mentioned, but may initiate a long position in AMZN over the next 72 hours. I wrote this article myself, and it expresses my own opinions. I am not receiving compensation for it (other than from Seeking Alpha). I have no business relationship with any company whose stock is mentioned in this article.