Horsehead (ZINC) is a company that is on the brink of doubling or tripling its mid-cycle EBITDA but management is also maneuvering very carefully to avoid liquidity issues. The company is shutting down an older plant, called Monaca, and the ramp up at the new plant, called Mooresboro, has not yet been completed. This process can take up to six months and the company just started shipping from the plant.
Investments in the new plant have made CapEx skyrocket and FCF and earnings are negative. To be exact, capital spending came out to $48 million last quarter and projected net cost of the new plant construction come out to a total of $525 million.
However the investments are worth it, as management expects to add $90-110 in EBITDA on an annual basis when the plant is running at full capacity. The CEO put it like this on the latest May earnings call:
We continue to believe the lead silver recovery circuit will be completed late in the second quarter of 2014 and that the new facility will deliver $90 million to $110 million of incremental annual adjusted EBITDA once fully operational, along with other potential benefits such as reduced cost of hedging, maintenance CapEx and cash taxes.
So that's $90-$110 million in EBITDA before reduced costs of hedging, reduced maintenance CapEx and tax benefits.
Hedging costs are in fact material as the company is currently very aggressively hedging its cash flow. As counterintuitive as it may appear, management is being very careful not to get caught by a drop in prices for its products while the new facility hasn't ramped up yet and the Monaca facility is shut down. However once the facility is up and running management wants to let go of most of its hedges:
But we really expect to scale back hedging to a great extent once Mooresboro is up and running.
We've seen that -- analysts talking about this for several years, but now we're actually beginning to see some tangible effects of mine closures and the switch from being a surplus market into a deficit market and that does seem to be having some effect on pricing. And looking at the reports that came out of the International Zinc Association meeting a week ago, most of the analysts are on the same page in terms of the near-term outlook and medium-term outlook for the zinc looking better.
Management has also been generous enough to break-out an estimate for future CapEx at $10 million per year. Usually companies refrain from breaking out maintenance CapEx but this time management did on the March earnings call. That's very useful because it is materially lower from CapEx in previous years.
Liquidity risk
Currently the company has $80 million of cash and revolver facilities it can draw on. The company is also selling some of the Waelz oxide and Calcine that it is normally recycling as feedstock. The company can use it to run its plant but if there is a hiccup during the six month ramp up, it can resell the materials and achieve positive operating cash flow without the plant. Of course, it's very much preferable to run the plant.
No significant amount of long-term debt matures near term. In 2017, the company really needs to be running a solid positive cash flow because near $300 million of long-term debt matures.
It looks like the company can survive, even when faced with near-term setbacks, while ramping up production at Mooresboro. Demand for its products will not be a problem as the company is getting calls almost every day and the company reports that some customers are reserving their purchases until the second part of the year, waiting for ZINC to supply them.
The reason clients are so eager for the company's products is because it's a very low cost producer. Because the company uses a proprietary process to power its production with the low cost EAF feedstock it's competitors have a hard time matching its prices.
Solid competitive advantage
The company's use of recycled feedstock reduces its exposure to increases in LME zinc prices and increases its operating margins during periods of high LME zinc prices. I definitely think of ZINC as having established an economic moat around its business. Unfortunately the company has a hard time capitalizing on its competitive advantage by pushing revenue. There is only so much EAF dust available in the U.S. and it's required for the company to operate with a competitive advantage. If the company ramps up production without a large enough EAF supply, its margins take a big hit.
For this reason the company engaged in a Joint Venture with Imperial Zinc Corp. The JV is called ThirtyOx and is expected to supply a portion of the feed required by the new Mooresboro plant. Meanwhile the company's investment in ThirtyOx is limited to less than $2.0 million. It should be up and running by mid-year 2014. Given that there is some time required to fully ramp up Mooresboro, this should be in time. With this JV, the company has more or less covered its low cost production. In the latest 10K report, the company indicates it is interested in acquiring EAF outside the U.S. in the future.
The competition the company faces for its end product is not so much a problem. It's the EAF dust collection where competition is more critical. The company fights over EAF dust management contracts with one other U.S. recycler (Steel Dust Recycling) of EAF dust and with landfill operators. However the landfill operators generally need to acquire the EAF dust significantly below prices ZINC is comfortable with. The company engaged in long-term contracts with EAF suppliers to help fight off this competition and this has worked with the exception of the entrance of Steel Dust at the top of the cycle in 2008.
Operating cash flows
I think a conservative mid cycle EBITDA to base valuation on would be between $30 million to $50 million. The chart below shows where the company's EBITDA has been at in the past: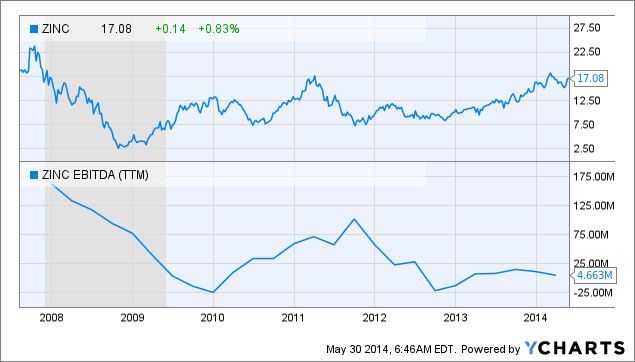 Management indicated on multiple occasions that once Mooresboro is up and running it will add an incremental $90-$110 of EBITDA. That raises my expectations for future mid cycle EBITDA to $130-$160. Meanwhile ZINC Enterprise value is $1.1 billion. That implies a valuation of EV/Forward EBITDA of between 8.8 and 7.2. A great price for a business with a solid competitive advantage like ZINC's. Maintenance CapEx will be declining to around $10 million per year and that's not at a level where it will slow the company down very much. Depreciation expenses are going to make a bigger dent in the company's earnings and increase to around $40 million per year.
Gravy
Based on the above post ramp-up operating figures, I think ZINC is an excellent investment. However, there is more! Something I overlooked during my initial research is the option Shell (NYSE:RDS.A) (NYSE:RDS.B) has renewed on the Monaca land owned by ZINC. They renewed this option for the third time earlier this year and are paying for demolition activities to clear the area to construct a possible facility.
According to the Ellwood city ledger, the company did buy 5.5 acres adjacent to ZINC's 300 for $1.87 million. That would put the value of 300 acres at around $100 million. However, the ZINC land is apparently exempt from tax for the next 22 years. This tax exemption competes with tax breaks, and other benefits, states offer to lure Shell's ethane cracker facility into their borders. So although it would be unfair to value the land based on the tax breaks Shell would be able to recover, it might very well be worth much more than $100 million to the oil major. On its balance sheet Horsehead only recognizes ~$20 million worth of land.
If we assume the $20 million on the balance sheet is all about this land, and Shell is not going to pay more for the tax exempt land than it did for the neighboring acres, it is still a potential $1.6 per share. Although I expect that if the sale goes through, it will turn out to be a conservative estimate.
Conclusion
The company's state of the art production facility combined with its proprietary low cost sourcing of feedstock grant the company a wide economic moat. Even when there are ramp-up problems at the new facility, the company expects to be able to run at a positive operating cash flow by reselling its feedstock.
There are only a limited number of circumstances where the company will run into significant trouble. The value of the Shell option is not part of the core business and it may pay off even when the core business environment deteriorates. In the vast majority of circumstances the company is going to do from between "ok" to "incredible" with the added bonus of a $80+ million land sale to Shell that isn't in the books.
Disclosure: I have no positions in any stocks mentioned, and no plans to initiate any positions within the next 72 hours. I wrote this article myself, and it expresses my own opinions. I am not receiving compensation for it (other than from Seeking Alpha). I have no business relationship with any company whose stock is mentioned in this article.