In just a few days Apple (NASDAQ:AAPL) will open its 2014 Worldwide Developers Conference, and everybody is waiting expectantly for the keynote address on Monday. This is where new products are announced, and the past year of speculation will come to an end - and a new one will begin. While rumors are thick as mosquitoes in the lake country, no one knows for sure what will be announced or if anything really new will be on the list.
Now we do know one thing - whatever it is, it will be BIG! Very big.
The schedule for the WWDC was recently released, and there is one amazing thing about it - many of the workshops have unannounced titles. The placeholders have titles such as:
To be announced
We really can't talk about it yet
This one is still under lock and key
Our lips are sealed on this one too
It's going to be great
Hang in there, we'll talk about this soon
As a description for these, the schedule notes:
The title and description of this session will be revealed after Keynote on Monday, June 2nd. Check back to view the updated schedule and favorite the sessions and labs you would like to attend.
There are two ways that we know that this is not just another upgrade, but rather something exceptional.
Pervasive
First is the fact that these anonymous workshops cover virtually every aspect of the topic area, including:
tools,
frameworks,
services,
core OS,
media,
graphics and games
There is even one at 4:30 on Tuesday under the category Special Events. So it is clear that this must be far reaching since it impacts every single corner of the development system.
Number
But the way we really know that this is going to be huge, is the sheer number of workshops with censored titles.
Of some 235 workshops at the conference, about 118 have redacted titles
This means that over half of the workshops are on varying aspects of this addition to Apple's products. Clearly, this is a lot more than just a 5-inch iPhone!
What is it?
We have no way of knowing exactly what the changes will be. The strongest rumor so far is for 4.7 inch and/or 5 inch iPhone. While probably true, these would not warrant such a massive development impact.
1- The iWatch is one new product supposedly in the works. This could potentially create significant changes in the operating system.
2- Another possibility that would have far reaching affects is a mobile payments platform. Apple has been building for this with the Touch ID security on the new iPhone 5s, and their Passbook, which holds tickets and coupons. Additionally, the new iBeacon technology is tied in. The iBeacon technology allows stores, stadiums, etc. to create an app. Owners of the app will be recognized and located within the business's locale if they use small, Bluetooth powered iBeacons. All these help to unify various services around a payments procedure. While this would be a great addition, and would require some serious additions to the operating system, I really don't think the impact would so great as to take up half of all workshops.
3- The Financial Times reports that this next big thing is the "smart home," and that it will be announced at the Keynote. Here, Apple is setting up a communications protocol for all electronic devices in one's home that will be able to interact locally and remotely with the iPhone or iPad. Device makers will be able to get Apple certification if they meet compatibility requirements. This would certainly require a great deal of additions to the iOS and Mac OSX operating systems, and would affect them at many levels.
The FT report introduces the concept, a May 29, post on Patently Apple notes:
Today, the US Patent & Trademark Office published a patent application from Apple that reveals their ongoing work regarding networking residential consumer electronics devices. In particular, the invention provides integrated establishment and control of communication sessions between these consumer electronics devices. One scenario is to conduct a phone call or possible FaceTime call on your television.

They continue:
Apple's invention provides a centralized home controller that is used to coordinate a plurality of associated packet communication clients. The home controller provides a centralized and unified control and messaging system for the various packet communication clients.
So it seems that Apple may actually be manufacturing a device that will sit in the middle of all the communicating devices in your home, and organizing/routing all communications. An interesting point is that all this will not be limited to simple data ("the temperature in the fridge is 42F), but can include audio and video. (I wonder if they might build this controller into the Apple TV set top box.)
While Google (NASDAQ:GOOG) (NASDAQ:GOOGL) is also working on similar technology, they have an advertising model to generate revenue. They would be happy to know exactly what you are doing every moment of the day, and having a set of devices in your house would let them do this. Of course, it remains to be seen whether people will want to have such invasive surveillance of their activity to provide better advertising. This could give Apple an advantage for their supposed "iHome" system.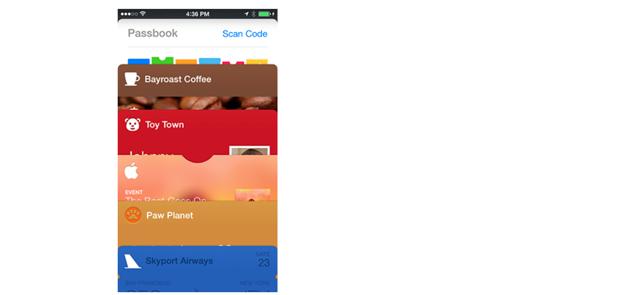 4- The fourth possibility here is that this system is something totally new and unexpected and will catch everybody by surprise. Alternatively, there could be a number of very meaningful changes, which all together add up to this heavy impact on the operating system.
Implications for the Investor
Apple has been doing very well of late. In September 2012, shares hit an all-time record high of just over $700. They immediately began to fall, as two factors reduced investors' confidence in the company. The first was lowering margins, which meant no substantial growth in EPS over several quarters. The other was dissatisfaction with an apparent lack of innovation on the part of the company. The fall was dramatic, taking shares all the way back down to $400, and a bit below.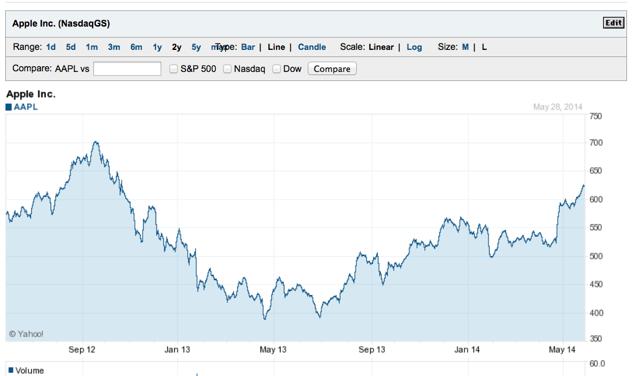 Apple 2 year chart - Source: Yahoo Finance
Finally, in July of last year, shares began a recovery, which has brought them back up to over $630 per share. Apple's April Fiscal Q2 report brought improved margins, profits, and dividends. It also brought news of an increase in the stock repurchase plan, and an upcoming 7-1 split. Together, all this and the many rumors of upcoming new products has sent shares up over $100 or about 20% since the quarterly announcement.
Where from here?
Apple has long been governed by the "buy the rumor, sell the news" phenomenon. This is generally the pattern played at most major events such as quarterly reports and major product announcements. This pattern is broken when the news is significantly better than expected, such as with the April quarterly report. Even with good news, the announcement is frequently marked by a sell-off, for some days, which is reversed only later.
So whether Apple will continue to climb will depend on to what extent people are impressed with the new product that assuredly will be announced. Having been slammed for over a year on accusations of having lost its talent of innovation, it will be important to dispel that image forcefully. If they do so, then they will continue to run up to $700, and perhaps beyond. A failure to inspire, however, could be disastrous.
We can be sure of one thing: whatever this news is, there will be a flood of naysayers who will immediately jump onto the "Dump on Apple's new product" band wagon. (Already there are articles out with titles such as "The Apple-Beats Disaster.") Investors have ignored these in the past, so how the stock does will depend mostly on how both the overall public and the institutional investors' view the news. This will also be confounded by the 7 - 1 stock split that will take effect on June 9. (See here for split details.)
In summary, we know for certain that something very, very big is coming - at least ONE thing, and maybe more. There will definitely be a lot of excitement on the topic, and the general perception will drive the price.
Resources:
Microsoft Surface Pro 3 vs. Apple iPad/MB Air Make your own analysis
https://seekingalpha.com/article/1939661-apples-a8-what-it-will-be-and-why-it-matters
Disclosure: I am long AAPL. I wrote this article myself, and it expresses my own opinions. I am not receiving compensation for it (other than from Seeking Alpha). I have no business relationship with any company whose stock is mentioned in this article.