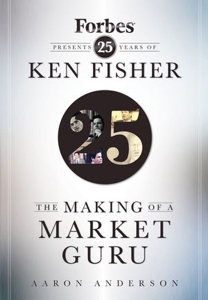 Partly because I'm a certified nerd for stock market history, I always enjoy Ken Fisher's Forbes columns, punctuated with insights drawn from lesser-known bits of market history melded with contemporary common sense. So I wasted little time grabbing a copy of The Making of a Market Guru: Forbes Presents 25 Years of Ken Fisher (John Wiley & Sons: 2010), edited by Aaron Anderson.
Fisher debuted as a Forbes columnist July 16, 1984 and, following a short introduction, that's where the book begins as well. It then proceeds chronologically, faithfully reprinting every Fisher column through the end of 2009, one chapter for each year. Editor Anderson introduces each of the 25 chapters with a couple of useful pages summarizing key economic, financial and political events shaping the market that year, as well as a generally sympathetic recap of Fisher's perspectives on them.
One note on readability: the book's chronological approach, while central to its concept, sometimes induced slow reading, perhaps because sequential columns can leap from subject to subject, some of them more interesting than others. Every so often, I broke the chronology by using the index to find all columns on bull markets, bear markets or other topics. Heresy, I'm sure, though still a nice change of pace.
But that's a narrow critique, so let's take a grander tour of some of the history and insights, and the good calls and bad ones, on display in this remarkable collection.
October 1987 – Fisher is cautious but hardly clairvoyant in the months leading up to the Black Monday crash. A November column details the chaos on Fisher's trading floor as his firm's stocks disintegrated during the market meltdown the month before.
October 1989 – Fisher sees a slow, shallow bear in the making but stays invested in defensive stocks "since I believe in stocks more than I believe in anybody's forecasts, mine included." He is later surprised by the damage the next summer's downturn inflicts on some stocks. Fisher turns positive in December 1990, just two months after the market bottoms.
January 1995 – Fisher begins a multi-year series of columns putting the microscope on bull and bear market indicators, arguments, histories and strategies. On the lookout for the next big downturn, he ultimately advises readers not to trade "squiggles" and stays smartly bullish. Through the 1997 and 1998 market corrections, he stands firm. In his October 1998 column titled "Don't Let Them Scare You Out of Stocks," Fisher gives half a dozen reasons to stay bullish. A great run by any standard.
March 2001 – With the tech crash underway, Fisher turns outright bearish. In a June column he correctly labels the April upturn a bear market rally. By December he's bullish, but changes his mind in February 2002. Fisher calls the market upturn for good in a July column, a few months before the final bottom. He sticks to his guns that autumn, when the market revisits its lows, giving readers one history lesson after another on why to buy.
September 2008 – Fisher 'fesses up: he missed spotting a giant bear. "I let you down. I hate that," he tells readers.
January 2009 – He starts a series of columns anticipating a strong ("Blink and You'll Miss It") upturn in stocks. By August, he headlines his column "The Bear Market is Over."
Though known for his big macro calls, Fisher also develops thinking-tools and counter intuitive perspectives investors might find stimulating.
For example, a November 2003 column, "Don't Sweat Small Moves," proposes that in any given year, the stock market can only do one of four things: go up a lot, up a little, down a lot, or down a little. Fisher's conclusion? The only time to lighten up on stocks is when you have strong reason to think they will go down a lot. The "down a little" scenario brings too much opportunity cost if you're wrong, and too much transaction and tax cost even when you're right.
Earlier, in two columns from mid-2002, Fisher attacks "The P/E Myth" that market multiples can reliably predict returns. He presents research and reasoning showing that multiples are high at market bottoms because recent earnings have disappeared, not because prices are too high for future business prospects.
And in his October 2005 column, "Three Questions That Count," (an appetizer for his similarly titled 2006 best-seller), Fisher urges investors to improve their decision-making by asking themselves what they believe that's actually wrong, whether they can fathom the unfathomable, and what "blind spot" they might have. All of these designed, Fisher says, to overcome our psychological biases and hardwired thinking.
The book also tallies a splendid record of individual stock picks from Fisher since 1996, when Forbes editors began requiring an audited yearly "report card" from their columnists. Fisher's published picks averaged nearly 10% annually over this 14-year period, after deducting an assumed 1% transaction cost. Forbes calculates the recommended stocks generated more than double the return an investor would get from buying the S&P 500 the same day the Fisher picks were published. (Specific stock recommendations do not appear in the book, however, because their publication dates are long past, and the book already weighs in at a hefty 500 pages.)
Overall, Ken Fisher's body of work during his tenure as a Forbes columnist, 25 years and counting, marks an extraordinary achievement for a financial writer. The Making of a Market Guru appropriately celebrates that achievement. The book will likely appeal to Ken Fisher fans, students of contemporary stock market history, and experienced investing detectives who might enjoy watching a solitary writer sift through a quarter century of market clues, one column at a time.
Disclosure: No positions