There are a few segments of the overall commodities market, which are showing signs of weakness, but with the summer months already here we cannot say that we are all that surprised. What does surprise us is that the metals which have been caught up in the momentum trade have not seen a significant correction which leads us to believe that there is a lot of fast money that has found its way into the market. We may not see a correction until after the year is over in some of these commodities but right now we do think that it is prudent to avoid these overvalued momentum metals.
With summer upon us investors should focus on equities, which offer value propositions and have upside potential from possible news events. Chasing names and commodities, which have already risen significantly, is not smart right now, generally speaking.
Chart of the Day:
Gold, and gold ETFs like the SPDR Gold Shares (NYSEARCA:GLD), continues to show weakness as it is now trading below $1250/ounce as market participants exit the trade. For those looking for a short squeeze, we would recommend against that as the talk is that both sides of the trade are growing smaller and smaller. That could be signaling a bottom in the market, but until the bulls start to feel more confident we think it is prudent to avoid this trade altogether.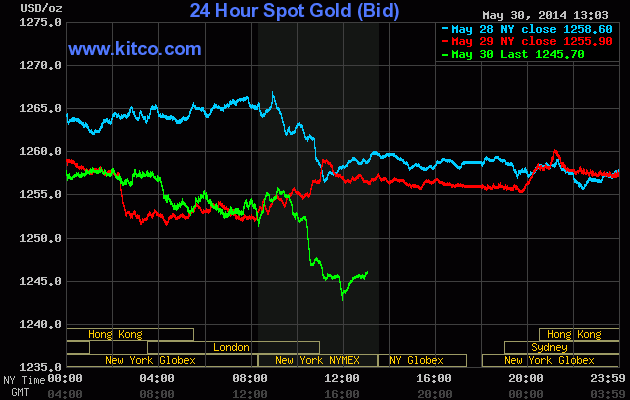 Source: Kitco
Commodity prices are as follows (at time of submission):
Gold: $1,245.40/ounce, down by $11.70/ounce
Silver: $18.80/ounce, down by $0.214/ounce
Oil: $102.73/barrel, down by $0.85/barrel
RBOB Gas: $2.9894/gallon, up by $0.0242/gallon
Natural Gas: $4.525/MMbtu, down by $0.034/MMbtu
Copper: $3.1305/pound, down by $0.014/pound
Platinum: $1,449.80/ounce, down by $10.30/ounce
LNG Drawing Attention Again
Shares of Cheniere Energy (NYSEMKT:LNG) continue to rise to record highs as the federal government has not proposed streamlining the process to get export facilities approved. Sure this will increase competition down the road, but more importantly it shall help Cheniere itself gain approval for some of its projects in the advanced stages as well as expand in future years. This is also good news, although to a lesser extent, for Dominion Resources (NYSE:D).
This morning investors got further good news from Cheniere Energy after the company announced a 20-year deal to export liquefied natural gas to Spain's largest utility, Iberdrola SA. The contract calls for 400,000 metric tons/yr to be exported from Train 1 at the Corpus Christi facility. That figure will rise to 800,000 metric tons/yr once Train 2 is completed.
Although we are currently skeptical of adding exposure to momentum stocks, our favorite measurement of the risk on trade in the energy market continues to tell us to be bullish. We shall stick to quality for now, but will keep a watch to see if risk needs to be added to the portfolio.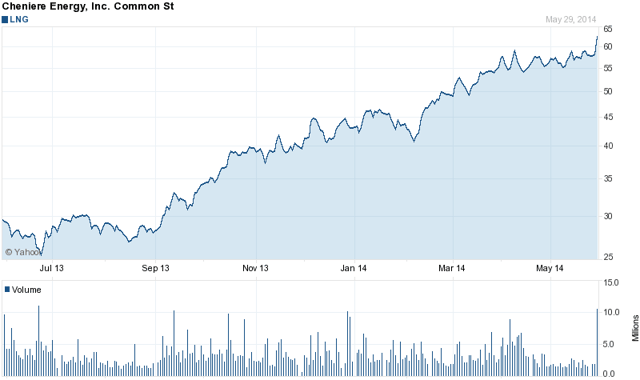 Source: Yahoo Finance
Gold Trade
As we discussed in the 'Chart of the Day' section, gold is in a heck of a downtrend and the market has gotten quite ugly. We have heard from a few readers inquiring about the possibility of adding gold exposure via gold companies such as Barrick Gold (NYSE:ABX). As one can imagine, we are against pure play gold companies but do think that long-term investors could do well buying diversified miners with gold exposure such as Freeport-McMoRan (NYSE:FCX). That is the only way we would want gold exposure at this time and we would stick to those diversified names with exposure to commodities, which have additional upside in price as well as room to continue to grow production from their current project portfolio. Freeport-McMoRan certainly fits that description and for those investors with a 2-3 year outlook its gold exposure should not significantly impact the overall performance to the downside.
Disclosure: I have no positions in any stocks mentioned, and no plans to initiate any positions within the next 72 hours. I wrote this article myself, and it expresses my own opinions. I am not receiving compensation for it (other than from Seeking Alpha). I have no business relationship with any company whose stock is mentioned in this article.