The market moved higher today, but volume was awful. Advancers outpaced decliners by 3 to 2. Technology was the underperformer today, which is bearish. The indices needed to consolidate yesterday and today they did not appear to do so. It is more likely that action since Wednesday morning was the result of shorts covering, not institutions entering.
Oil picked up the pace today. After yesterday's dreary action, we came into Friday bearish. Today, oil prevented a decline in the market and may have started a rally of it's own. The chart will be reviewed in greater detail in the weekend video, but today's strong close could be the start of a longer bigger rally.
The SPX found support again at 1100, which is great for bulls. Next week is a busy week of economic data, and the indices could get dicey. There was very little consolidation this week, and market volume lightened up. The bulls cannot sustain this pace unless volume picks up. While that should happen next week, there will be a swift substantial decline if volume stays low and the data misses consensus estimates.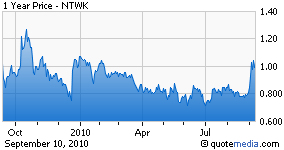 The Chart of the Day
NetSol (NASDAQ:NTWK) was up 2%.
The stock rose on massive volume out of a flag pattern this week. Shares have backed down on diminishing intraday volume since it topped at $1.15. The run does not look complete, and it should target a new high to $1.24. If there is another bull flag setup, the bullish break out would target a substantially higher price.
Watch List
Our watch list was higher today, much like the market.
Leading the way higher was stand out China New Borun Corp (NYSE:BORN) a stock we have been positive about for months.
Disclosure: None