Below is my last public installment on Research in Motion (RIMM). I have given away a lot of information, data and analysis on this company, which many readers could have used to generate handsome profits. I have done so because I believe RIM's foibles are obvious. It is the harder to gauge nuances in this company's valuation as its price plummets; that requires a much more advanced analysis – an analysis that I have made available to my subscribers. I will walk both subscribers and free readers through some of these nuances, but first I want to communicate Research in Motion's predicament with an anecdote -- a real life experience.
Click to enlarge charts below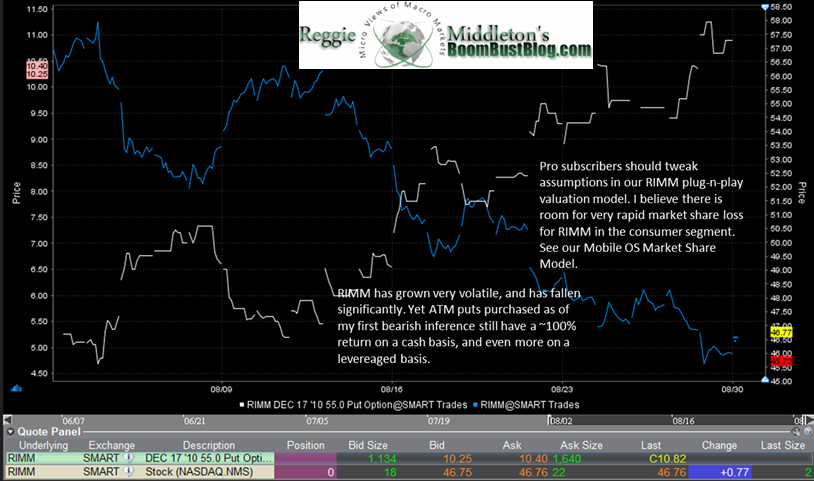 "G," Who Loves His iPhone 4 as a Fashion Statement, and the Lawyers Who Thought They Loved Their Blackberries!
I was having lunch at a friend's house on Labor Day with a bunch of the fellas, and the topic of smart phones came up. It was an interesting discussion for that small group of five 40something guys, because it served as a microcosm of how I see these mobile computing wars unfolding.
Let me explain how it began: The host, who I'll call "G," is a doctor with a prolific practice in the heart of a big business hub. He drives a Maserati Quattroporte, does significant charity work and has a very nice brownstone in a very nice part of town. He has also purchased every iPhone iteration within months of its release, despite using Windows for his medical practice. I tease him about his new iPhone 4, saying it is more of a fashion statement, not a workhorse. He used the iPhone to pump music through the bottom floor of the house, while we ate and chatted, using a Bose music dock.
There were two lawyers present as well, who had older model Blackberries, and another gentlemen (slightly older than us) who had an HTC Touch Pro 2 (HTC) that didn't know how to change the time from military format. The conversation started when I asked G how satisfied he was with his newest iPhone. He said he loved it. I then asked the lawyers how they liked their Blackberries. They said they were satisfied with them, since they did everything that they needed and wanted, namely making phone calls, texting and sending emails. They emphatically stated that they were not the "game playing, video toy crowd" and had no interest in "i"Objects. When they asked if I still adored my HTC Evo, I said I believe it is the best smart phone out, bar none – and I have tried most of them. They all laughed and said I sound like a corporate rep, and questioned whether I was getting an Android/HTC check in the mail, ha ha.
I then suggested that perhaps their satisfaction with their Blackberries and iPhones may be based on the fact that they were not aware of what other phones-cum-portable-computers were capable of, then explaining the series that I was publishing on BoomBustBlog. I then decided to relate a story of how I took my kids to a Cantonese seafood restaurant and entertained the staff by speaking to them in both Mandarin and Cantonese.
At this point, the laughter became borderline obnoxious, but the premise of the joke was pretty funny so I laughed along. They jokingly said:
So let me guess, you spoke into your phone and it spoke back Taiwanese, allowing you to tell your sexy Chinese waitress how pretty she was? Ha, ha, ha…
I replied:
How the hell did you know that?
I pulled the Evo out and demonstrated "Talk to Me, Cloud Edition" which verbally and textually translates 38 languages (bi-directionally). I demonstrated it in Italian, French, Spanish, Korean, Mainland and Taiwanese Chinese. I then gave the phone a verbal command to text "G" and send a message to his iPhone that warned him about the dangers of teasing Reggie, aka "the most awesome, the most knowledgeable."
Their collective jaws literally dropped as it worked flawlessly, pulling up the SMS app, populating it with G's info and the body of the text exactly as I spoke it in about 4 or 5 seconds. G attempted to do the same on the iPhone, but to no avail for two reasons:
Its voice recognition was not as accurate.
It didn't have the voice command apps – or at least they didn't work.
G was flabbergasted (see this Google Voice Command demo, it's quite slick). As a matter of fact, a similar thing occurred during the lunch at the Cantonese restaurant. A collective of iPhone 4 owners ran up to me after being informed by the manager that I also had a multilingual phone, and so I tried to locate the translation app for their phones. Of course, it didn't work because this app is only available for the Android system.
We had a quick demo of 4G speeds (more jaw dropping), then I explained that I use the phone for work often, updating rather complex spreadsheets and word docs (such as these forensic reports as they come from my analysts). The lawyers retorted that they don't use spreadsheets very often. I replied, "But you are always writing briefs." The big screen of the Evo combined with "Documents To Go for Android" (which does not mangle even Office 2010 files) makes this type of touch up and email work quite feasible. After demonstrating how easily and quickly I can modify complex word files (I used the forensic analysis of RIMM as test case), all of those laughing boys were inquiring how much, where, and how long it would take to get an Evo. All, of course, except G!
The moral of this story is multi-fold.
First, those still loyal to Blackberry products probably lack knowledge regarding the capabilities of the new crop of Android (NASDAQ:GOOG) and Apple products.
Second, despite viral marketing and popularly held media beliefs, high-end Android products can do a lot more than the iPhone 4 at this juncture. This is actually a good thing for Apple fans, for you can bet the last of your left ass cheek hairs that Steve Jobs will throw everything, including the kitchen sink, into making the iPhone 5 the most competitive device Apple is capable of. He has to, because it will take more than marketing to overcome Android's rapid technology iterations and improvements.
Third, the iPhone versus Android decision is still largely a matter of taste and preference (despite technical advantages going to Android, in my opinion). The comparisons to the Blackberry are not. The Blackberry is largely an inferior device, even for those who desire a physical keyboard (which is available on high-end Android phones, e.g. the Samsung Epic 4G or the Motorola Droid 2). Even the latest iteration fails to keep pace with those released 3 months ago from Apple and Android (see As I Have Anticipated, There is Absolutely No Fire in the Torch, Except for the One That's Frying RIMM's Share Price) and it is already being discounted 50% to the consumer merely weeks after launch while the Evos, Droid Xs and iPhones can't remain stocked at full price.
This appears to be the writing on the wall for Blackberry in the consumer space. Luckily for Research in Motion, its bread and butter is the enterprise space – or is it so lucky? A cursory – or even a deep-dive – scan shows that Blackberry is also losing its foothold in the enterprise space, and is doing so at an incredibly rapid pace – faster than I, and most likely they, could have ever imagined. Okay, I take that back. I could have imagined it and I actually stated such in the RIMM Forensic Analysis and Valuation – Professional & Institutional (45 pp.) Subscribers to this document (you can purchase a day pass to access this document if you do not want to subscribe monthly or annually) should reference pages 18 and 19, as illustrated below. (Click to enlarge.)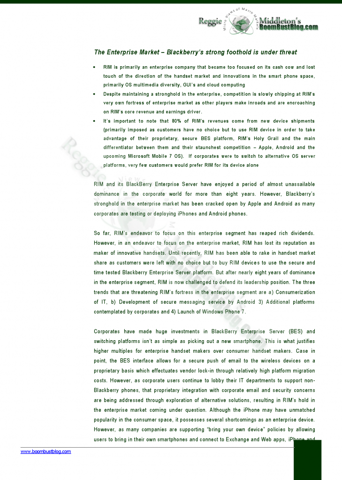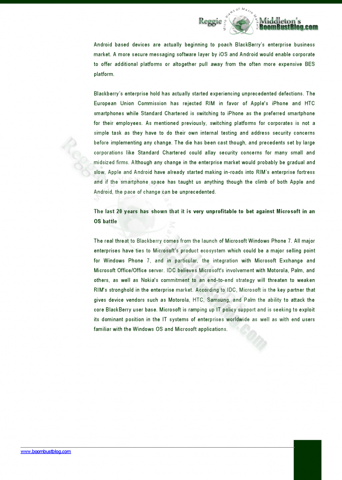 So, you see we have been very much aware of the pressures that RIM is facing in its core market, a market that will probably preclude RIM from participating in the lion's share of new smart phone adoption and will eventually close in on the company unless they can pull a seriously sized rabbit out of their hat in the very near term. Let's see if a quick Google/Bing search shows that we had a point…
Apple's iOS and Google's Android Creating a Game Changing Shift in the Enterprise
securityweek.com Aug 5, 2010 – When it comes to mobile platform of choice, Research in Motion's BlackBerry has been a favorite with mobile enterprise users until recently. But ever since users released the full enterprise capabilities offered by the Apple and Google platforms, experts are starting to observe a shift in the trend that does not favor RIM. The survey conducted by Trust Digital reckons that sometime next year, around one-third of IT executives will be seen managing mobile platforms other than RIM's BlackBerry.
This portends 1/3 of the future revenues that would have gone to RIM is now going to its two largest competitors. This doesn't even factor in the damage that Windows Phone 7 may do.
iPhone and Android Both See "Meteoric" Enterprise Growth …
iPhones and Androids pouring into the enterprise — now what …
The BlackBerry, of course, has long held the dominant share of business-oriented smartphones. But the runaway success of the iPhone and Android platforms is changing that far faster than one might have expected...

According to the survey, one-third of the IT execs will be managing mobile platforms other than the BlackBerry by sometime next year...
Our own proprietary research has shown similar findings. Reference the informative article, "Many More Black Eyes for the Blackberry? A Complete Forensic Analysis of Research in Motion":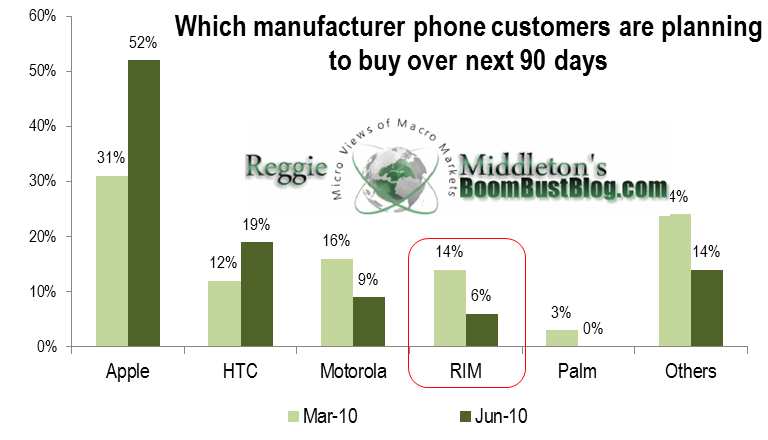 Each quarter of this year has seen Blackberry loyalty go from bad to worse…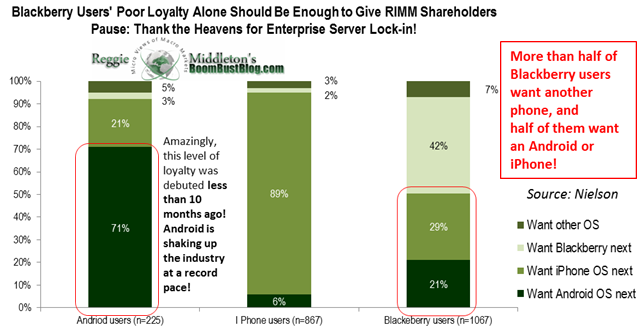 As Android appears from practically nowhere as a major player on the scene and Apple continues its march to damn near cult status, Blackberry users are defecting en masse, with a contingent held captive by enterprise server lock-in.
The aforementioned server lock-in is not as locked-in as many would be led to believe. Below is a listing of the enterprise offerings from Zenprise for the Android platform. Android (and Apple iOS4 products as well) are actually competitive enough to challenge RIM on its home turf, and this is a very big problem for RIM for they have effectively lost the consumer race and the enterprise is their last bastion.
Android Enterprise Device Management Features at a Glance
Android Lifecycle

Details

Activation Management

User provisioned for mobile access on Exchange

Policy Management

Apply available Android 2.2 ActiveSync policies
Remotely update Android ActiveSync configurations

Service Management

Monitor the real-time health and access of every Android smartphone
Group VIP end users for increased service-level tracking
Perform advanced diagnostics tests

Security Management

Monitor and track all Android smartphones for compliance violations
Setup security policies for device password requirements, failed password device wipe, and lock screen timer.
Identify non-compliant Android smartphones and suspend ActiveSync access for the account.
Access security and compliance reports
Wipe lost or stolen Android smartphones

Decommission and Recovery Management

Identify dormant or rarely used Android Smartphones
Identify and deactivate carrier data and voice plans for unused devices
The Error That Many Who Are Bullish on RIM Are Making
Many believe that RIM will benefit immensely from the general expansion of the smartphone market, which itself is growing like a weed. The error in logic is that although RIM's boat will be lifted by the rising tide, Android and Apple are punching holes in said boat and that boat is now leaking market share, and leaking it quickly. I have explored the market share metrics in the following articles:
In order to enable subscribers to get to the root of the issue of market share growth, I have condensed information on both device shipments by operating system (subscribers, see Mobile Operating System Market Share Model) and handset manufacturer (see Smartphone Market Model – Blog Download Version). These models were used to produce the following graphs.
The Bull Argument: Even if RIM loses share, smart phone penetration is set to increase by leaps and bounds
Although there is a considerable merit in the argument that the pie is expected to double over the next three years (344m smartphone shipments in 2012e from 175m in 2009), it matters not if a player loses a disproportionate of share in said pie. It is important to understand the delta of market share gains and losses vis-à-vis increase in penetration to blindly rely on this argument. (Click to enlarge.)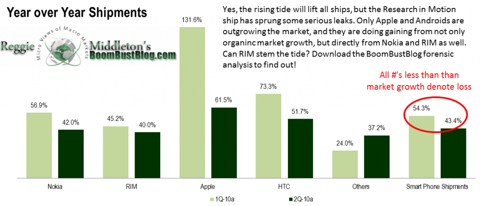 To drill down into this topic, we have dissected each of the smart phone players' growth into following factors
Growth due to overall mobile handset market
Growth due to smart phone penetration
Growth due to vendors increase (decrease) in smart phone market share
This exercise was carried out in explicit detail in subscriber reports ( RIMM Forensic Analysis and Valuation – Professional & Institutional and RIMM Forensic Analysis and Valuation – Retail), and shows on a granular basis how much RIM stands to gain or lose per unit of smart phone market growth and penetration.
"As demonstrated earlier, RIM shipments have lagged overall market since Q1-09. Further, bifurcating RIM's shipment growths into above three factors reveal that nearly their entire growth in shipments could be attributable to growth in market and not organic growth perpetuated by RIM market capture. During Q2-10, RIM recorded 6% q/q growth in shipments of which 6% was attributable to growth in handset markets, 2% due to increase in smart phone penetration and a negative 2% due to decline in RIM's market share. The story is similar in three of the proceeding five quarters."
The dynamics between revenue growth, market share growth, target sub-market penetration, margins and unit shipments in an environment as dynamic and volatile as one such as this are undergoing a paradigm shift, leaving static valuation models nearly useless and unrealistic. As such, we have created a multi-variate sensitivity and scenario analysis with a variety of market occurrences exemplified. This is available as a dynamic Excel model so Professional and Institutional subscribers can layer any combination of market factors and assumptions to come up with their own custom valuation using our internal analytics. It is available here: RIMM Multivariate Valuation Model.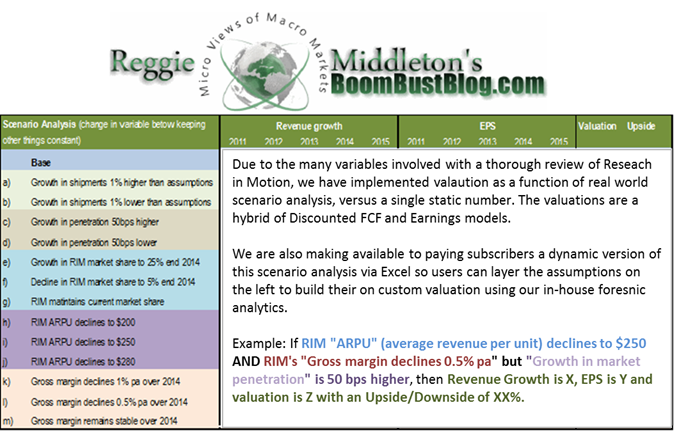 In the aforementioned model, subscribers can find the following trends and data that support the anecdotal finding above – Research in Motion is not participating fully in the smartphone boom. As a matter of fact, as the boom intensifies, RIM's participation is actually waning… (Click to enlarge.)



No matter which way you look at RIM's revenue drivers, they are being driven down by the competition. As RIM's price pops up with an irrational market that celebrated better than expected (yet still horrendous) unemployment numbers that were contrived by a federal government that had to estimate the figures for 7 states because they did not report due to the Labor Day Holiday weekend, those who had the chance to play with and tweak the RIMM Multivariate Valuation Model. with the data from the Smartphone Market and Mobile Operating System Market Share Models may look to act accordingly.

Disclosure: Short RIMM