Here's what moved markets last week, and is likely to do so in the coming weeks.
PRIOR WEEK:
EU Sovereign Debt/Banking Crisis Concerns
Sovereign bond and CDS rates were already back near May crisis levels before the week began, thanks to another Irish bank bailout a few weeks back. That reminded the markets that nothing has improved in the EU. The core economies are relatively ok, the rest teeter on the brink.
This week's reminder was via a WSJ report that EU bank stress tests understate PIIGS bond exposure, old news but reminder comes at sensitive time as PIIGS plan to sell about $80bln in bonds, rates are already near May crisis levels after Irish bank bailouts a few weeks ago spooked markets (despite good subsequent Irish bond sales in which yields actually dropped a bit).
More Greek Drama Exacerbates EU Anxiety
Reports of ECB probing undisclosed Greek debt, and another Greek GDP downgrade, sent its bond yields and CDS higher back near May 2010 crisis levels.
Other PIIGS Bond Yields Rise Relative To German Bonds
The 10-year yield differentials between Portugal and Germany rise to record levels around 354 basis points
Ireland and Germany 10-year yields climbed to record highs around 372 basis points
These events highlight how vulnerable the EU remains, and thus how limited and fragile are any likely general market rallies or rallies in the EUR.
Regarding the EUR, if peripheral countries remain under such pressure, the ECB will have to buy more of their bonds, potentially undermining the EUR as markets take this as a threat of expanding money supply. For now, the ECB has no choice: as long as tensions in the banking system and in sovereign debt markets persist, it must continue supplying abundant liquidity and to remain engaged in the secondary market for periphery sovereign bonds.
In the "adverse loop" between banking sector concerns and sovereign debt fears, this time it's the banks harming the Euro: the latest widening in sovereign bond spreads has been triggered by evidence that Irish banks are again under pressure, compounded by the aforementioned Wall Street Journal article which argued that the stress tests did not reveal the full extent of the banks' exposure to sovereign debt.
The latest news and developments seem to suggest that the euro-zone banks will need far more capital than the EUR 3.5bn indicated by the stress tests. For example Deutsche Bank (NYSE:DB) plans on raising about €9 bln via a stock sale.
On a positive note, better-than-expected bond auctions in Portugal and Poland this week helped counter somewhat the above concerns.
Positive Data Theme, Holidays, Restrain Volatility
In addition, assorted holidays and otherwise supportive data kept trading light and volatility quite restrained.
US economic jobs and consumer credit were a bit better than expected, so was Aussie jobs data. Canada had a great data week including much better than expected monthly building permits, Ivey PMI, and a 0.25% rate increase from 0.75% to 1.00%.
Also Worth Noting:
Not market moving but worth noting:
IMF Warns Of 'Intensified' Risks To Global Growth
In a briefing note for Group 20 deputy finance ministers, the IMF warned that downside risks to global recovery have intensified due to
recent turbulence in sovereign debt markets
continued weakness in the financial sector
further weakness in US real estate markets, with increased foreclosures further pressuring bank balance sheets and possibly causing a reduction in credit available to the economy
While global growth had been somewhat stronger than expected during the first half of 2010, "but is projected to slow temporarily during the second half of 2010 and the first half of 2011." The IMF called for
credible efforts by advanced economies to cut deficits and spur private demand
export countries, notably in emerging Asia, must rely more on internal demand and less on exports
COMING WEEK
1. Risk Appetite Per S&P 500 Back At Resistance – Suggests Technical Bias To Downside
Note the chart below, () of our simplest overall risk appetite indicator, the S&P 500.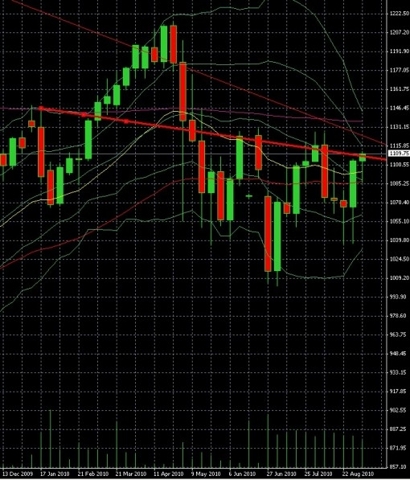 S&P 500 WEEKLY CHART COURTESY OF AVAFX/MT4 20sept12
The 1100-40 range on the S&P 500, has been the resistance zone since May 2010, when the EU sovereign debt/banking crisis peaked and decisively halted the rally that had begun in March 2009. Points of resistance include:
The descending neckline (thick straight red line) of the bearish head and shoulders pattern dating from December 2009, when the Dubai World debt trouble focused markets on the sovereign debt troubles in the EU
The downtrend line from the start of the long term downtrend dating back to the summer of 2007 (thin straight red line
The 200 day SMA (purple line) at around 1136
The upper Bollinger Band (descending green line- 2 standard deviations) around 1146
The clear price resistance at 1136 and 1146
As with last week, gains were on some of the lightest trading of the year, further undermining our faith in the current 2 week rally. That said, the S&P 500 could still rise 3%-6% from its current level just below 1110 to about 1170, without significantly violating this resistance zone.
2. Greek Debt Sale and EU/IMF Inspection
Greece could again be a market driver this week.
Greek 6 Month Note Auction
Greece remains shut out of the market for government bonds — with interest rates for Greek 10 year bonds at 9.6 percentage point premium to those of their German counterparts. Instead, Athens is seeking shorter-term loans, and is due to auction euro900 million ($1.14 billion) worth of 26-week treasury bills this Tuesday September 14th.
Further EU/IMF Loans Contingent On EU/IMF Review
Inspectors from the EU and IMF next week will review the progress of austerity measures required for the bailout loans, as well as on efforts to cut the budget deficit. The country is due to receive euro9 billion over the next few days in the second installment of the loans.
Given the shock to markets of a Greek default, every effort will be made to ensure the inspection produces a glowing report. Thus while we don't expect an outright failing grade, any hint of trouble risks further shock to already nervous markets.
Note that Greece's $1.2 trillion debt represents about $250,000 for each working adult. (Source: Vanity Fair)
3. BIS Capital Reforms Could Exacerbate Concern About EU Banking
This weekend, 27 central bank delegations gathered in Basel to settle most of the final details of reforms to bank capital adequacy regulations. The key issue is how much additional capital will be required and over what time frame those capital increases will be imposed. Germany is the leader of those who want lower capital increases and a longer implementation period (10 years starting from 2013), while the US is pushing for higher capital/ liquidity levels to be imposed faster (5 years from 2013).
The likely result will be some kind of compromise between the two positions
European banks in general are less well capitalized than their American counterparts, so if a shorter time frame to raise capital requirements is adopted, that could pressure the EUR.
4. Key Economic Calendar Events To Watch
For full details see The Coming Week: Stocks, Commodities, Forex 5 Key Market Drivers September 13th – 17th
5. Potential Wildcards: EU, China, US Municipal Bonds, Real Estate
EU
More negative surprises from the EU, especially Greece.
For the longer term the big questions include:
How long will the ECB continue to prop up Greece, other weak economies and their banks, especially when they appear to be getting worse?
Will populations of Greece and other peripheral economies have the political will to bear the coming years of economic pain?
Will populations of the donor economies have the political will to bear the costs of bailing out weaker economies in the form of an increasingly debased Euro and national banking systems pressured to hold increasingly risky PIIGS bonds?
Until a way is found to reduce debt loads and ensure future fiscal discipline, the future of the EZ and Euro remain in doubt.
China
As noted last week, at some point a lot of overcapacity will need to be written down, the question is when? Meanwhile data coming out of China continues to be positive. Data released Saturday showed industrial production, retail sales, new loans and money supply up more than expected, further supporting the continued growth idea suggested by Friday's better than expected import data. The news could be supportive of risk appetite going into the beginning of the week.
Meanwhile, China continues to be a regular market mover when it:
Issues enough positive data to keep markets buoyant, especially when risk assets are at the bottoms of their trading ranges and looking for an excuse to bounce
Is talking up the EUR vs. the USD, and also buying Yen like it never has, much to the consternation of Japan. Per Friday's Wall Street Journal , Chinese purchases of yen, according to Japanese government data released Wednesday, showed that China's yen purchases this year equal $27 billion, more than six times China's combined yen buying in the previous five years.
US Municipal Bond, Real Estate Collapse
See the full version referenced above for details.
Conclusion: Our Bias Remains Short Over The Coming Weeks
As noted above, it's quite possible we could see another 3%-6% higher for the current rally. However, we'll likely need significantly more positive fundamentals to get beyond that.
Fundamentals remain weak, with most economies either struggling or intentionally imposing austerity measures to cut debt, that are expected to hinder growth in the coming years.
As noted above, from a technical perspective markets are nearing multi-month technical resistance, leaving more downside than upside potential, barring an unexpectedly positive tone to the coming weeks' data.
Negative data surprises appear likely to outweigh positive news in the coming weeks, so our bias is to sell risk assets on any rebounds. Given pervasive economic sluggishness and pessimism, staying short-risk seems the higher probability bet for the longer term.
Note however, that per the above weekly chart of the S&P 500, many markets have been in fairly narrow trading ranges since June. That's provided opportunities for shorter term traders. For those seeking longer term trends we need to watch for a breakout up or down. Odds appear to be with a break to the downside, but meanwhile those seeking a longer term trend will need to be patient, or get used to shorter term range trading.
DISCLOSURE & DISCLAIMER: NO POSITIONS, THE ABOVE IS FOR INFORMATIONAL PURPOSES ONLY AND NOT TO BE CONSTRUED AS SPECIFIC TRADING ADVICE. RESPONSIBILITY FOR TRADE DECISIONS IS SOLELY WITH THE READER.