MidSouth Bancorp (MSL) recently delivered strong first quarter results, with business improving in almost every area. This prompted analysts to revise their estimates significantly higher for both 2014 and 2015, sending the stock to a Zacks Rank #1 (Strong Buy).
While shares of MidSouth have risen sharply since the Q1 report, valuation still looks very reasonable, providing shareholders with plenty of further upside potential.
MidSouth Bancorp is the holding company for MidSouth Bank, which has 61 locations in Louisiana and Texas, including a Loan Production Office in Austin, Texas. It is headquartered in Lafayette, Louisiana and has a market cap of $213 million. The company had assets of $1.9 billion as of March 31, 2014.
First Quarter Results
MidSouth delivered better-than-expected first quarter results on April 29. Adjusted earnings per share came in at 33 cents, beating the Zacks Consensus Estimate of 27 cents. It was a 22% increase over the same quarter last year.
Net interest income rose 3% year-over-year. This was driven by strong loan growth as total loans and leases rose 10%. Commercial, financial and agricultural loans, which represent approximately 37% of the total loan portfolio, led the way with a stellar 38% increase year-over-year. The core net interest margin for the period improved 30 basis points from the same quarter last year to 4.33%.
Adjusted non-interest income rose 11% year-over-year, driven by increases in service charges and ATM and debit card income. Meanwhile, non-interest expense increased just 2% over the same period as the company's efficiency initiative has begun to show results.
Credit quality improved too. Nonperforming assets to total loans, other real estate owned and other repossessed assets improved from 1.46% to 1.08%.
Estimates Rising
The strong across-the-board Q1 results prompted analysts to unanimously revise their estimates higher for both 2014 and 2015. This sent the stock to a Zacks Rank #1 (Strong Buy).
You can see the sharp increase in consensus estimates in the company's "Price & Consensus" chart: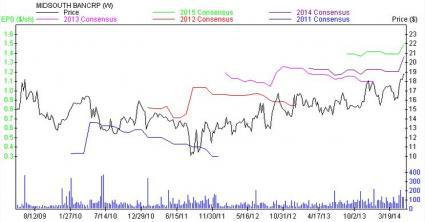 The Zacks Consensus Estimate for 2014 is now $1.37, up from $1.21 before the Q1 report. The 2015 consensus is currently $1.50, up from $1.40 over the same period.
Reasonable Valuation
Shares of MidSouth have risen about 15% since the company's Q1 report. But the valuation picture still looks very reasonable with shares trading at 13x 12-month earnings. That's a discount to its 10-year median of 15x.
Its price to book value ratio is a reasonable 1.3, which is also a discount to its historical median of 1.4x.
In addition, the company also pays a dividend that yields a solid 1.9%. It recently increased its payout by 13%.
The Bottom Line
With improving business trends, rising earnings estimates and reasonable valuation, MidSouth Bancorp still offers investors attractive upside potential.
Todd Bunton, CFA is the Growth & Income Stock Strategist for Zacks Investment Research and Editor of the Income Plus Investor service.
MIDSOUTH BANCRP (NYSEMKT:MSL): Free Stock Analysis Report (email registration required)