Recently Verizon (NYSE:VZ) has been more in the news than usual, due mostly to its acquisition of the minority stake in Verizon Wireless from Vodafone Group (NASDAQ:VOD). Also, the company got a rather famous investor among its shareholders during the first quarter, namely Warren Buffett's Berkshire Hathaway (BRK.A) (NYSE:BRK.B). Is Buffett's latest move a smart one? Let's look deeper into Verizon in order to find out.
The Fundamentals
The Verizon of today is the result of several mergers that has transformed the company into the largest of the American telecommunications companies by market capitalization with a valuation of approximately $206 billion, just ahead of AT&T's (NYSE:T) market capitalization of approximately $183 billion. Way behind in terms of size comes Sprint (NYSE:S) and T-Mobile (NASDAQ:TMUS) with market caps of $36 billion and $28, respectively.
The company thus operates in an industry with fairly few and large competitors, otherwise known as an oligopoly. All else being equal, operating in an oligopoly is good for shareholders as competition tends to be somewhat less cutthroat than in an environment with lots of competitors.
In addition to this benefit, the growth of smartphones means that traffic, and therefore the revenue pool, is still growing. This trend can be seen in Verizon's nice long-term revenue growth in the graph below.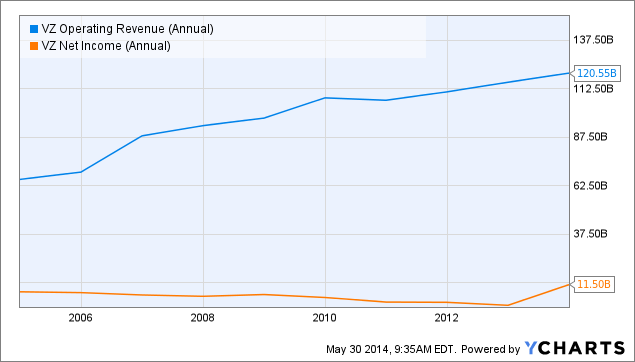 VZ Operating Revenue (Annual) data by YCharts
What has not been so nice is the declining trend in net income. This trend has reversed lately, though the net income margin for fiscal year 2013 came in at a healthy 9.5%.
Since fewer and fewer people use old wireline services, companies in this industry need to focus on the wireless business to grow revenue. With the acquisition of the remaining 45% of Verizon Wireless, the company now has full control of this part of the business. This makes it much easier strategically as it doesn't have to consult the other owner before making any big moves in the market. It can also offer its customers more integrated services this way.
According to the company, the deal was immediately accretive to EPS by about 10 percent. So the deal made good sense not only strategically and operationally but also financially. That the deal makes economic sense is not to say that it was cheap. After all, the transaction was valued at $130 billion. This meant, of course, that Verizon had to issue a lot of debt in order to finance the deal.
When a company dramatically increases its debt level I always get a little concerned. In this case, though, the prior debt level was fairly low at net debt to adjusted EBITDA of 1.2x. After the debt increase it is 2.5x. For a company with such a stable EBITDA this should be no problem at all. Considering how cheap the debt is and that the deal was immediately accretive, the return for shareholders in terms of EPS growth and dividend growth should be substantial.
Risk Factors
Though the company operates in an oligopoly, it is still a competitive environment. T-Mobile has been noted to be an especially aggressive competitor. Inevitably, the wireless market will be saturated, just like the wireline market. Then the competition for market share will really heat up. This represents a potential downward pressure on margins in the future. Rising interest rates are a concern going forward. This will likewise reduce margins. A potential threat is also the possibility of using increasingly ubiquitous Wi-Fi networks for data traffic as well as texting and calling.
Valuation
Before making any decision about investing in a stock, one should always have a good look at the valuation of the company, both by itself and compared to its peers. As a peer group I chose Verizon's largest competitors in the U.S. market, AT&T and Sprint.
| | | | |
| --- | --- | --- | --- |
| | Verizon | AT&T | Sprint |
| Price/Sales | 1.2x | 1.4x | 0.9x |
| Price/Earnings | 11.1x | 10.3x | N/A |
| Yield | 4.2% | 5.2% | N/A |
Source: Morningstar
Sprint doesn't pay a dividend currently. In fact it doesn't make money, so two important metrics are not applicable for that company. However, it is the cheapest on the Price/Sales ratio. Verizon comes in second on this metric while AT&T is the most expensive. When it comes to the Price/Earnings ratio and the dividend yield, AT&T is the winner with Verizon just behind.
Neither AT&T nor Verizon can be considered expensive, in my opinion. Both are significantly cheaper than the S&P 500 which trades at a Price/Earnings ratio of 18.0x and a dividend yield of 2.4%. Paying 10-11x earnings for a leading telecommunications company is not bad at all.
The Dividend
Back in the early 2000s this company did pay a nice dividend but didn't increase it every year. Since 2007, though it has hiked its dividend every single year in the third quarter. In 2007 the dividend was increased to $0.43 per share quarterly. The most recent hike was in 2013 when it was increased to $0.53. That is a compound annual growth rate of 3.5%. Not impressive, but at least more than the rate of inflation.
With a payout ratio of 47% the dividend is well covered. The low payout ratio also makes room for nice dividend growth going forward as there is plenty of room for increasing its payout ratio over time. Nonetheless, the main driver of dividend growth will always be EPS growth.
If things unfold as analysts expect, Verizon will grow EPS annually by 6.1% over the next five years. Assuming a stable earnings multiple and adding in the dividend yield, we can expect a total annual shareholder return over the next five years of 10.3%. The multiple does have some room to expand, in my opinion, so the 10.3% should be a conservative estimate. That is not a stellar return but slightly better than what you can expect from the market as a whole over time and with less risk as telecommunications is a steadier-than-average business.
Conclusion
Verizon is the largest player in the American telecommunications oligopoly and its recent acquisition of the minority stake in Verizon Wireless further improves its position. The acquisition is also accretive to EPS and should improve the company's long-term growth rate. The result is a company offering investors a nice current yield and nice EPS growth going forward. A good call for a conservative income portfolio.
Disclosure: I have no positions in any stocks mentioned, and no plans to initiate any positions within the next 72 hours. I wrote this article myself, and it expresses my own opinions. I am not receiving compensation for it (other than from Seeking Alpha). I have no business relationship with any company whose stock is mentioned in this article.